Telkom & MTN LTE And WiFi Deals
Telkom & MTN LTE And WiFi Deals
Popular Fibre Internet Networks
*Please note that prices on this website are indicative, and may be subject to variations.
Q:Is there a difference between 'Fixed LTE' and 'LTE' ?
'Fixed LTE' is meant to stay in one location, like your house. Normal LTE is like the LTE you get on your phone or small dongle that you can take with you as you travel. It can take up to 24 hours for your 'Fixed LTE' to sync with the nearest cellphone tower.
Q: Is LTE and WiFi the same ?
No, LTE is the protocol that brings internet to your house or location via cellphone towers and radio waves. WiFi is the protocol in your home or office router that distributes the signal inside your house. It is not meant to bring the signal to your house. LTE is for long distances like between the tower and your house. WiFi is for short distances inside your house. If you are buffering while watching YouTube or NetFlix you might need a higher speed connection or different ISP.
Q: Does my home have Telkom LTE Coverage ?
In most cases you probably will have, since Telkom LTE has one of the biggest if not the biggest LTE network in South Africa. You will have to check your LTE Coverage first.
Q: Do I need a special router for LTE ?
Yes you will need a LTE capble router to connect to any of the LTE networks. Most of the packages on this page includes a LTE router for free. Just note that these routers also have a inbuilt wi-fi router thus you can share the LTE signal inside your house.
Q: How long will it take for my LTE deal to be active ?
Depending on where you live the delivery of the LTE router and sim will be anything from 3-5 days and at most 24 hours to activate once you switch it on. It needs to sync to the nearest cellphone tower. If after 24 hours you still not connected switch of your LTE router, wait 5 minutes and switch it back on to force a new sync.
Q: Can I stream movies with LTE or WiFi ?
Yes, just be careful since LTE data is usually more expensive than fibre or adsl data. Netflix can use up to 1.2GB for a 1 hour movie.
Q: Is LTE better than fibre or ADSL ?
No in our view a wireless signal will never be as good as a line (copper or fibre optic) connection. There are too many variables that affect the quality and speed of a wireless signal.
Q: Is LTE faster than fibre ?
Usually no, fibre speeds ranges from 10Mbps to 2000Mbps where most LTE services you are lucky if you get 20Mbps and you will definitely not get 20Mbps consistently
Q: What is the difference between LTE and 5G ?
5G is a much newer and better technologies for wireless services, it's meant to replace LTE not WiFi. 5G speeds can be up to 1Gbps but in real life you will probably only be getting a few hundred Mbps.
5G also promises to be better for latency and tower congestion, a big problem with current LTE offerings are that it is oversold in some area's thus if every person in your neighbourhood have LTE and connects to the same LTE tower they have to share the bandwidth and or spectrum for that one tower.
Q: Can I get uncapped LTE ?
From time to time Telkom will lists uncapped LTE specials but it usually comes with a very aggressive FUP (Fair Usage Policy)
Q: Can I get uncapped Rain ?
Yes you can, just be sure to read their terms and conditions, their uncapped packages are NOT UNCAPPED between 6pm and 11pm. Thus if you are watching NetFlix or ShowMax or any type of streaming during these hours you will be charged for your data usage.
Q: Where can I do a LTE or Wifi speed test ?
You can make use of our speed test portal , we don't use any of the ISPs speed test servers.
The uncapped wifi packages most people are after, are in fact just a Fibre Internet or Telkom LTE connection with a wi-fi router. See also Telkom WiFi Deals
Uncapped wifi deals still needs some sort of "external internet connection" to bring the internet into your house and then connect it to wifi router . The wifi router will then give you uncapped internet in your house.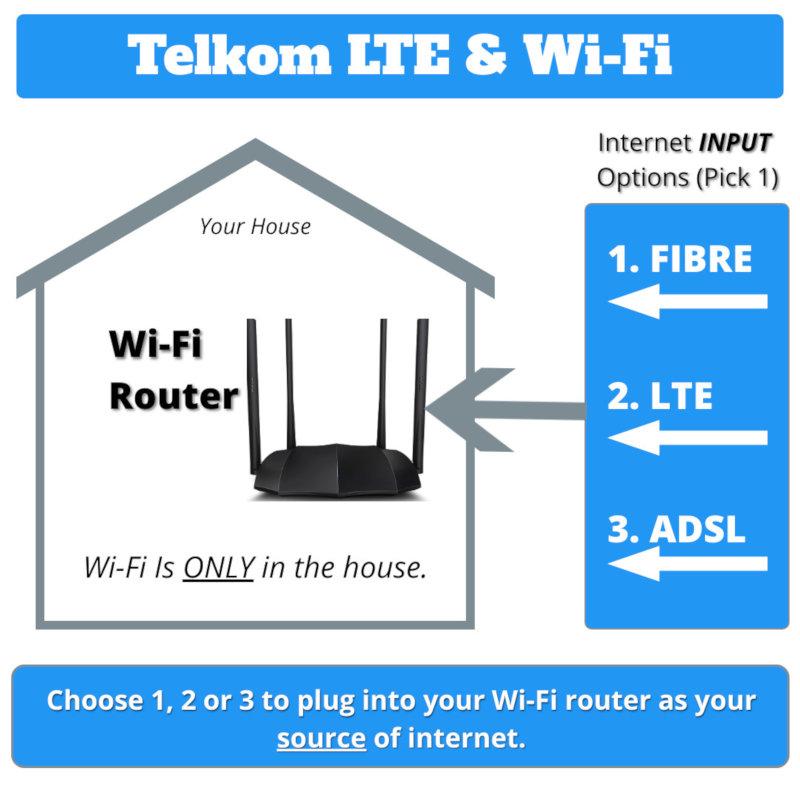 Best Fibre, Wifi & LTE Providers In South Africa
Compare Fibre, ADSL & LTE/5G ISPs