Ordering DIY And Gardening Materials Online
Jacques du Rand 2022-12-09
---
The Christmas holidays are around the corner and it's a great time to get some household maintenance and gardening done. Unfortunately it's not a great time to go to the shops as they are buzzing with Christmas shoppers.
We put three well known gardening outlets to the test to see how good their online ordering systems are. This way you can still get the products you need without setting foot in the store.
Our Picks For Getting Your DIY And Gardening Products This Holiday
To make this an even review we were searching for fertilisers and compost.
Stodels
Who doesn't enjoy having a leisurely stroll through a well maintained Stodels every now and again? Plus they all usually have a little cafe so you can browse from the latest seasonal plants to pots, fertilisers, stones and anything that you could need to maintain your garden with. However Stodels can also get busy, especially over the holidays and then it's great to have the option of ordering online.
Searchability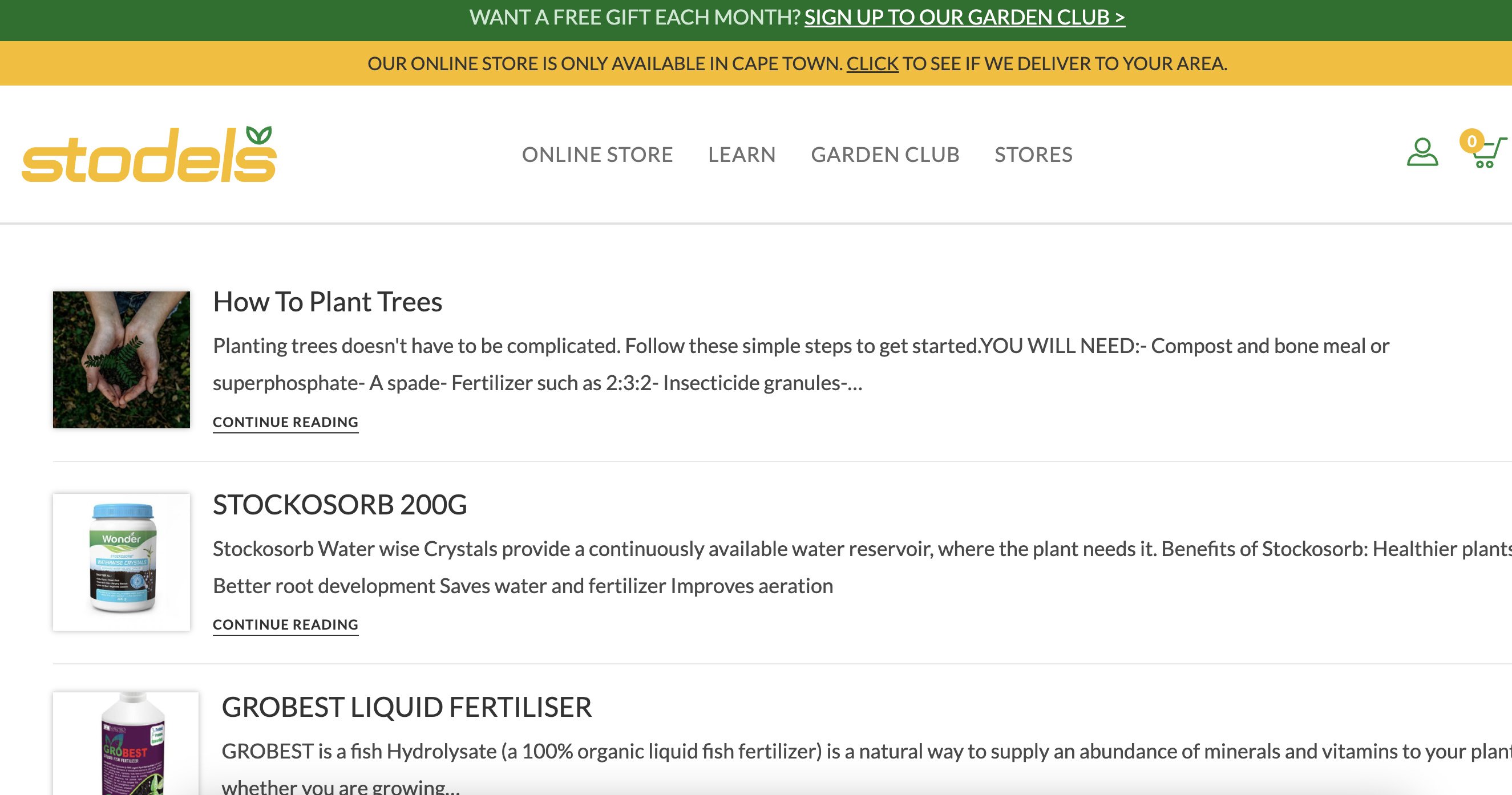 The Stodels website is unfortunately not great to navigate. You either have to go through all products and categories to find what you're looking for one by one, as the search returns mixed results. Search results are a combination of articles and products, but not displayed in a way to easily see product or price so the process is quite cumbersome.
Stock Availability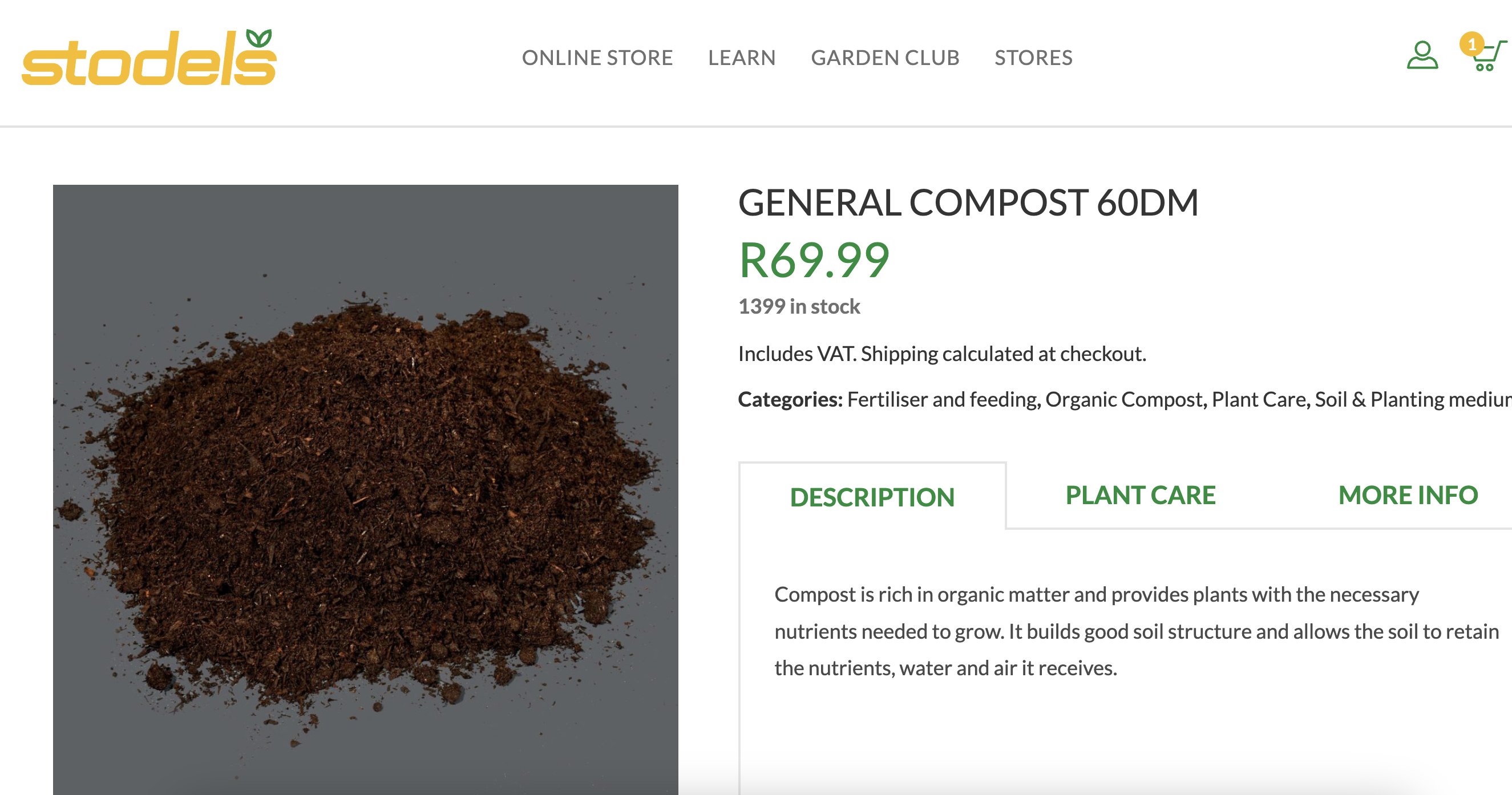 When you do however find your product it's really easy to see whether they have it in stock as the full stock count is on display.
Delivery Fee
They only deliver within the Cape Town region though. Free delivery on any orders over R650, otherwise a standard delivery fee of R150 will be charged per purchase.
Waiting period
Delivery typically takes place within 7 days from date of order, but this could change pending on the time of the year.
All in all, a waiting time of 7 days is not too bad, but if you want to garden on a whim, it might be better to drive down to your local Stodels and brave the crowds.
Builders Warehouse
Builders Warehouse is one of my favourite places as it has everything you could want DIY related under one roof. This does mean that you might go in store for a bag or three of compost and leave with a trolley of stuff you weren't intending, but that is the joy of Builders. As with Stodels, most Builders Warehouses now also have a little cafe on site. Not as good as Stodels, but generally you can get by with a cup of coffee.
Searchability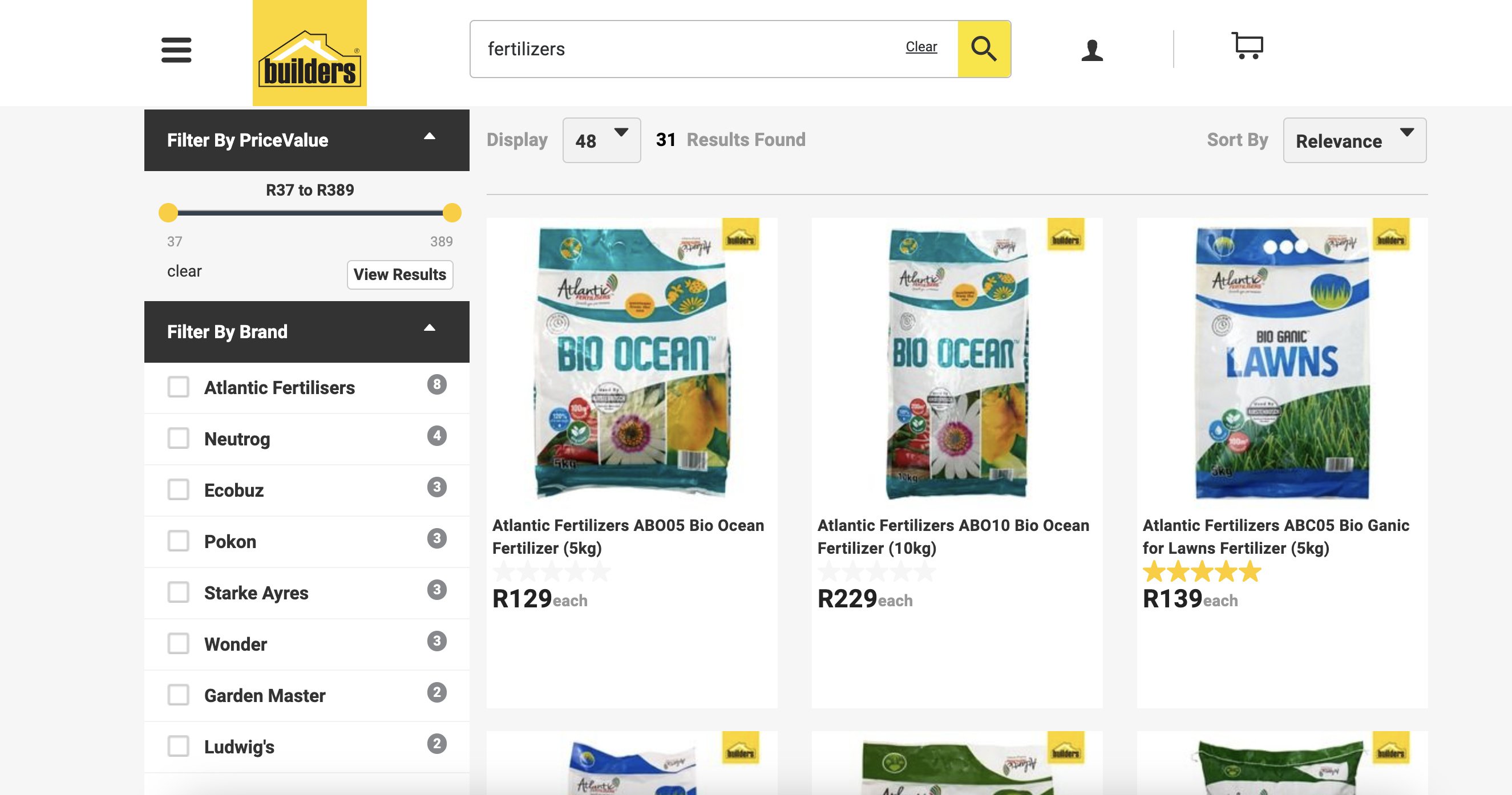 The Builders Warehouse website is a lot better than Stodels - and built with a proper eCommerce mentality. Categories are easy to understand and results pages can be filtered by various factors, including brand and price.
Stock Availability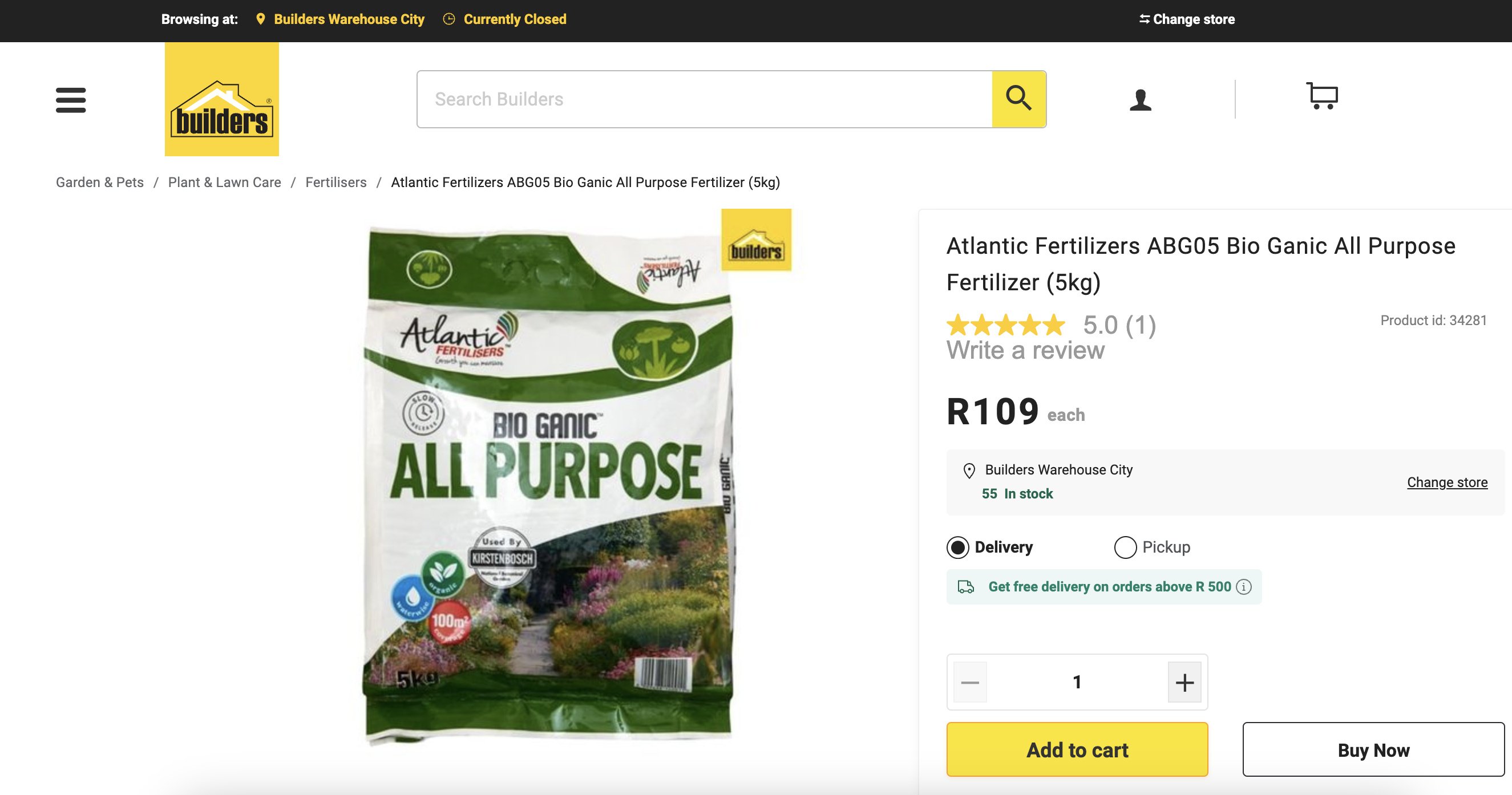 Stock availability is also easy to see, but as Builders Warehouse delivers nationwide - the stock count will change depending on your store location selection. So be sure to first set your preferred store before browsing through products.
Delivery Fee
The great thing Builders offers is that you can also choose to collect instead of getting your purchase delivered. Delivery fees are free for purchases over R500 in value.
To pick-up is free - and the bonus is that you don't have to go walk the isles or stand in the queue to pay. You walk in and collect your order. It's that simple.
Waiting period
However what is not simple is that you have to wait for even your pick-up order. Delivery times can take anywhere from one week to three - but as with Woolworths deliveries you can set your delivery day and time pending availability. If you choose to collect yocheckout-duties.jpgur purchase for Pickup in store, your collection notification can take anything between 3 days to a week and is unfortunately not a quick-service.
Takealot
Takealot might not be your first choice of place to go and buy fertiliser for your garden, however, the reason they should potentially be on your list is because the delivery might be quicker than the speciality stores mentioned above - unless of course you choose to forego online shopping and walk directly into Stodels or Builders to buy your goods, of course.
Searchability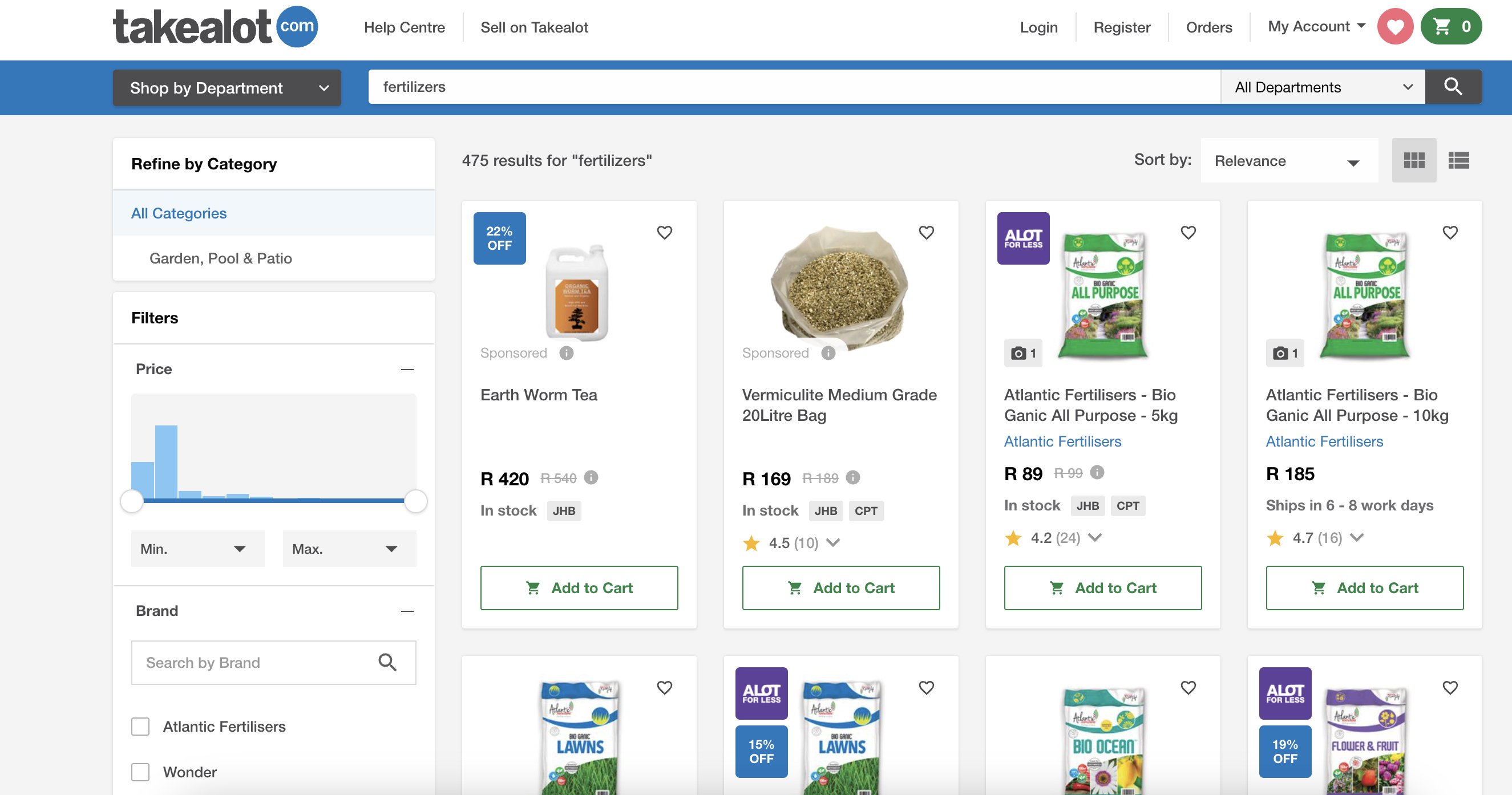 Although Takealot is a full eCommerce website with multiple (read almost every) category you would like to buy from, their garden section is not that intuitive. Although they stock fertilisers, there is no way to navigate to that section from the main menu - it is in fact better to search for "fertilisers" directly.
Once you have searched the results pages are easy to understand and can be filtered by multiple factors including price, brand and stock availability.
Stock Availability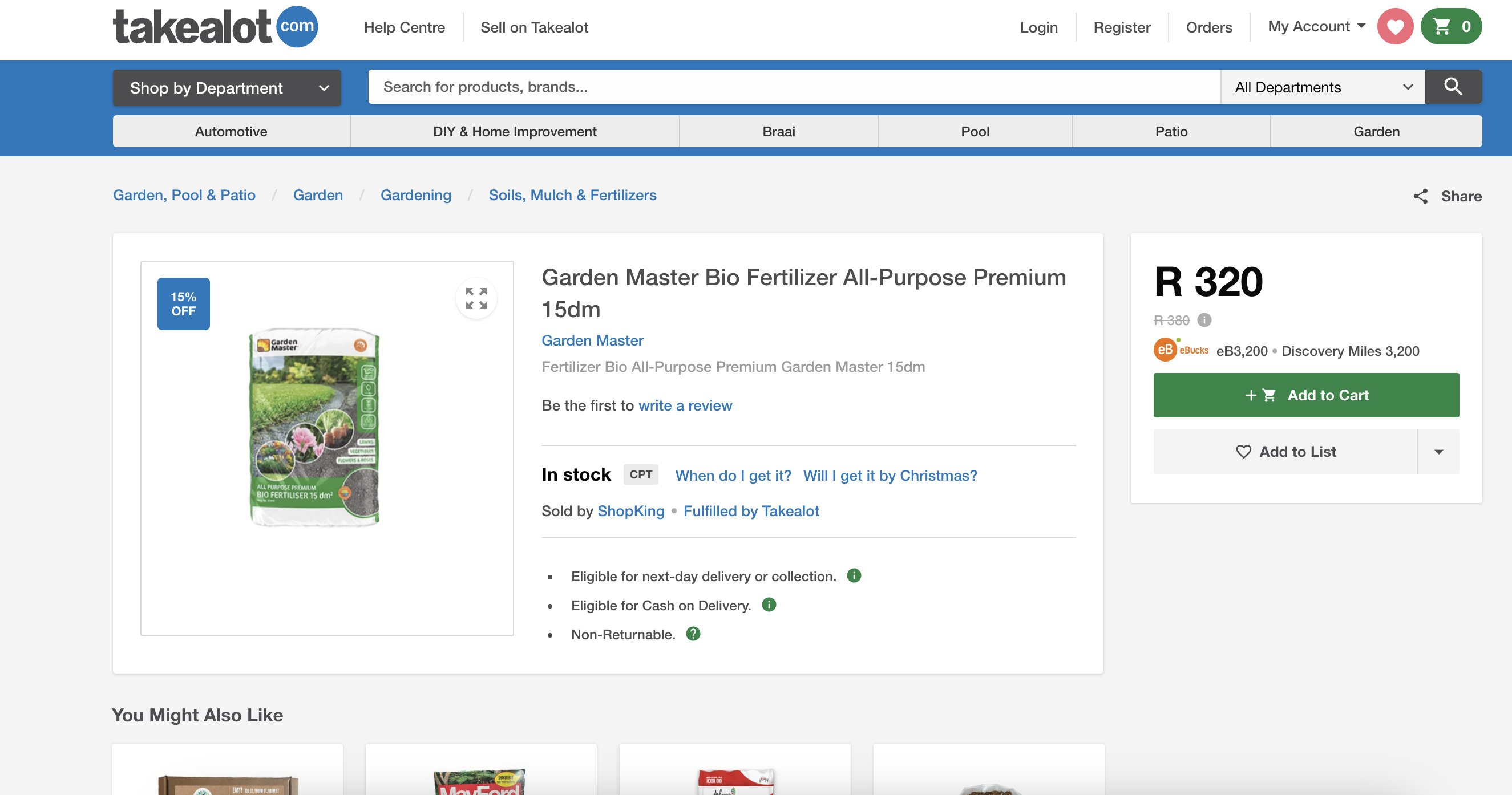 The nice thing is that you can search by availability of stock as well, and won't see any products that do not have stock should you select that filter.
As Takealot delivers nationwide, here one must also be careful to select your preferred depot first (whether choosing to collect or deliver) as your location may affect availability.
Delivery Fee
The great thing with Takealot is that you can also choose to get your orders delivered or choose to collect from your nearest depot. Sometimes in both cases you may be able to collect your product the very next day after purchase, making Takealot the fastest of the three shops for online shopping - delivery or collection.
Delivery fees range by weight, speed of delivery and total cart value. Deliveries for orders exceeding R500 are free. All others vary between R65 - R200. Choosing to collect your product may also carry a fee. All orders above R500 are free. Some depots are also free to collect - depending if the stock is held there - otherwise collection fees vary based on the speed you wish to receive your parcel. Fees range between R30 - R50.
Waiting period
Where stock is available and at a depot or collection point close to you, you may not need to wait more than 1 day to receive your purchase.
Luckily you never have to queue in-store to sign-up with or switch your ISP with Fibre Tiger. Thinking about switching your provider for the new year? Compare your internet package across various ISPs now.
You Might Also Like
---
Articles