How To Cancel Your TV Licence Online
Jacques du Rand 2022-09-02
---
Some time back we wrote a helpguide about how to cancel your Telkom line, which worked for a few months after, and then we think Telkom found out how helpful we were and started making life a little more difficult. The guide still works, it just has a few more work-arounds now.
At the time of writing this article, this is how to cancel your TV licence successfully.
Our Tried And Tested Way To Cancel Your TV Licence.
Who still queues for stuff? Sadly we know quite a few people (to be honest, mostly our parents) who still queue for quite a few things. Honestly, we could not be bothered. If you can't complete it online, I also just don't do it. So I had to find a way to cancel my TV licence online.
Can you go do it in person? Yes, sure you can at any of their branches, if you're that way inclined. Visit any nearest South African Broadcasting Corporation Office or a nearest authorised retailer including the Post Office, Pick n Pay, Woolworths, Shoprite Checkers and Lewis.
SABC created an "online portal" to make it easy to pay your licence or find out more information, but honestly their payment systems are offline more than they are working. They also hide the information to cancel your licence pretty well, only making "how to pay" information available on their FAQ section, except for this one little paragraph:
Q: When is a tv licence no longer required? What must one do to cancel a licence?
When one has sold or otherwise disposed of one's television set(s) a TV licence is no longer required. The SABC must be notified on a prescribed form (affidavit) of the changed circumstances. No licence is cancelled while moneys are still outstanding on an account."
The online sleuths we are, we found some information here, as the actual TV licence site has no further information on this.
Steps to follow:
Complete the TV licence cancellation affidavit form, available here.
There may be additional information required depending on your reason for cancelling your licence (which can't be because you only watch Netflix, sorry!)
You will require this affidavit to be signed by a commissioner of oaths.
Email your completed affidavit TV licence cancellation to the following email addresses. (We used all three to be sure they got it.)
The Correct email addresses to use:
SABC Platinum <platinum@sabc.co.za>
SABC TV Licence Information <renewals@sabc.co.za>,
SABC TV Lic <tvlic.info@sabc.co.za>
Along with the form, you also need to provide the following details:
The date from which you're no longer using or are in possession of any TV set
An explanation of what happened to the TV set that was in your possession:
If you sold or donated your TV, you need to provide the new owner's details (surname, initials, ID number and address) as well as their TV Licence number if applicable. (we didn't have this information and simply stated that we didn't have the information available)
If your TV was stolen, you need to provide the case number under which the crime was reported to the police.
If your TV was repossessed, you need the store manager's signature or store stamp on the affidavit.
You also need to confirm (via the affidavit) that you have no other TV sets
Because nothing is simple or easy with the South African government or bodies associated with it, don't be surprised if you receive a further invoice or bill to pay your licence. All you do if that happens is to tell them you've already cancelled, the date of your cancellation and attach that affidavit again. They then leave you alone.
And you're done and free from paying a TV licence!
Side Note: At The Time Of Publishing (2022-09-02)
Their online payment method (PayNow) seems to be down.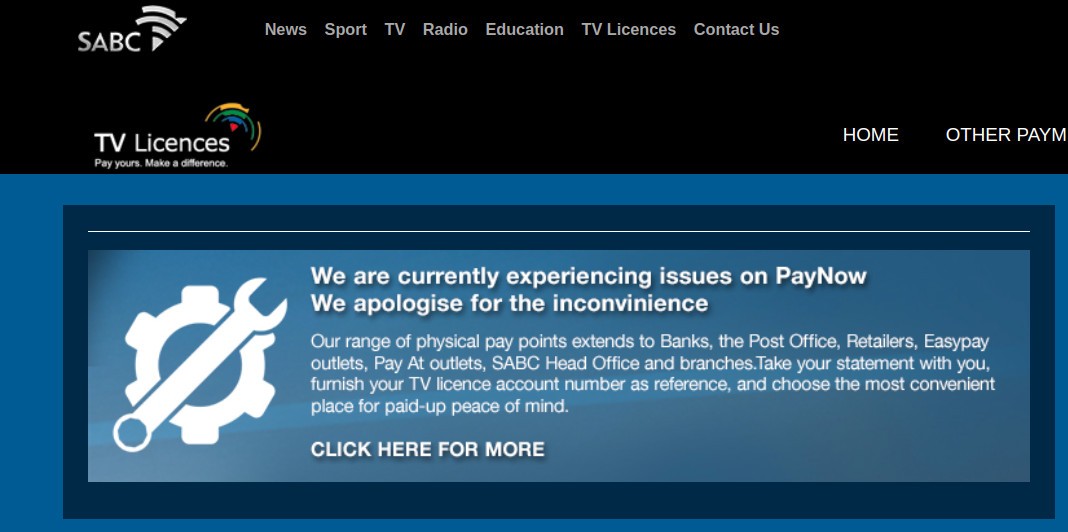 Other Helpful TV SABC Licence Resources.
Q: Can I Be Blacklisted If I Don't Pay ?
The SABC or their debt collector agencies have been known to send quite a few unpleasant SMS to people who have not yet paid.
Mybroadband recently did an excellent article on the subject and got some legal advise on the issue from OUTA with regards to the blacklisting issue.
"...However, OUTA legal affairs head Stefanie Fick explained that trace alerts have no bearing on your credit record.
"The only way anything can have a bearing on your credit, in this instance, is if the SABC go to court and get an order,".

OUTA's head of legal affairs, Stefanie Fick
Q: What Are The Cost For A TV Licence ?
R265.00 per annum for a domestic, business, dealer, lessor or mobile television licence, and R74.00 per annum for a concessionary TV licence.Yes you need a TV licence for your business as well.
Q: How Do I Check My TV Licence Account Balance ?
The fastest way will be to SMS your ID number to 44210
Q: Where Can I Go To Learn More About TV licences In South Africa ?
At their official SABC TV Licence website: https://www.tvlic.co.za/tvlic/
Q: Are There Any Other Options To Cancel Your TV License ?
Agreements Online has put together a nice little al-in-one-package that includes an legal affidavit form
You Might Also Like
---
Articles