LG Partners With Microsoft For Xbox Consoles.
Glenn Alexander 2020-12-03
---
The new PlayStation 5, Xbox Series X and Xbox Series S game consoles all launched earlier this month but what does this exactly mean for your current TVs? Well, you will have several next-gen graphics features that require a cutting-edge TV to fully exploit. Just about every TV these days has Ultra HD 4K resolution, but extras like 120 frames per second input and variable refresh rate, which increase smoothness and reduce choppiness and tearing, are only found in the newer TVs.
Do you want to take full advantage of features like 120fps input and VRR? You'll probably need to upgrade your TV.
You can connect these new consoles to just about any TV with an HDMI input, but to take advantage of these new features, you'll need a new TV and just make sure you are using the HDMI 2.1 cable which comes packaged with your new console.
Before I dive right into some recommended TVs I think it is worthwhile to stop and look at some of these abbreviations and acronyms to fully understand what this new tech all means.
TV Terminology & Definitions:
SmartTV: Most TV's these days will be considered "smart" which boils down to them having the ability to run programs or apps and connect to the internet. The most common use case is ofcourse for streaming services like NetFlix, ShowMax or Amazon Prime.
4K - The term "4K" is generic and refers to any resolution with a horizontal pixel count of approximately 3840x2160. This is a progression and upgrade from the current de facto HD standard of 1920x1080. It's almost 4 times the amount of total pixels.
ALLM - Auto Low Latency Mode (ALLM), which drastically lowers input lag (the delay between inputs on your gamepad and their corresponding action onscreen.
eARC - Enhanced Audio Return Channel (eARC) simplifies connectivity and provides greater ease of use for multiple components discovery and audio optimisation. Most common way to connect that fancy soundbar you just bought.
FPS - Frames Per Seconds (FPS) is used to measure frame rate – the number of consecutive full-screen images that are displayed each second.
VRR - Variable Refresh Rate (VRR), which reduces screen tearing by smoothly adapting to the refresh rate required in your game.
120Hz input explained
Despite TVs being capable of 120Hz refresh for well over a decade, the ability to input 120Hz is a far more recent development. This is largely because other than a beefy gaming PC, there just haven't been any 120Hz sources. That all changes with the PS5 and Series X. Some TVs can accept 4K at 120Hz on all HDMI inputs. Others can only do so on select inputs.
The Xbox Series S can also output 4K at 120Hz, but internally the game is rendered at a lower resolution (1440p) and upscaled before it's sent to your TV.
So which TV should you be looking to get your hands on? Below I will be listing a few various manufactures and models which range in various sizes too, but there is some big gaming news to share with all of you which might help you make up your mind?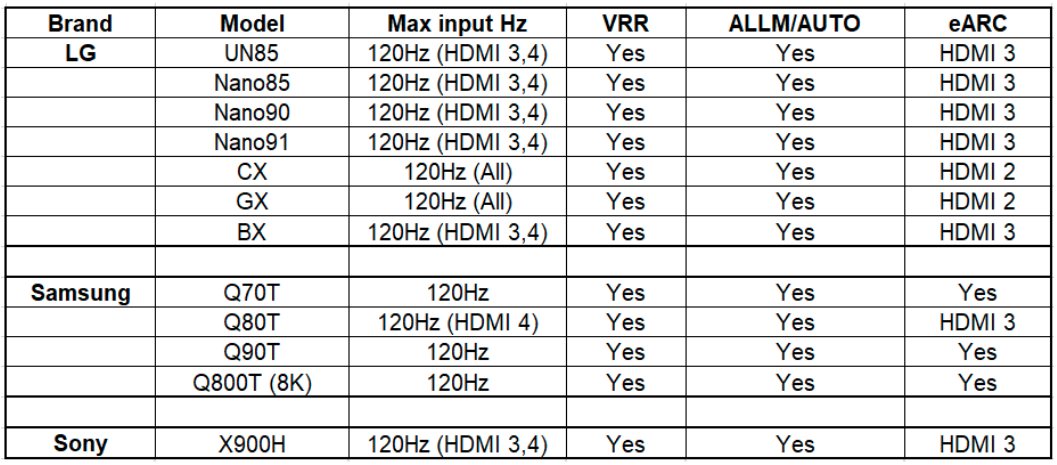 Microsoft Partners With LG For Xbox
The news which caught my attention was the announcement between Microsoft and LG coming out saying that the Xbox Series X will play best on a LG OLED TV.
There is an official partnership between LG and Xbox, to assure gamers of the benefits of playing on the next-gen Xbox Series X on an LG OLED TV – seemingly backing the organic LED panel technology over competing QLED or LCD TVs.
The Xbox Series X has got a massive boost in processing power over current-gen consoles, so it's no surprise that you'll need a TV capable of showing off those improvements at their best.
Many TV brands have been courting the gaming crowd this year, with the now-launched consoles leading many to wonder if their gaming TV setup is quite enough for the next gen consoles? Few have gone to such lengths as LG Electronics, with its entire 2020 OLED TV range sporting four HDMI 2.1 ports, rather than the more hesitant single port on other manufacturers.
What does this even mean? It means you as the gamer are getting gamer-centric features such as Variable Refresh Rate (VRR), which reduces screen tearing by smoothly adapting to the refresh rate required in your game, through every HDMI port – as well as 4K resolution at 120fps for compatible titles and no longer just 1 single HDMI port.
You also get Auto Low Latency Mode (ALLM), which drastically lowers input lag (the delay between inputs on your gamepad and their corresponding action onscreen) at the expense of some other processing technologies. Having four ports that support all of these features means you hook multiple next-gen consoles too, if you've been lucky enough to get your hands on them.
Let's not forget the benefits of an OLED panel either, making for exceptional colour and contrast thanks to its self-emissive pixels. No matter which game you are immersing yourself into, you can be sure an OLED panel is going to elevate the experience.
With its self-lit pixel technology, LG OLED TV boasts superior picture quality with vibrant, natural colours and infinite contrast. As the first TV and the first game console to support Dolby Vision and Dolby Atmos, LG OLED TV and Xbox Series X will draw gamers even deeper into the action with dynamic images and sounds.
"We take the needs of gamers very seriously when developing our OLED TVs so to be able to be an official partner to Xbox Series X is a partnership that is very meaningful to us,"
said S.P. Baik, head of the TV product planning division of LG's Home Entertainment Company. Nov 2020
"We're confident that the heightened visual quality from combining LG OLED TV and Xbox Series X will blow gamers away."
Will There Be Input Lag ?
One thing missing from the table above is any listing for input lag, or how long it takes for the TV to create an image. If this is too high, there's a delay between when you press a button on the controller and when that action appears on screen. In many games, like shooters or platformers, timing is crucial, and a TV with high input lag could hurt your performance.
As a long-time gamer myself, I can easily notice the difference between high (greater than 100ms) and low (sub-30ms) lag. The good news is most modern TVs have input lag that's low enough that most people won't notice it. Largely gone are the days of 100-plus-millisecond input lags… at least when you enable game mode. So, if the TV has a game mode, you're probably fine.
The PS5 and Series X can also output 8K resolution to compatible TVs, but I consider 4K/120Hz, VRR and other enhancements like ray tracing and even HDR more important than 8K for gaming now.
So, I hope you either managed to pick up a great deal over Black Friday or Cyber Monday so you too can make the most of your next gen gaming.
Next Gen
TV Streaming And Internet Speed Requirements
It's important to note, that if you do invest in a decent next-gen TV for your gaming needs. You will at some point probably also like to watch a few movies or a good tv series or two on your new SmartTV.
To have a buffer free experience, it's important to have a fast and reliable internet connection. For streaming we always recommend fibre over LTE.
Below are the general requirements for streaming at different resolution
| | | | |
| --- | --- | --- | --- |
| Resolution | Half HD (720p) | Full HD (1080p) | 4K/UHD (2160p) |
| Fibre Internet Speed | 4Mbps | 5Mbps | 15Mbps |
Source:
https://help.netflix.com/en/node/306
Fibre Tiger compares the best fibre ISPs and their deals for your area or any of the top fibre networks Openserve, Vumatel or Frogfoot
If you are unlucky not to have fibre coverage, you might also give LTE/WiFi internet a go.
BIO:

GlennZA is an Xbox MVP & Xbox community leader who demonstrates an exemplary commitment to helping others get the most out of their gaming experience. Having grown up as a gamer after receiving his first console way back in the late 80's (Atari 2600), He acquired his first Xbox console, the Xbox 360 Arcade Core in 2006. He has since been part of the Xbox Family for 14 years and is still going strong.
Twitter: https://twitter.com/GlennZA
Facebook: fb.gg/glennzamvp