D-Link LTE-4G & Fibre Router Review
Jacques du Rand 2020-09-08
---
LTE-A Vs Fibre
If you are located in an unlucky area which doesn't have fibre coverage yet, you might still be able to get LTE internet. LTE is a better short-term option compared to ADSL and worth investigating as an alternative to fibre if you find yourself in an internet-less boat.
Now LTE is not to be confused with Wi-Fi, although most LTE routers will also act as a Wi-Fi Router - more on this technicality later.
LTE internet is usually a little more expensive than fibre internet per data allowance, but the "Fixed LTE" packages are cheaper than their mobile-LTE alternatives - confused yet?
LTE is not as stable and predictable as a fixed-line connection like fibre or ADSL, but for many South Africans this is their only means of getting internet at home.
We decided to trial the D-Link DWR-M961 4G LTE router, which should be perfect for any moderate sized home or office that would like to consider this option. As a bonus this router can also be used with a fibre connection as well. Which is a great function to have should your area qualify for fibre at some point, as then you already have the router at hand.
Pricing Options For Internet In South Africa as at September 2020
| | | |
| --- | --- | --- |
| Connection | Package | Price |
| Fixed LTE | WebAfrica + Telkom (40GB+40GB) | R399 |
| Fixed LTE | WebAfrica + MTN (50GB+50GB) | R319 |
| | | |
| Mobile Data (LTE) | FNB MTN 20GB | R699 |
| Mobile Data (LTE) | FNB Vodacom 20GB | R699 |
| | | |
| Fibre 20Mbps | Uncapped Openserve (Webafrica) | R819 |
| Fibre 20Mbps | Uncapped Vumatel (Home-Connect) | R828 |
D-Link-DWR-M961 Review
The first thing that caught my eye was the label on the box that claims up to 32 connected clients. My first thought was that it could end up being quite expensive if you're on an LTE package and have 30+ people sharing that!
Luckily the D-Link-DWR-M961 also makes for a perfect fibre router. Yes, you can use both a LTE and a fibre connection to power this Wi-Fi and LTE router.
We tested it with the Telkom LTE package from WebAfrica as well as a SuperSonic (on Openserve) fibre connection. Spoiler-alert: they both worked very well with this router.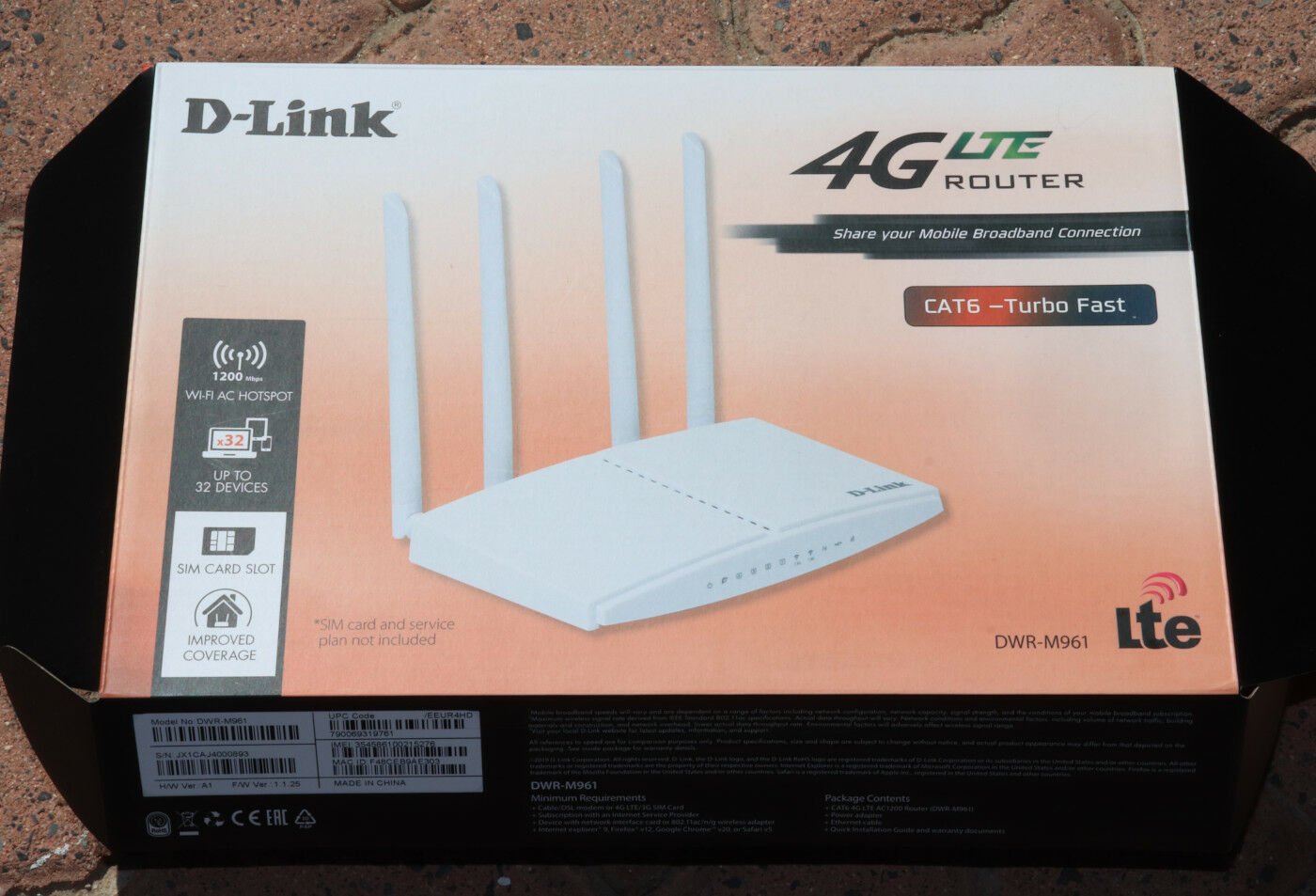 Looks & Construction
The router looks very modern and well planned from a design point of view, with an "everything in white" design option. Even the antenna connectors are white plastic (on the outside).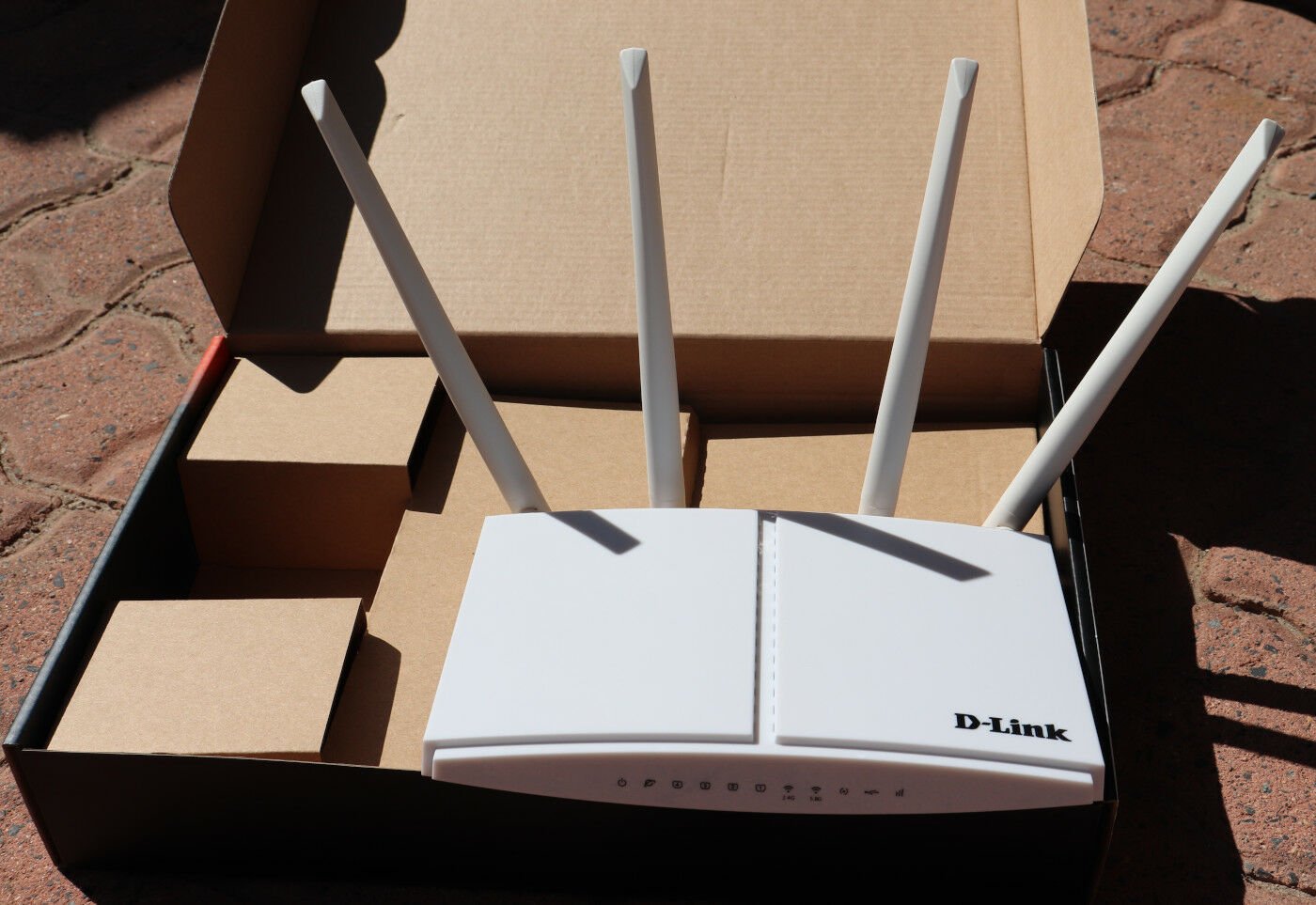 The front of the router sports no less than 11 LED's which should give you ample feedback about your network and connection.
Our one gripe with the whole package was the power brick (switched mode power supply), it funnily enough is also white and we have to give D-Link credit for taking the design options this far, but we had quite a bit of trouble trying to attached the two-point plug onto the power-adapter. At least two different people have tried and none of us succeeded in connecting the power brick to the plug's-adapter. In the end we ended up using another power supply of the same voltage to power the unit.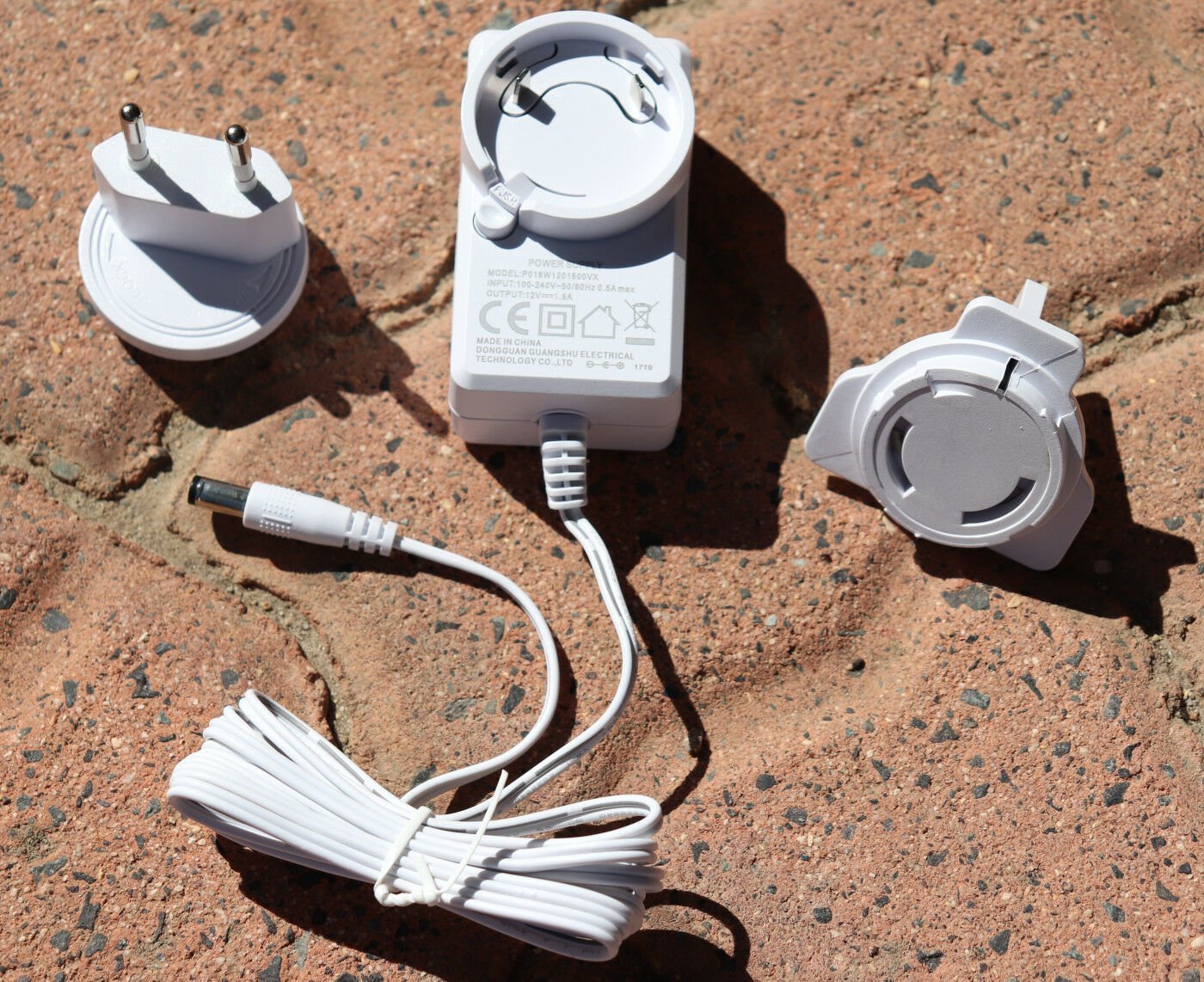 There is also a very nice looking black version available should that be a better fit with your design-requirements or living room.
SIM Card Size(s)
I wish the world would standardized on a SIM card size. The SIM card required for this router is the "big" (Mini) SIM-Card size and not the Micro or Nano. I did manage to "correctly" place-and-hold our smaller and incorrectly sized SIM into the router though. The connection light turned blue and we were online.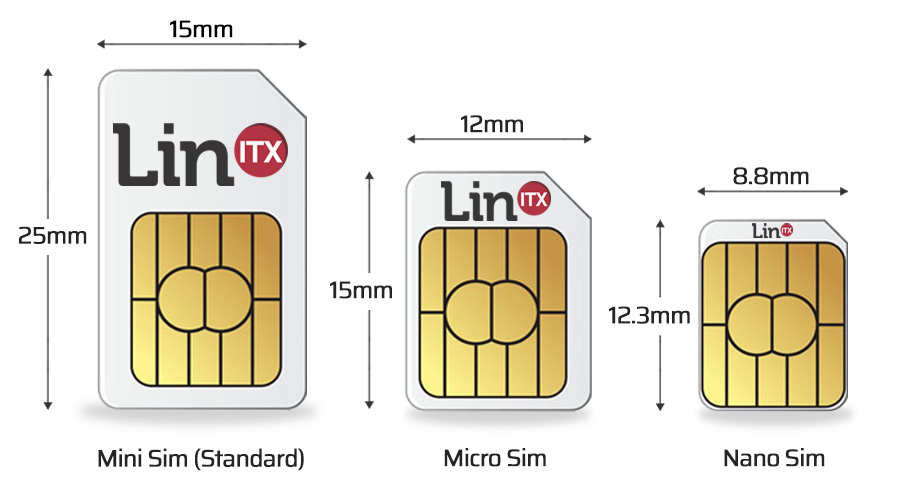 The nice thing about LTE connections is that everything is tied to your SIM, thus no need to enter login-details for your ISP. Simply providing an activated SIM with data will be enough to get online.
You should however not skip a visit to their web interface, as you will need to update the default router login and password to something more secure.
There was a recent article about routers being used in online attacks and spamming because the users had not changed the default login credentials. We are not talking about your Wi-Fi password, we are talking about the web administration interface, that you can find on http://192.168.0.1
Features & Specifications
Dual Connection Sources - Fibre And LTE !
The important specifications you need to be aware of is that this router supports LTE-A (4G) which in theory can give you up to 300Mbps - but unfortunately there is not a LTE-A ISP in South Africa that can deliver those speeds yet.
The maximum Wi-Fi speeds for this device (in theory) are 300Mbps on 2.4Ghz and 867Mbps on 5Ghz which is evident from their AC1200 class designated rating. The Wi-Fi speed is more than sufficient since you will most likely reach the top-end of your LTE internet connection speed, long before you reach your Wi-Fi speed.
LTE Connection (Telkom LTE)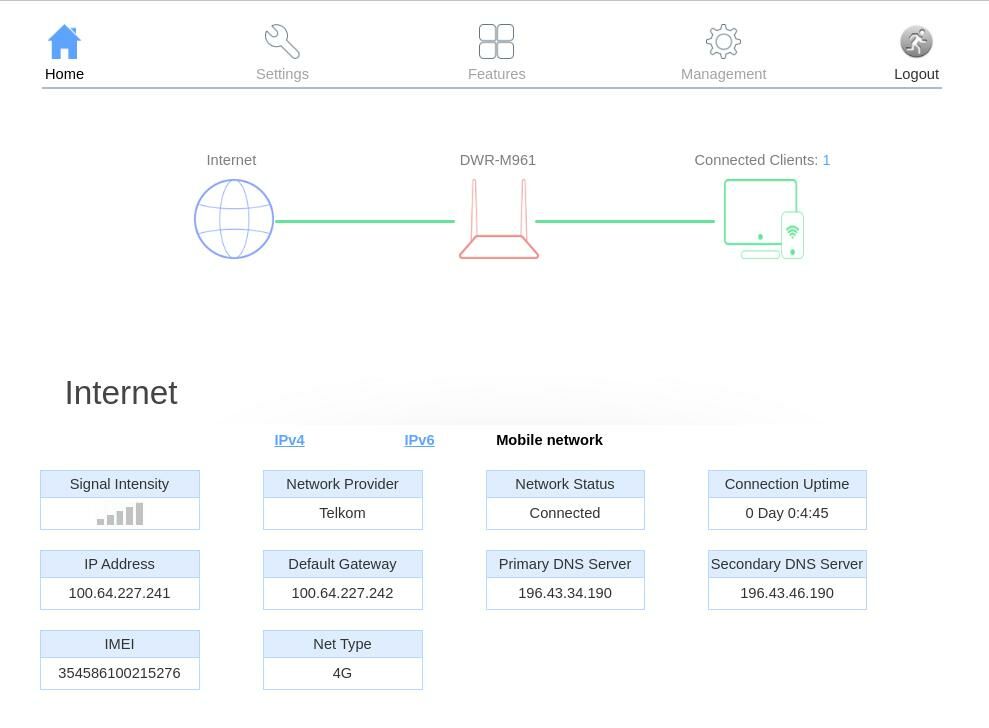 Fibre Connection (SuperSonic on Openserve)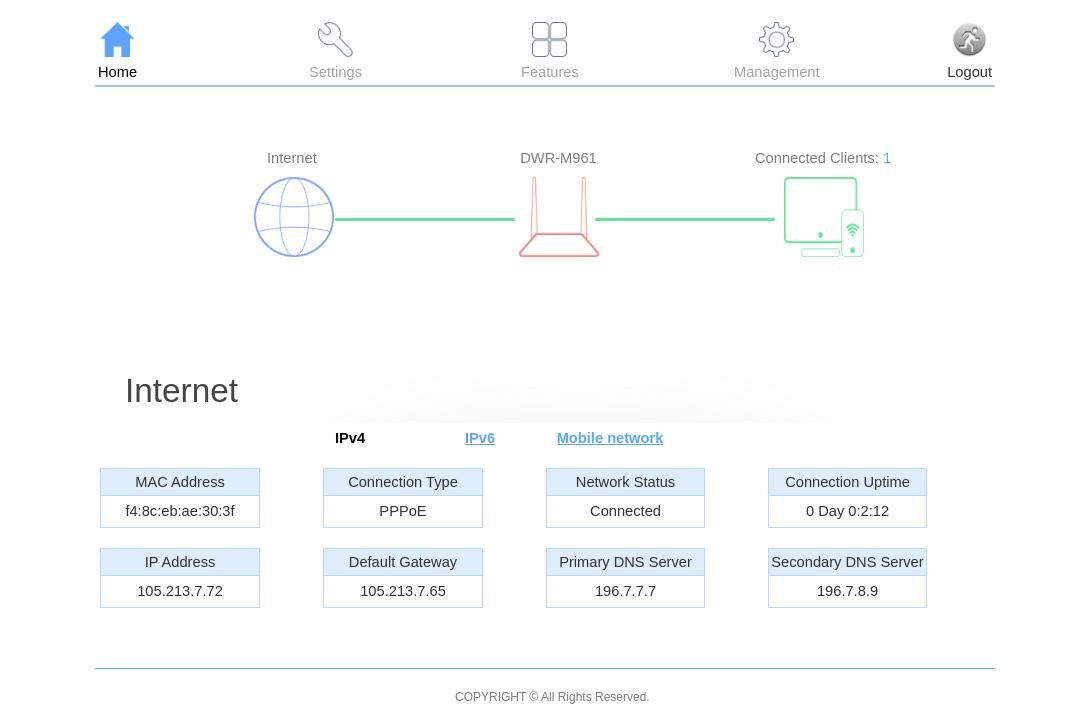 Ports
There are 5 Gigabit Ethernet ports on the back and one of them is the designated WAN port where one can plug in your fibre connection. It is (per custom) marked in a different color for easier recognition.
As is very common these days, there is also a USB slot to easily share files on your network and it supports SAMBA network shares.
Operation Modes:
The DWR-M961 can operate in a variety of modes to easily slot into your existing network or it can play the "star role" as a standalone unit and your only internet device.
The table below was copied verbatim from their web interface and one can see the different options.
| | |
| --- | --- |
| Mode | Description |
| Gateway(default) | In this mode, the device is supposed to connect to internet via ADSL/Cable Modem. The NAT is enabled and PCs in LAN ports share the same IP to ISP through WAN port. The connection type can be setup in WAN page by using PPPOE, DHCP client, PPTP client , L2TP client or static IP. |
| Bridge mode | In this mode, all ethernet ports and wireless interface are bridged together and NAT function is disabled. All the WAN related function and firewall are not supported. |
| Wireless ISP | In this mode, all ethernet ports are bridged together and the wireless client will connect to ISP access point. The NAT is enabled and PCs in ethernet ports share the same IP to ISP through wireless LAN. You can connect to the ISP AP in Site-Survey page. The connection type can be setup in WAN page by using PPPOE, DHCP client, PPTP client , L2TP client or static IP. |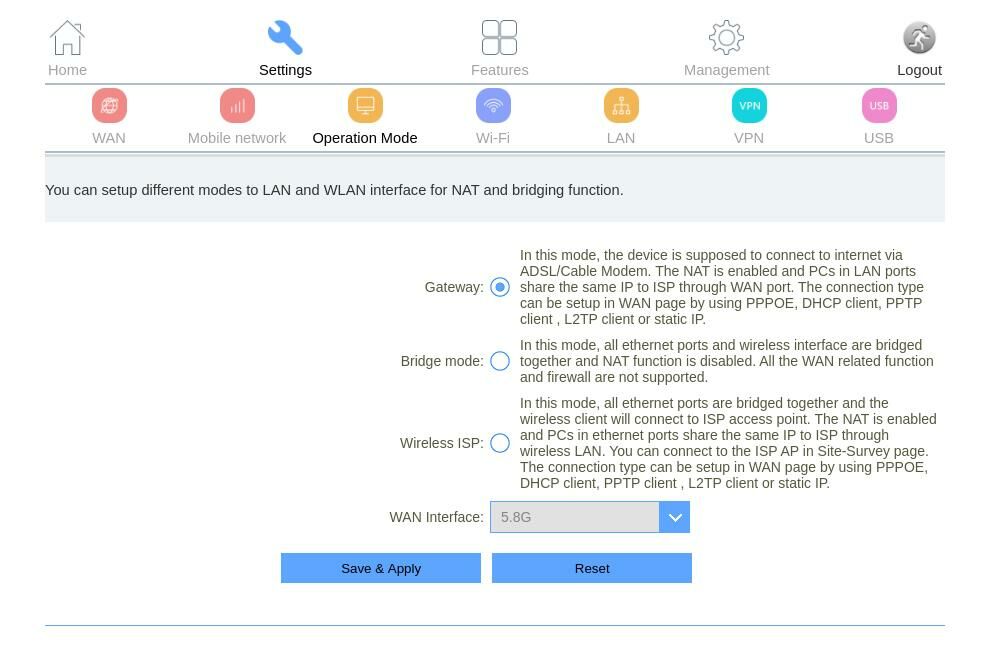 Other Notable Features
QoS(Quality Of Service):
Very useful to prioritize certain services on the network, for example you can prioritize your gaming traffic versus "other" traffic on the network.
Firewall:
I wouldn't trust a router these days without a built-in firewall. This at least shows the manufacturer has thought about security.
The firewall options in this D-Link device is quite extensive and allows for a number of configuration and filtering, as well as including a baseline level protection against DoS (Denial Of Service) attacks.
VPN (Virtual Private Network)
The D-Link DWR-M961 supports 3 different VPN protocols: PPTP, L2TPv2 and L2TPv3.
Setting up a VPN on your router instead of your PC, means that everyone connected to the router will enjoy the benefits of being behind a VPN, ie. better security, anonymity and of course getting around some geo-blocked services… *streaming services cough cough*
To see why you need a VPN or who to pick see our previous articles on the subject.
For full details and support see the D-Link DWR-M961 Product Page
Software
I've always liked the D-Link Administration Software. It is all web-based (of course) and very simple and functional. Some of the administration pages for routers can be very intimidating for non-techies, but D-Link makes administration and setup very easy.
Wi-Fi Settings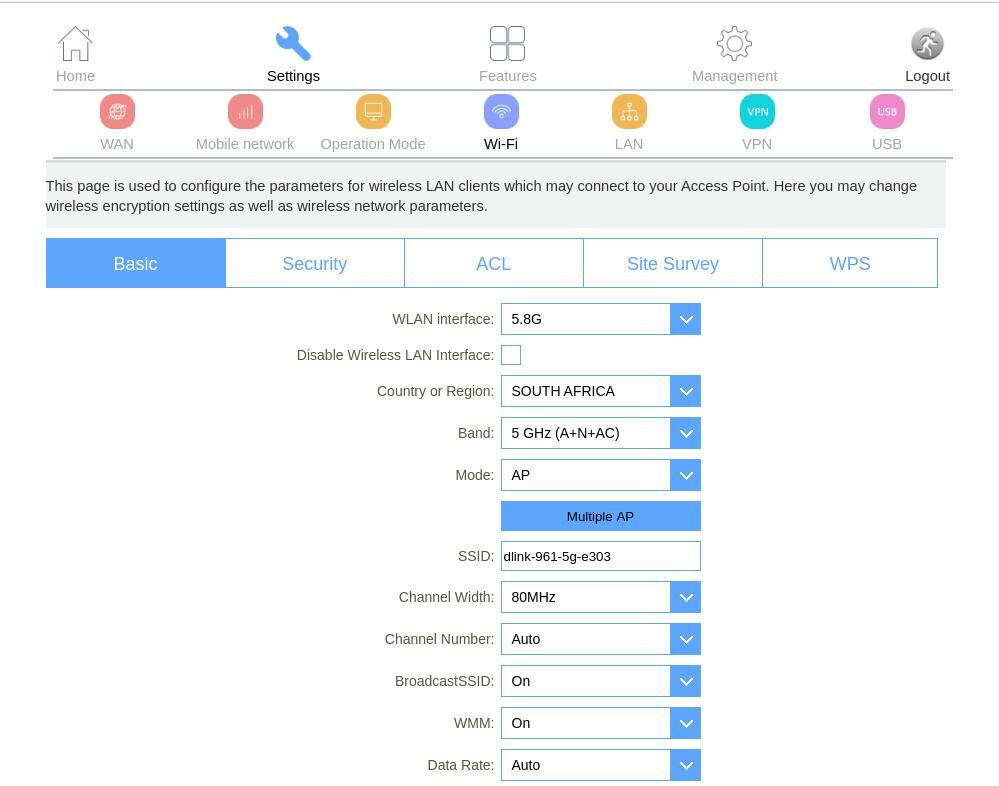 Firewall Settings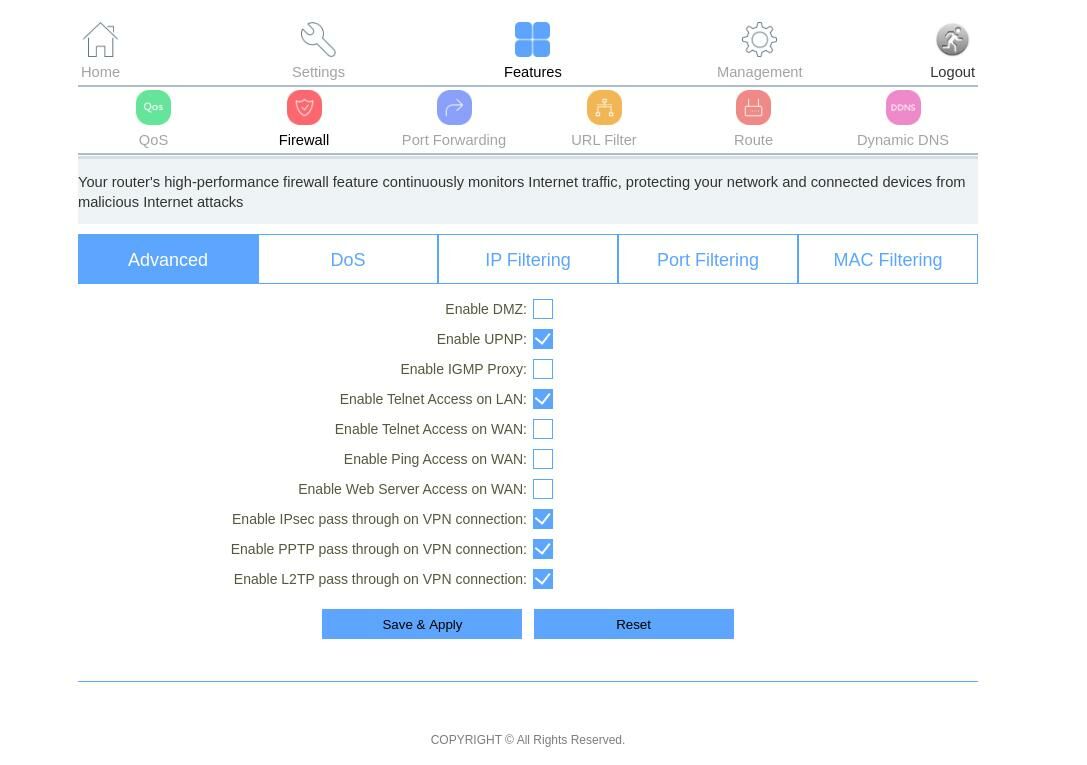 VPN Setup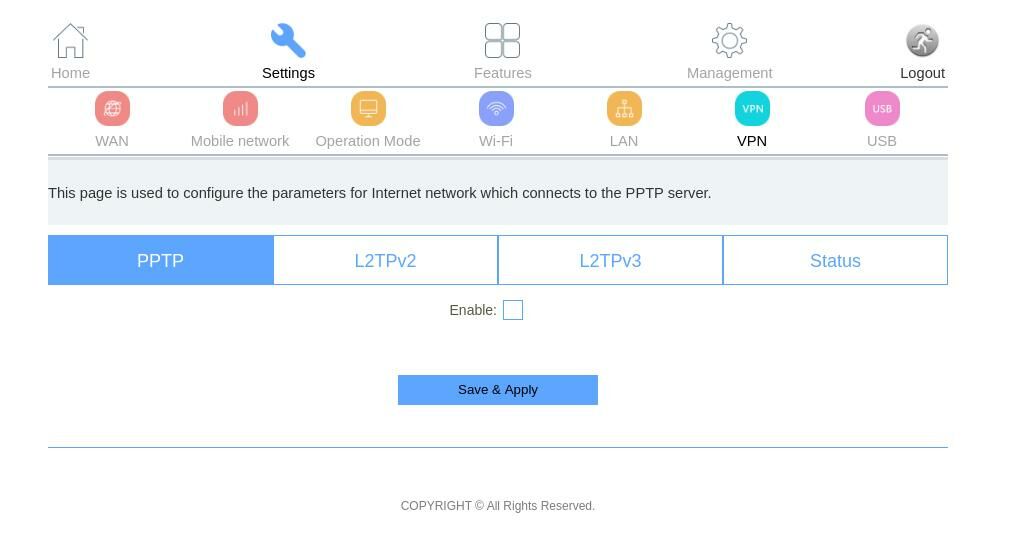 LTE-A Performance
LTE internet speed varies a lot ! It's an inherent property of wireless communications, where you have a shared resource (electromagnetic spectrum) vs a dedicated resource (optical fibre-connection) that is the backbone of your last-mile internet. Over the course of two days we did a few speed tests at different times of the day and the results are below:
These internet speeds are NOT to be confused with the Wi-Fi or router speed. The biggest factor is your LTE ISP - in this case it was Telkom LTE.
The LTE package usually also has a more "aggressive" FUP (Fair Usage Policy) and you might find yourself "throttled or shaped" sooner than you think.
There are a lot of factors that can influence your LTE speed such as: bad weather conditions, cell tower subscriber congestion, ISP packages or FUP policies amongst others.
LTE Speed Tests (ISP DEPENDENT)
| | | |
| --- | --- | --- |
| Date | Speed Down | Day Of Week |
| 4 Sep 2020 - 13:30pm | 64 Mbps | Friday |
| 4 Sep 2020 - 14:09 | 71 Mbps | |
| 7 Sep 2020 - 9:40am | 60 Mbps | Monday |
| 7 Sep 2020 - 12:03pm | 54 Mbps | |
Wi-Fi Performance
The sticker on the box says it can support up to 32 connected clients and we believe it, but we don't have 32 devices to test it with. This device in addition to having both LTE and Fibre (WAN Port) connectivity options, also has two Wi-Fi options for you to choose from namely: 2.4Ghz and 5Ghz.
There is the traditional and mostly overcrowded 2.4Ghz network and the newer, less congested 5Ghz network. If you can, try to make use of the 5Ghz network. Even though the 5Ghz has less penetrating power than the 2.4Ghz. This also means that you and your router are not polluting your neighbour's electromagnetic space. I.e if everyone switched to 5Ghz, there will be less overflow and pollution since 5Ghz signals are more easily blocked by the walls of a house as one example. You can always employ a few mesh nodes on 5Ghz should have spotty coverage in your house.
The 2.4Ghz should give you better range (meters/distance covered) but the 5Ghz should give you better speed and throughput (Mbps).
Range comparison – 2.4 GHz vs. 5 GHz
| | | | |
| --- | --- | --- | --- |
| Standard | Frequency | Theoretical Distance | Real World Distance |
| 802.11a | 5Ghz | 118 Meter | 60 Meters |
| 802.11b | 2.4Ghz | 140 Meter | 70 Meters |
| 802.11g | 2.4Ghz | 38 Meter | 19 Meter |
| 802.11n | 2.4Ghz | 250 Meter | 125 Meter |
| 802.11n | 5Ghz | 140 Meter | 70 Meter |
| 802.11ac | 5Ghz | up to 250 Meters (amplified) | up to 125 Meter (amplified) |
Speed comparison – 2.4 GHz vs. 5 GHz
| | | | |
| --- | --- | --- | --- |
| Standard | Frequency | Theoretical Speed | Real-World Speed |
| 802.11a | 5Ghz | 6-54 Mbps | 3 - 32 Mbps |
| 802.11b | 2.4Ghz | 11 Mbps | 2-3 Mbps |
| 802.11g | 2.4Ghz | 54 Mbps | 10 -29 Mbps |
| 802.11n | 2.4Ghz | 300 Mbps | 150 Mbps |
| 802.11n | 5Ghz | 900 Mbps | 450Mbps |
| 802.11ac | 5Ghz | 433 Mbps - 1.7 Gbps | 210 Mbps - 1 G |
Source:What's the difference between 2.4 GHz and 5 GHz WiFi?
Pricing and Availability
The D-Link DWR-M961 is already on the shelves and available for purchase in South Africa from most of the big e-retailers.
Here is a list of online shops and their pricing for the D-Link DWR-M961 as at September 2020:
Conclusion
The D-Link DWR-M961 is a great dual band and dual internet based router for a big family or medium sized office.
The ability to have both LTE and Fibre as a connection source, makes this perfect for the South African internet landscape where power and internet connectivity is never guaranteed and having a fallback solution is a great way to keep you online no matter what.