ASUS RT-AX86U - Best Gaming Router Review
Jacques du Rand 2020-07-13
---
ASUS quietly launched one of their latest flagship routers in early 2020, and you will be forgiven for missing it, but you would do yourself a dis-service by not looking more closely at this premium WiFi 6 router offering.
If routers were cars this one will fall squarely in the Mercedes Maybach territory with a big-dash of speed. Oh and endorsed by Nvidia for low latencies - more on that below.
Deluxe
WiFi 6
Router Experience
This router is in the high-end segment of the router market - or gaming router market if you want to be specific.
The RT-AX86UX is a dual band (2.4Ghz and 5Ghz) WiFi 6 quad core router from ASUS which has even been recommended by Geforce NOW - Cloud Gaming Service from NVIDIA!
If somebody is going to endorse your router for low latency you probably can't get better than a cloud gaming company like Geforce Now - where the user lives and dies by way of latencies.
The purported speed is a staggering 5700 Mbps with the latest standards and WiFi 6, but only in theory. In practice one always gets a little less speed than advertised, simply because of inherited inefficiency of wireless.
Oh, and this is one of the first routers (in the non-enterprise class) that we saw with two Gbps WAN ports. One is 1Gbps and the other one is 2.5Gbps. I just wish Openserve and Vumatel would take note here, our routers it seems can now take a 2.5Gbps internet connection.
The 2.5Gbps really does seem to be becoming the new standard (albeit slowly) as more and more mainstream motherboards support this onboard ethernet speed out of the box judging by the new Z490 based motherboards.
Exceptional Build Quality
As expected at this level of the market, everything is premier and the antenna's are even individually wrapped. The router itself is made of high durability and quality-feel plastic with a nice red accent at the bottom, but not so much that your RGB fanboys will rejoice.
This is more a subdued red-trim and should look good in any living room and not just the gaming den.
There are 3 external antennas as well as a fourth one that is internally mounted on the PCB from what we can tell.
Gaming Routers
I would like to point out for the non-gamers out there: Every gaming router is a brilliant "normal router" as well.
Gamers are very unforgiving when it comes to their hardware. Don't just believe me, pick up any gaming mouse and compare it to that point-and-click-brick you've been using. The difference is night and day in favour of the gaming mouse. The same with gaming routers - even if you are not a gamer, you still get a top-notch router with an advanced, and, up to date feature set.
Gaming Focused Features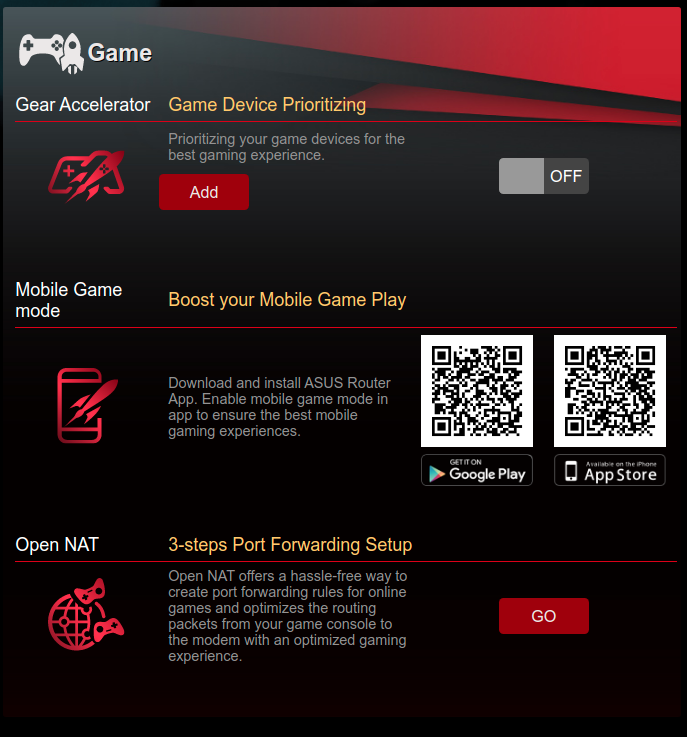 Device Filtering
As stated earlier this router is endorsed by none other than Team Green a.k.a Nvidia for their Geforce NOW cloud gaming offering. None of these new generations of cloud gaming services (Google Strada, Geforce Now or Steam Cloud Play) are available in South Africa yet, but we should still see a good amount of benefits for any gaming that makes use of an internet connection. As far as we can tell it is a QoS system with an eye on optimizing game-related network traffic and prioritizing it in terms of processing and transmit time.
You can do this on a device-by-device level and I, of course, added my phone and laptop - easy-peasy.
Open NAT (The Best Kind)
NAT (Network Address Translation) is in short; a way to save on IP-addresses and hide your devices behind one IP on a network.
By using NAT, as far as the Internet knows, your Xbox, PC and phone are all (behind) one IP, since all it sees is your IP that your ISP has dished out to you. But sometimes you want to tell your router and the Internet that ANY data for, say Port 1234, must go straight to your Xbox and be prioritized.(i.e port forwarding). This is helpful for console gaming and if and when you are hosting any game servers yourself.
ASUS supports Open NAT and this is the best kind to be honest, as it is compatible with most other NAT systems (i.e your friends). This would definitely help with decreased latency and the dreaded lag.
ASUS has made this very easy to set up, all just point-and-click in the router's browser admin panel.
I remember 'back in the day' doing NAT with ipchains on Linux - yes kids that was even before the linux firewall was called iptables.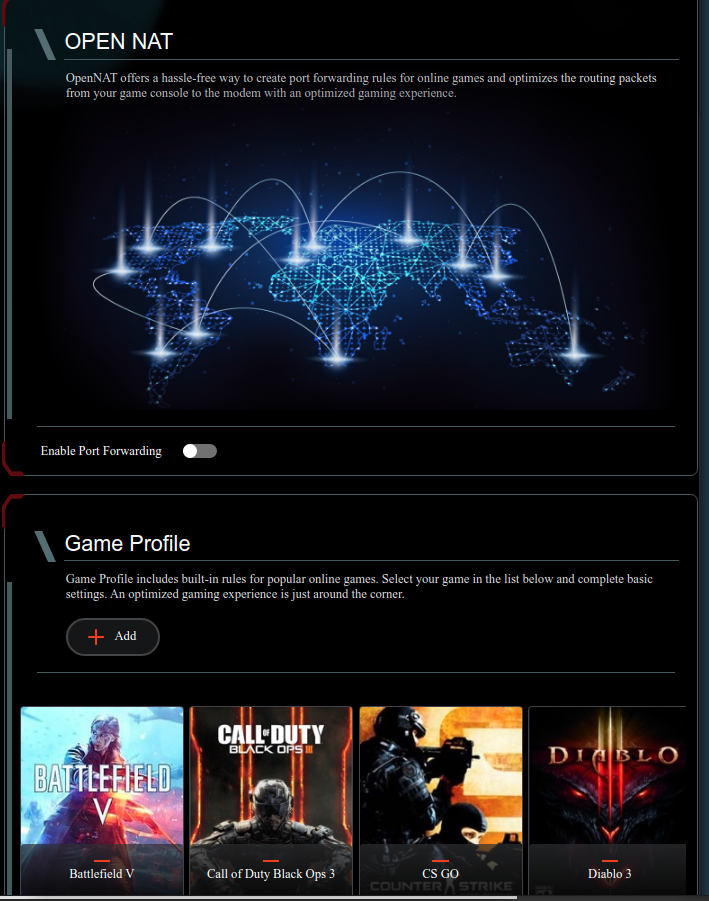 AirMesh
I think this is the most underrated feature of the ASUS router lineup.
We receive a fair bit of enquires at Fibre Tiger for, amongst others:
"Our wifi is slow.."
"Which router would you recommend for a big house"
"I can't stream from my bedroom".
Many people would first turn to buying WiFi extenders as they claim to boost the signal from your router, in other words, they claim to strengthen your WiFi signal. Personally, I hate recommending "WiFi extenders". There are just too many low quality products out there that will populate your and your neighbours airwaves with noise and bad signals, instead of what you had initially intended for it to boost, the "good" router signal. Typically "WiFi extenders" boost everything it encounters, both good and bad, and therefore we advise caution on which products you purchase, as all are not created equal.
There are two alternatives though:
Get more routers and set them up as repeaters; preferably link them with a wire (don't be lazy); or

Buy into the new generation of

mesh-network-routers

. These are routers that are designed for "

repeater mode

" from the ground up. They work great, but are expensive - even Google has a "mesh router product".
With the ASUS AirMesh any ASUS router can effectively become an ASUS approved AirMesh Node - provided the router supports it. So if you have an "older" ASUS router that supports this (most do), when you upgrade to, for example, this new one, keep the old one and set up a repeater for networking in the garage or that granny flat in the back.
It's super easy with the AirMesh software, but can be a bit of a click-wait-pray scenario, however once it is set up, you're good to go.
This is a great way to breathe life into your old routers and for ASUS to keep you as a router customer, a really clever little feature we think!
Feature Set
Ok let's get down to Brass-Ethernet-Tax and Table-Of-Goodies; and there are many.
The feature matrix is below, but we have highlighted the important bits - the bits you need to tell your parents or wife should you need to "motivate" the purchase!
Feature

Value

Wife And Parent Notes

WiFi Specification

WiFi 6 (Latest)

Our nice new phones won't be able to take advantage of their WiFi 6 capabilities.

More devices, better speed.

Wifi Mode And Bands

Dual band (2.4Ghz and 5Ghz)

The neighbors are too close and mom keeps using the microwave. The 2.4Ghz band is just too crowded!

Coverage

Very large homes
*Verbatim from Asus own spec sheet.

Mom/Wife can now stream without buffering from her bedroom, so we don't have to watch The Bachelor in the main TV room.

Processor

1.8 GHz Quad-Core processor

This will make the router more like Mom/Wife - able to do many things at once… unlike, say, dad.

VPN Support

IPSec Pass-Through

PPTP Pass-Through

L2TP Pass-Through

IPSec server

PPTP server

OpenVPN server

PPTP client

L2TP client

OpenVPN client

Remember when we got that VPN to stream Netflix USA? Instead of setting the VPN on the browser the WHOLE house can now be better secured and in America via VPN On Router.
Just For Geeks From here on

Data Rate(s)

802.11a : 6,9,12,18,24,36,48,54 Mbps

802.11b : 1, 2, 5.5, 11 Mbps

802.11g : 6,9,12,18,24,36,48,54 Mbps

802.11n : up to 450 Mbps

802.11n (1024 QAM) : up to 750 Mbps

802.11ac (1024 QAM) : up to 4333 Mbps

802.11ax (2.4GHz) : up to 861 Mbps

802.11ax (5GHz) : up to 4804 Mbps

Wi-Fi Technology

OFDMA (Orthogonal Frequency Division Multiple Access)

Beamforming: standard-based and universal

1024-QAM high data rate

20/40/80/160 MHz bandwidth

Encryption

WPA3-Personal, WPA2-Personal, WPA-Personal, WPA-Enterprise , WPA2-Enterprise , WPS support

Ports

RJ45 for 10/100/1000 BaseT for WAN x 1, RJ45 for 10/100/1000 BaseT for LAN x 4, RJ45 for 2.5G BaseT for WAN/LAN x 1

USB 3.2 Gen 1 x 2

Gaming Router

Recommended by Geforce NOW !

Optimize gaming related network tasks !

Complete Features

Router app

Link Aggregation

- 802.3ad

MU-MIMO

Traffic Analyzer

Adaptive QoS

AiProtection Pro

Parental Control

Guest Network : 2.4 GHz x 3, 5 GHz x 3

VPN server : PPTP Server, OpenVPN Server, IPSec server

VPN client : PPTP client, L2TP client, OpenVPN client

NAT Pass-Through :PPTP Pass-Through, L2TP Pass-Through, IPSec Pass-Through, RTSP Pass-Through, H.323 Pass-Through, PPPoE relay

Mac OS Backup

Enhanced media server (AiPlayer app compatible)

- Image :

- Audio : mp3, wma, wav, pcm, mp4, lpcm, ogg

- Video : asf, avi, divx, mpeg, mpg, ts, vob, wmv, mkv, mov

AiCloud personal cloud service

3G/4G data sharing

Download Master

- Support bt, nzb, http, ed2k

- Support encryption, DHT, PEX and magnet link

- Upload and download bandwidth control

- Download scheduling

AiDisk file server

- Samba and FTP server with account management

Dual WAN

IPTV support

Roaming Assist

OFDMA

Beamforming

NVIDIA Geforce Now Cloud Gaming Optimization

WAN Aggregation

Network Standard

IEEE 802.11a, IEEE 802.11b, IEEE 802.11g, IEEE 802.11n, IEEE 802.11ac, IEEE 802.11ax, IPv4, IPv6
The important bits here are that it is WiFi 6 and eventually everything from your phone, TV and car will support this next gen standard. Most phones coming out this year will start to support it. The advantages of WiFi 6 is the same promise of 5G: More speed, more bandwidth and more simultaneous connections.
There are also the updated security protocols namely WP3, again not going to change your world, but you must almost never say no to security enhancements.
Just remember to please change your router's default password and keep that firmware up to to date. Else the best security features in the world won't make a difference.
This is very similar to the enterprise grade security you can find on more expensive business class routers.
Two WAN Ports And One Of Them Is 2.4Gbps.
What is a WAN port you ask and why should you care?
The WAN (Wide Area Network) is your connection to the outside world. This is where fibre stops and WiFi begins. You plug your internet connection into one of the WAN ports.
Until recently it wasn't uncommon to see only 100Mbps WAN connections - especially from the routers your ISP will "lend you for free" when you have a fibre connection.
In South Africa most home fibre packages only go to 100Mbs or 200Mbps depending on the network provider in your area, but any FTTB or other business connections will be able to make use of the increased speed of the WAN ports. Oh, and these two can be aggregated into one.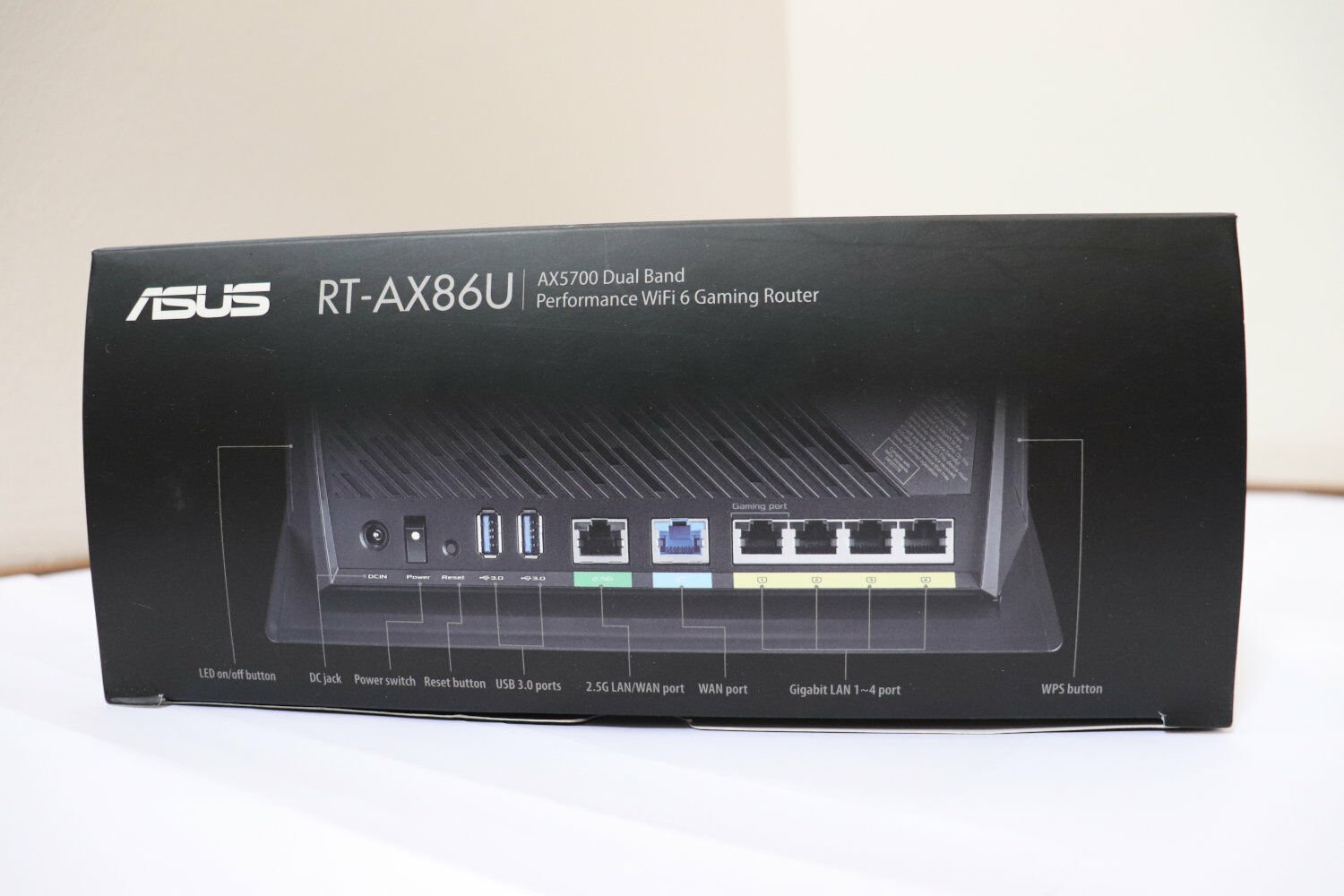 Quad Core
The routers today, as you may or may not know, have quite a lot in common with the PC or phone you are reading this on. They are more like very small and dedicated computers these days, thus you will see specifications and claims of "multi-core" and some amount of RAM. To be fair in most cases you won't see an increase in speed, but the more complex and exhaustive your router's feature set is; the more processing power you will need within it.
The ASUS AX86U packs a little powerhouse of a processor with a QUAD core ARM based CPU. The included 1GB RAM should be more than enough to let your connection fly faster and further than anything currently out there.
USB Ports.
Most people find it "weird" to see a USB port on their router, but it's still the easiest way we have found to quickly share files on your network. This router supports two USB ports and one of them is USB 3.2 (20Gbps throughput in theory).
ASUS Router App
There is the ASUS Router App as well, which we downloaded and, to be honest, still not a big fan off, but there are definitely people that will like it.
It's there, and it works most of the time. I'm not a fan, but maybe I'm just too old school. It does in theory give you the option to
fiddle and configure
your router from the comfort of your couch.
Alexa Integration.
I haven't really found a great use case for it, however I don't have an Alexa device. When I first read through the write-up I was wishful, hoping it would enable the router to act as a fully fledged Alexa Device, like the Echo Dot, and I would be able to ask about the weather and the latest Netflix movies, but Alexa for routers is mostly used to reboot the router via voice commands.
Some of the newer feature Alexa skills (commands that tie your Alexa device to your router) enable you to update firmware, pause the internet (great for kids timeouts), create guest networks (for parties etc) and you can even use it to subdirect more priority to certain devices (like PlayStation) or block internet to certain devices (like PlayStation) all through Alexa Voice commands. See more of these Alexa skills and capabilities directly at ASUS.
DoS Protection / IP 6 Firewall
Clever built-in feature, to help protect your home and office networks from any DoS (Denial Of Service) attacks. This is a great feature to have on a SOHO class router and I hope more router companies start to include this. It won't save you entirely from the russian botnets, but it's a terrific first-line of defence in our opinion.
Their FAQ states:
"DoS protection feature can filter suspicious or unreasonable packets to prevent from flooding the network with large amounts of fake traffic.
ASUS router uses the following methods to detect suspicious attacks.
1. SYN-Flooding Protection : Only allow one TCP/SYN packet to pass per second.
2. Port Scanner Protection : Protect router from port scanning via external port scan tool
3. Ping of Death : Only allow one ICMP packet (type 8) to pass per second or drop the length of ICMP packet over 65535."
Future Proof
WiFi 6, WP3 and 2.5Gb Ethernet - you will possibly be ok for well into the next decade. Even if you decide to add five more employees to the workforce or kids to the family.
Blended 2.4 and 5Ghz - a.k.a (Smart Connect)
I think the second most overlooked and under marketed feature of most ASUS routers, is the ability to have one "blended" 2.4Ghz and 5Ghz network (SSID). That way your device can automatically switch between the two networks and bands whenever performance issues arise - and make no mistake, arise they will - such is the curse of wireless.
In other routers the way it works is that you set up two independent networks (SSID) usually same name and 5-Suffix at the end, and leave it up to the user to decide which network is better. The thing is, one band is usually better sometimes and other times not.
Depending on if it is a weekend and everyone is at home, or whether your neighbour has a party and everyone's on their network and just thrashing the 2.4Ghz airwaves.
This is a simple and brilliant solution from ASUS to just blend and combine the two networks.
Setup
This went as smooth as silk and our biggest issue encountered was only the non-standard 2-point plug on the power cord we had to change. This is more the effect of living in a global village than an ASUS issue. I'm sure the production and retail version will include a more South African friendly plug.
We unboxed the router, screwed in the antenna's, plugged in the power cord and fibre connection and browsed to http://router.asus.com
From thereon we simply followed the configuration wizard; was super easy and pain free.
Experience
Like most of our router reviews, we don't only unbox it and do some pings to google.com - we insist on actually using the router as the FibreTiger daily driver for a week or two, it's the only way to really get a true feel for it and provide an honest review.
The ASUS RT AX86U was no exception; we ran it for a little over two weeks at the home office and even during load shedding (thanks UPS). There were no issues or dropouts as far as we are aware and the router worked so seamlessly that I didn't have to think about it again since set-up - exactly what you want from your router.
Gallery
Conclusion
We stand by our initial claim of this being a Mercedes Maybach with a big dash of speed.
This probably won't be a cheap router - still waiting on pricing info, but you certainly will get your money's worth! In addition to being more gamer focused and endorsed by Nvidia themselves, the only thing missing is some RGB lighting. Yes we know we are savages for liking RGB on our routers and ASUS certainly has the ASUS ROG and its sister-router, the RT-AX82U, that come with RGB lighting, but at this price I would like to have the option.
This is a briljant router and a very good future-proofed offering.
Well done Team ASUS - Now may I keep it?
ASUS Lockdown Afterparty with ASUS ROG
"Lockdown Afterparty" - with any purchase of any ASUS product (except laptops) you get entered into a lucky draw to win more ASUS products.
Details at https://bit.ly/ASUSZA