Telkom LTE And WiFi - The Buying Guide And FAQ
Jacques du Rand 2020-03-25
---
Ok so there is a lot of confusion about the internet in South Africa and the many ways one is able to get internet in the house. We recently did a post about all the different methods of getting the internet in South Africa, but today we will focus on "telkom internet" or "telkom wifi"... or "telkom fibre" and all the other Telkom questions we get on a daily basis.
There is this perception that to get internet, Telkom needs to be involved somehow or that Telkom is the only one with great specials. I've heard people mistakenly say "Oh fibre ? Ja Telkom owns ALL the fibre networks in South Africa" or "Ja to get fibre you need a Telkom line right ?" No ! You don't need a Telkom line to have fibre !
The good news about the year 2020 is that there are a lot of different options to get internet and usually much cheaper than Telkom, and you don't have to struggle with their legendary bad service levels.
Just try to cancel your Telkom line and see why everyone is enraged !
Let's break it down.
When people ask for "Telkom wifi" , "telkom wifi deals" or "telkom internet". They generally want a magical box that is wireless device that gives them internet in the house.
The problem is that the box is ONLY the router (wi-fi)… it needs to get the internet from somewhere ?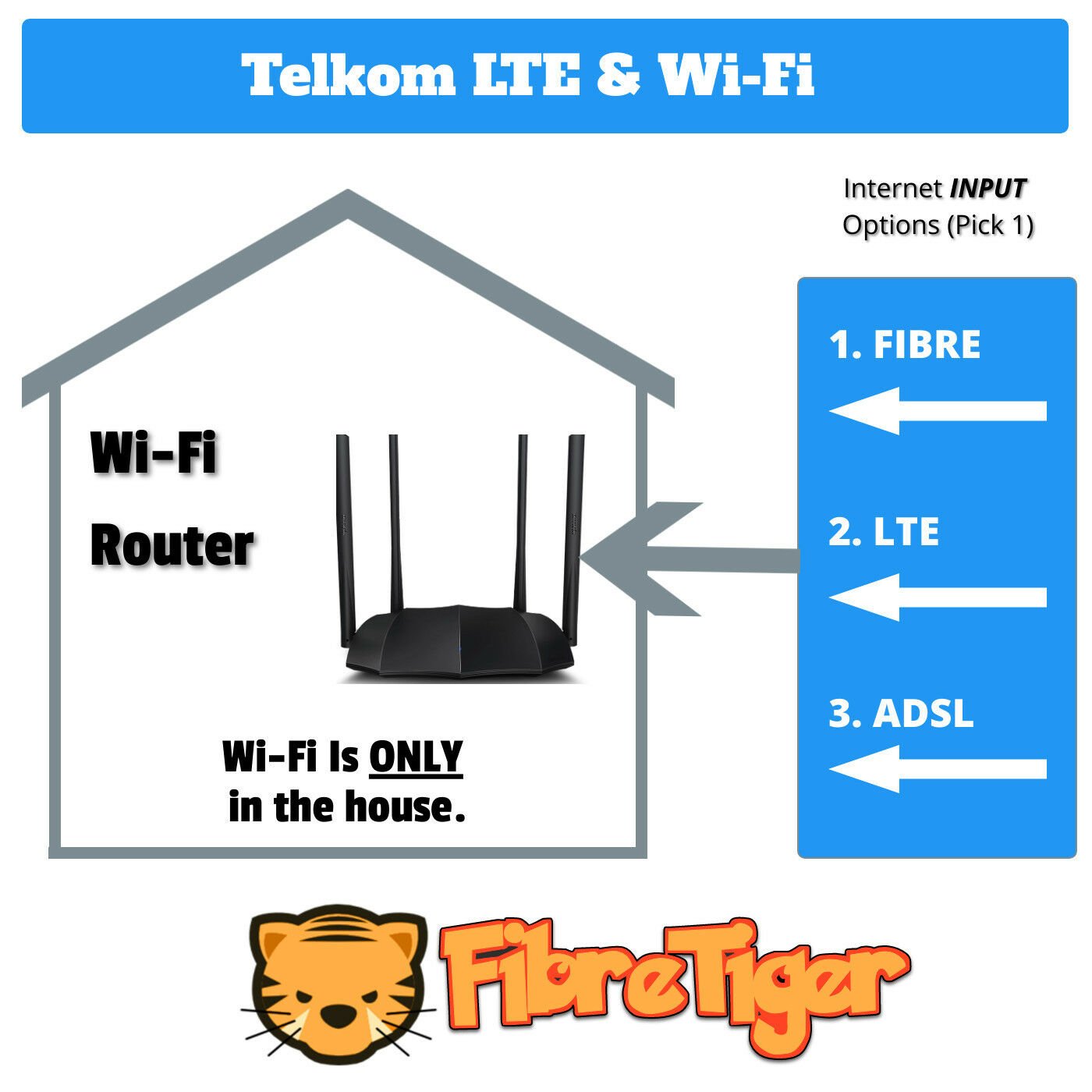 There is technically no such product as "Telkom WiFi" most of the adverts for Telkom WiFi is either for a Telkom LTE or Telkom Fibre or even as a last resort Telkom ADSL. All of these products can be connected to a Wi-Fi router to give your house internet or wifi or telkom wifi if you insist on the naming scheme.
Common Telkom LTE & WiFi Questions And Answers
Is LTE the same as WiFi ?
No LTE ( Long-Term Evolution) is the technology used to send "internet" to your home via the radio waves. It is a long distance wireless technology.
Wi-Fi is also a wireless technology but it's intended to "send" or "distribute" the internet in your home, it's a short distance wireless technology.
Think of the difference like so:
Wi-Fi is mom shouting to everyone in the house dinner is ready. The neighbours don't know dinner is ready...
LTE is the newsreader on the radio telling us Eskom is load shedding and SAA is being funded again. You and the neighbours and everyone in the radio station coverage area, knows about the loadshedding and SAA.
Can I get Telkom LTE ?
Most probably yes. LTE coverage is far greater in South Africa than fibre coverage.
Have a look at our LTE Coverage Map, it will also show you fibre and ADSL options.
How does Telkom Wi-Fi work ?
As mentioned earlier there is no such product as Telkom Wi-Fi. What you are probably after is Telkom LTE or Telkom Fibre that is connected to a Wi-Fi router (little box with antennas) that distributes or spread the internet in your house. That internet has to come from somewhere either via LTE, ADSL or a fibre connection.
How does Telkom LTE Work ?
You can either buy a package or deal directly from Telkom, but it's recommended to go through one of the resellers like WebAfrica, you get the same data deals and in some cases better value for money, but the greatest benefit is you only need to deal with an ISP like WebAfrica versus dealing with a Telkom call centre… See the upside yet...
Is Rain Internet better or cheaper than Telkom LTE or fibre ?
In most cases no, Rain piggybacks on the Vodacom LTE network for their 4G coverage and they have recently started to roll out their Rain 5G services, but it's most likely not yet in your area. The normal Rain data packages has a price of R250 a month for uncapped, but and it's a big but it will cost you R50 a gig during peak hours (6pm - 11pm) i.e when you want to Netflix and chill with the rest of South Africa.
How long will it take to get Telkom LTE ?
If you go directly with Telkom it might take some time, since you have to work through their legendary call centre service levels. If you go via a reseller like WebAfrica usually between 3-5 days. They only need to send you a LTE modem and sim card which in turn will give you Wi-Fi internet in your house via the external Telkom LTE connection.
Why is my Telkom Wi-Fi slow ?
First confirm that your internet is really slow by doing a wifi speed test to confirm your internet speeds. Anything above 10mbps and your Netflix and Youtube should not buffer ! If you are streaming from some "unofficial site" then it might be the streaming site that is slow and not your internet.
If you have done the speed tests to a few portals, it's time to give your ISP a call. If Telkom is your ISP for LTE you need to call the Telkom Care Centre at 10213.
How do I check my Telkom Internet speed?
Don't just use your ISP speed test portal, they might be biased. Best option is to use a third party speed test like we have listed on our speed test portal in addition to your local ISP. Do try to test with a cable, that will be the first thing the ISP support insists on!
How much is uncapped WIFI Telkom?
As mentioned earlier uncapped WiFi from Telkom is not really a product. It's simply an internet connection that's either fibre, LTE or ADSL. Check our coverage map to see which internet options are available in your area, then go look on our website to compare the best ISPs and their internet deals.
What are Telkom SmartBroadband Deals?
They are "normal" LTE deals, which you can also get from a reseller.
How much does Telkom LTE cost ?
Telkom has several packages - see below
| | | | |
| --- | --- | --- | --- |
| ISP | Package Name | Data | Cost |
| Telkom | SmartBroadband 5GB | 5GB | R59 x 24 Months |
| | SmartBroadband 10GB | 10GB | R99 x 24 Months |
| | SmartBroadband 30GB | 20GB | R199 x 24 Months |
| | SmartBroadband 40GB | 40GB | R 299x 24 Months |
| | SmartBroadband 60GB | 60GB | R399 x 24 Months |
| | SmartBroadband 80GB | 80GB | R499 x 24 Months |
| | SmartBroadband 120GB | 120GB | R699 X 24Months |
| | | | |
| WebAfrica | 20GB+20GB | 40GB | R269 per month |
| | 40GB+40GB | 80GB | R369 per month |
| | 60GB+60GB | 120GB | R469 per month |
| | 80GB+80GB | 160GB | R569 per month |
| | 120GB+120GB | 240GB | R769 per month |
| | 220GB+220GB | 440GB | R1069 per month |
Pricing for Telkom LTE As Of February 2020
Notes
Both suppliers include an LTE router which is also a Wi-Fi router.

The Telkom packages are for a 24 month contract.

The WebAfrica packages are for a month to month deal.
What Speed is Telkom LTE ?
It depends on how close you are to the nearest tower as well as how many people are currently connected to this tower. It can be anything from 2Mbps to 20Mbps. Anything above 5Mbps is enough for Netflix in HD.
Can I increase my Telkom LTE Speed ?
Depends on why your Telkom LTE is slow, if it is because you are very far from the tower and getting a very weak signal you could potentially have a better experience by adding a LTE booster antenna like one of these from Poynting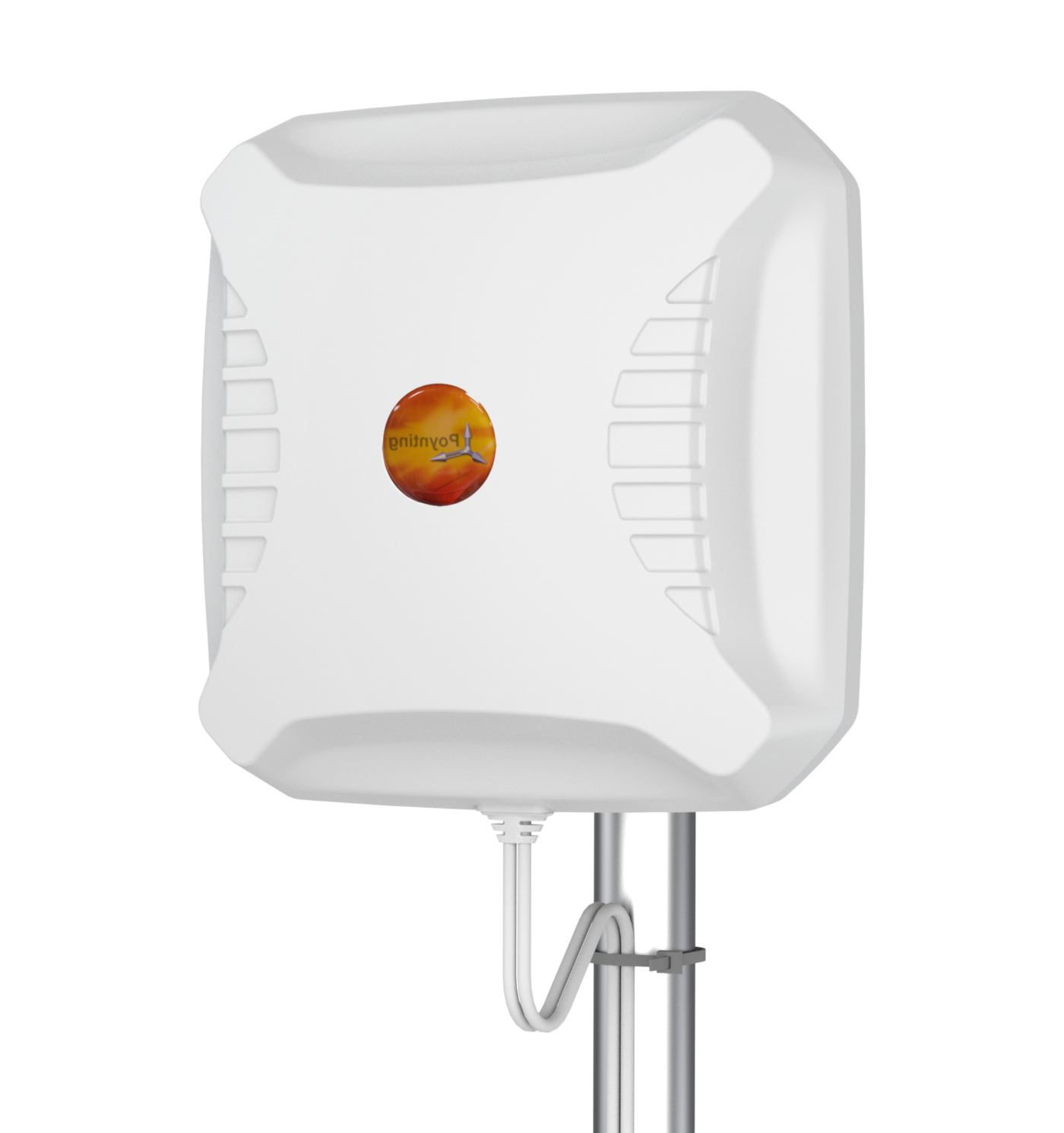 Can I increase my Telkom WiFi Speed ?
Depends on what is your "internet source" to your house, because as mentioned earlier Telkom WiFi is only the last bit of internet INSIDE your house.
If your internet connection is fibre, then you can usually upgrade to a higher line speed like 100Mbps or 200Mbps. If you have LTE internet then we can suggest an antenna or to move to fibre if it's available in your area.
Can I do something about movies that buffers on Telkom LTE or Telkom Wifi ?
Do a speed test and if its a above 10Mbps, you are either watching a movie from an unofficial source i.e pirate bay or you need to call your ISP and log a technical fault.
What is fixed LTE ?
When you first switch on your LTE modem it will "lock" onto the nearest tower and only use that tower, compared to something like your cellphone that can transparently and automatically select the best tower as you move around.
Can I move my fixed LTE device or take it on holiday with me ?
Yes you can but it can take up to a day or two to reset to a new tower.
Is LTE Better than WiFi ?
No they are not really comparable, most LTE is used for long distance communications like from the cell tower to your device in the home. WiFi is for the internet inside your home.
Is LTE better than Fibre ?
No, there are too many variables that affect LTE service levels, fibre usually has a better and more consistent internet experience.
The following can all have an impact on your LTE speed:
Weather: Stormy weather makes for bad LTE transmission.

Nearest tower density: How many people are sharing the tower.

Security of towers: Many towers make use of batteries for backups but in South Africa these towers are usually targeted by criminals.
Is Telkom LTE cheaper than Fibre ?
No, fibre is usually cheaper than LTE for the same amount of data and more is reliable.
You should note that 10Mbps fibre from Openserve is not the same price as 10Mbps fibre from Frogfoot.
Does FibreTiger list Telkom LTE packages ?
We do list the Telkom LTE packages available from some resellers like WebAfrica. These are in our opinion much better options than to go directly to Telkom.
Is LTE better than RAIN ?
Rain uses the same LTE technologies that most LTE packages use. It piggybacks on the Vodacom network. There is a new 5G service from Rain being deployed in South Africa which promises to be better.
Is LTE the same as 5G ?
No, 5G is a much newer and better technology that is currently being rolled out worldwide.
Some of the areas that 5G is better than LTE are:
Better tower density (more people per tower)

Faster Speeds (up to 700mbps downloads speed)

Much better latency (No pause when talking on Skype.

5G is a fifth generation technology where LTE is 4th generation.
Right now only Rain has a 5G network in South Africa but the coverage is very limited.
How do I check my Telkom LTE account and topup
You can do it via the Telkom portal. Login here
If you are using a reseller for LTE you can login to the reseller portal.
Do you get Telkom Uncapped LTE ?
From time to time Telkom will have uncapped LTE specials but they come with a lot of red tape and conditions, mostly fair usage policy. The current SmartBroadband Wireless Unlimited All Hours package costs R849 per month and its fair usage policy is:
150GB data @ 10Mbps

Thereafter 50GB data @ 4Mbps

Thereafter 2Mbps uncapped data rest of month
As you can see it's quite restrictive
Do I need a new router for Telkom LTE ?
Most probably yes. If you did not have Telkom LTE before and only Telkom Wifi. Then you need a specific Telkom LTE compatible router.
Some of the Telkom LTE compatible Huawei models are
Huawei B525 (Preferred model)

Huawei B315

Huawei B618

ZTE MF253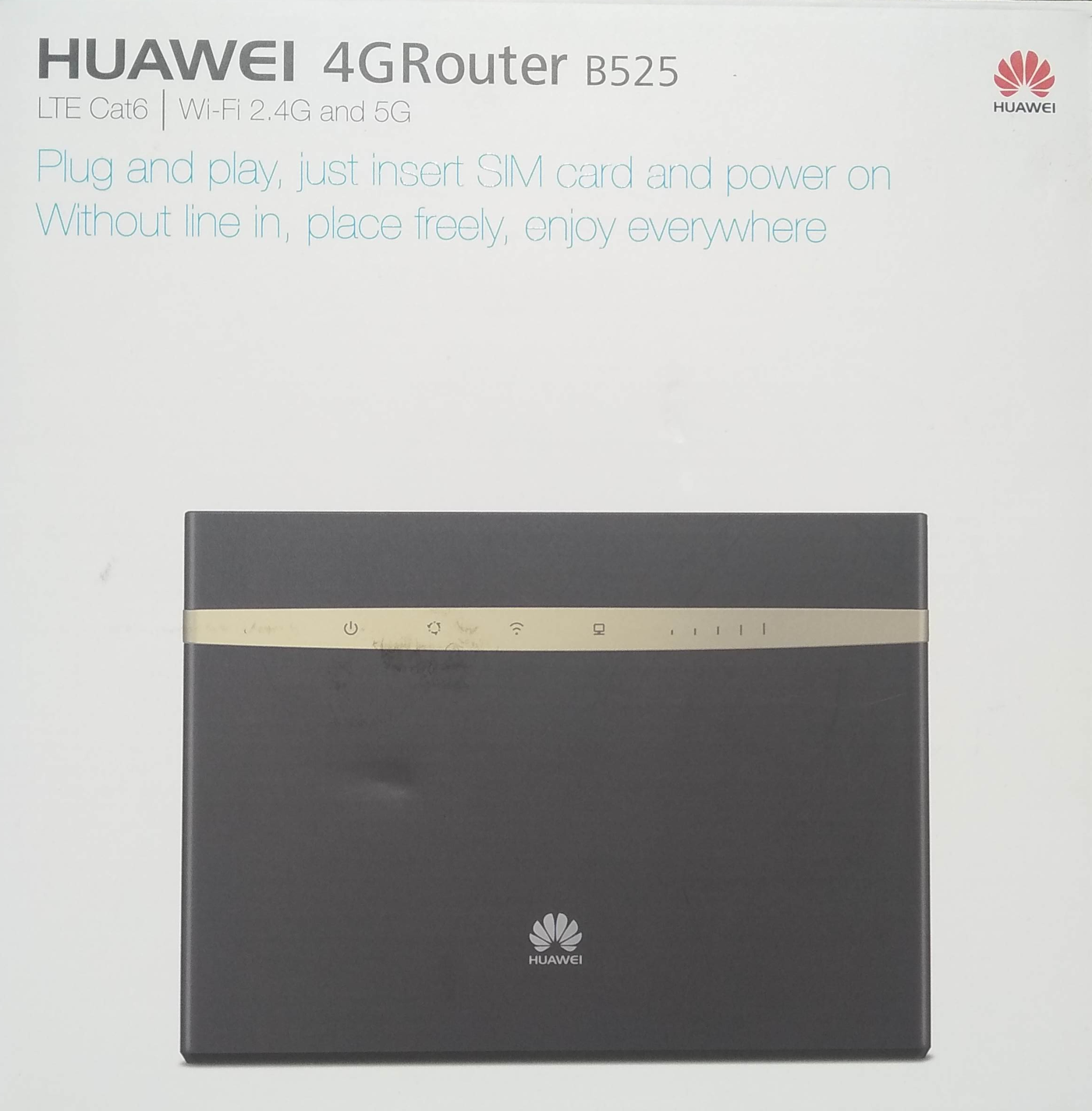 These models all have a builtin Wi-Fi router to distribute the LTE internet in your house. You can also plug the LTE router into your previous WiFi router to better spread the internet coverage in your house.
I've received my Telkom LTE, how long for the service to activate ?
It can take up to a day for the LTE service to lock onto a tower and activate.
Follow these steps:
Turn on the LTE modem after you have inserted the sim card and wait for the LED to turn blue.

If It has not yet turned blue after 24 hours, restart the router, wait 1 hour and then call ISP if problems still persist.
Can I watch Netflix on Telkom WiFi and LTE ?
Yes, the Netflix requirement for HD video quality is only 5Mbps, just be careful usually LTE data is more expensive than fibre.
Is Telkom and Openserve the same company ?
Openserve is a subsidiary of Telkom and the unit that handles all the connectivity business like fibre and LTE.
What is Telkom uncapped Wifi ?
There is no such product, usually it's a fibre product and you do get Telkom uncapped fibre packages on their Openserve network.
See the uncapped telkom (Openserve) packages and deals.
Do I need a sim card for Telkom LTE ?
Yes you will need a Telkom Sim card for any Telkom LTE services, you can buy them from resellers like, Afrihost, Axxxes and WebAfrica.
Does Telkom LTE work during load shedding ?
It might, it depends if your local tower still has its backup batteries and if your Telkom LTE / WiFi router (one device ) also has a battery backup like an UPS.
Can I connect my Telkom LTE or Telkom WiFi to a UPS ?
Yes.
How long will my Telkom LTE Device last on a UPS during load shedding ?
Depending on which Telkom LTE Router you have and UPS. A rule of thumb is that with a 850VA UPS you should last at least one load shedding cycle.
Why do I have to do a speed test with a cable ?
That is usually the rule with the ISPs. They insist you test your internet connection with a cable to make sure that the slow speeds are not because of a bad wireless device or busy airwaves. Also some older wi-fi routers can not do more than 54Mbps. But if your Netflix is buffering the cable is not going to help.
Where can I find the best Telkom LTE Deals ?
Have a look here on Fibre Tiger
Can you still get Cell LTE ?
No Cell C has discontinued their LTE product.
Is Telkom LTE faster than Rain ?
It can be if you are comparing it to the Rain 4G network. Telkom LTE is slower than the new Rain 5G service, but it's not widely available yet in South Africa.
Fibre Tiger is the largest fibre, LTE and ADSL comparison service in South Africa.
We will show you who are the best ISPs and their deals.
We also have a speed test portal for you to test your Telkom, WiFi and fibre speeds, that is not hosted by any of the local ISPs.