Fibre Price Differences In 2020
Jacques du Rand 2020-02-19
---
Why do we have such a wide range of fibre prices in South Africa?
In this article, we will explore why you might pay more for your Frogfoot fibre than what your neighbours are paying for their Vumatel or Openserve fibre even though you are all at the same ISP.
First, we need to review the basics, as many of you may know, you need two things for fibre internet; also now referred to as "uncapped wifi " or "telkom uncapped wifi" by some of our readers.
Fibre Network: Vumatel, Openserve, Frogfoot and Octotel etc..

Fibre ISP: Afrihost, WebAfrica, Vox and Telkom etc..
1. Fibre Networks
The "fibre network" is the actual fibre optic cable in the ground in front of your house. It is a physical cable that works with light, not copper (and therefore no more telkom adsl copper thieves), to bring you internet.
The fibre companies invest the capital by installing or trunking the fibre cables to your door. Usually, there is only one fibre company in any given area. But if you are one of the lucky few that has fibre coverage from multiple providers, then you may choose the best value for money.
The biggest (in terms of coverage) fibre networks in South Africa as of February 2020 are Openserve, Frogfoot, Vumatel and of course Octotel if you are in Cape Town.
2. Fibre ISP
These are the ISPs or internet service providers that will sell you a package on the fibre network in your area. And very importantly they can ONLY sell you a package for the network in your area. No, they can't sell you a package for the cheapest network if they are physically not in your area.
Unlike Telkom ADSL, where you have to deal with and pay Telkom regardless of who your ADSL ISP is, you only have to deal with your fibre ISP and not your fibre network as well. This is a huge plus since you also only pay one supplier. The fibre line rental is already included in the price you pay to your ISP. Of course, this payment excludes any installation or activation fees for new accounts.
The fibre ISP "rents" the "fibre line" from the fibre network (Openserve, Frogfoot etc) and package it with data and support services and sell that to you. The fibre network's line rental prices it charges to the ISP are a big component in the final price you pay.
Can I choose my fibre network?
No, you are restricted to the fibre networks that have laid fibre optic cables in your area.
Can I choose my fibre ISP?
Yes, you may choose any fibre ISP that has a package for the fibre network in your area.
Think of it like this... "Fibre networks are like family... you are usually stuck with what you got... Fibre ISPs are like friends, those you can pick and choose !"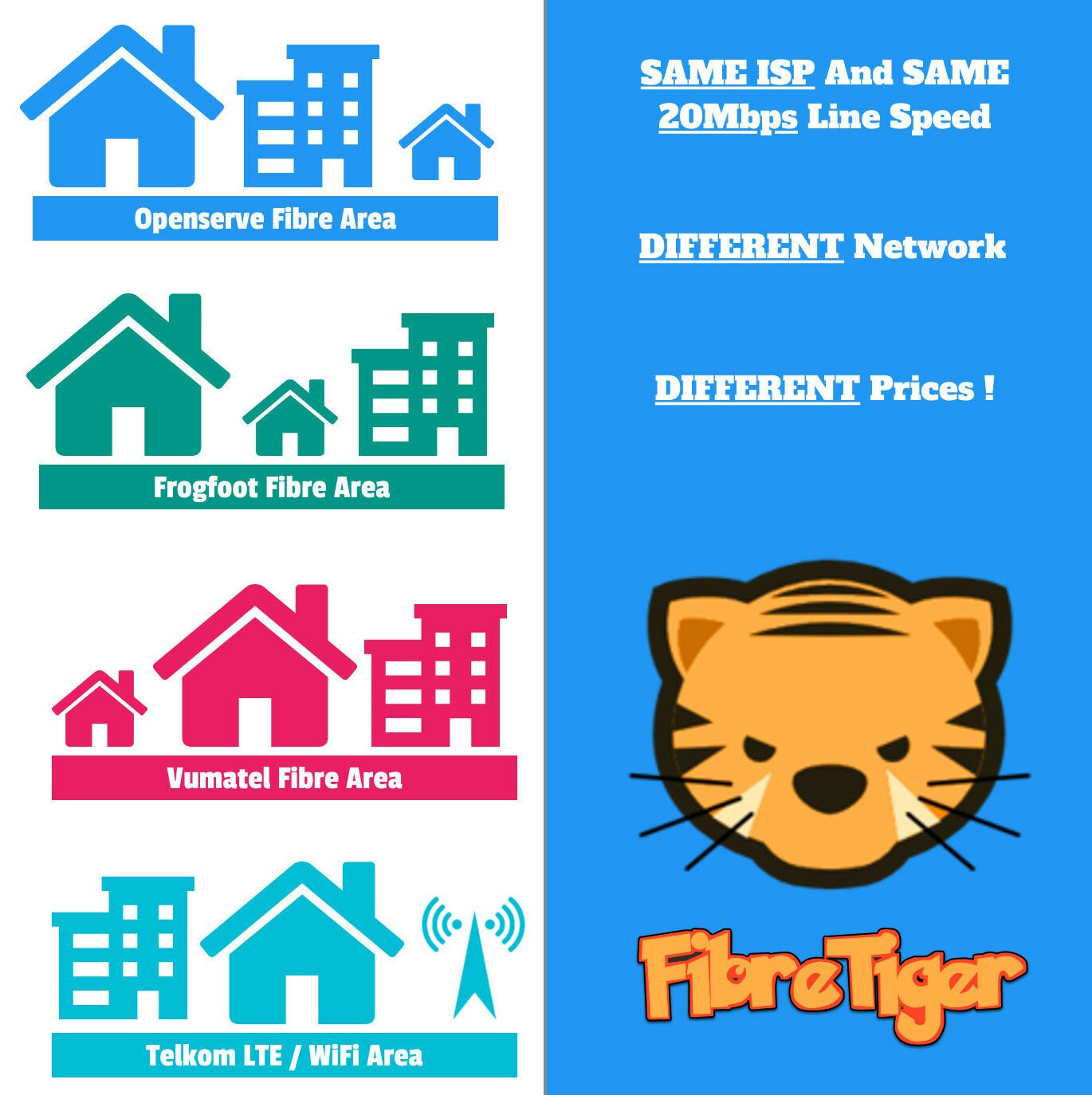 Why does a typical
Vumatel Fibre 20Mbps
package cost more than a typical
Openserve Fibre
20Mbps
package?
We asked Greg Wright who is the "Chief Commercial Officer" at WebAfrica to help us understand:
"There is no price equilibrium on wholesale Fibre line pricing across different Fibre Infrastructure Players. To illustrate this using a hypothetical example, Vumatel charges an ISP R500 for a 20Mbps line and Openserve charge R400.
ISPs then add the costs of data and a margin on to the wholesale line price in order to determine their retail price to the market. Hence, the retail price a consumer pays would differ depending on who the underlying infrastructure provider is.
There are instances where infrastructure players build over each other, take Claremont Cape Town, for example, the consumer has 2 infrastructure choices (Octotel or Openserve) and is therefore in a powerful position through the gift of choice . "

We should emphasise what Greg mentioned about multiple infrastructure players (fibre networks) in one area: This is very seldom the case, in fact, most South Africans still fall outside of a fibre network coverage area.
How do I know which fibre networks are active in my area?
First steps will be to do a fibre coverage check , to see which networks are available in your area. Be sure to be specific and enter your street address and not just your general area or suburb. The fibre coverage is very sporadic so it could be that the fibre coverage stops just short of your house. Don't merely look for fibre coverage in "cape town" or "plumstead" enter your whole street address.
After you have identified the network, you can look on FibreTiger to see the best fibre ISPs and their packages.
You can find a list of the best Openserve , Vumatel, Frogfoot and Octotel fibre deals as of February 2020 on FibreTiger's website.
If you are unlucky and don't yet have fibre coverage in your area, you might be covered for Telkom LTE, which is still better than ADSL.
Do I need a Telkom line for
Telkom Fibre
or
Telkom WiFi
?
Unless you want an old styled telephone line and number, then no! In the past with ADSL where you had to pay Telkom no matter who your ISP was, with fibre you are spoiled for choice.
Is Telkom Fibre and Openserve Fibre the same?
This is another question we are often asked, and it depends on how you look at it.
There is "Telkom fibre" the ISP and "Telkom fibre " the fibre network which is actually Openserve. Openserve is the "fibre network" from Telkom for which many ISPs have a package for. You don't need to choose Telkom as your fibre ISP, even if you have an Openserve fibre connection.
What if I don't have fibre coverage?
Then you might qualify for LTE internet from Telkom. The Telkom LTE coverage is much bigger than most fibre networks. The good news is that you don't need a Telkom line for Telkom LTE or Telkom Wifi ! There are very good resellers with fantastic Telkom LTE deals to choose from. See the Telkom LTE deals in comparison with Rain internet.
Fibre networks like Frogfoot and Vumatel are aggressively expanding their fibre footprint in South Africa, so in the (far) future, you might have fibre coverage. I say far because, as I like to say, "fast fibre takes time !" It took around 6 months after the cables were laid (Openserve area) for me to be able to order a fibre package.
Average Fibre Prices for 20Mbps and 100 Mbps Uncapped Internet - February 2020
| | | |
| --- | --- | --- |
| Speed | Networks | Average Price |
| 20 Mbps | Openserve, Frogfoot, Vumatel, Octotel | R902 |
| 100 Mbps | Openserve, Frogfoot, Vumatel, Octotel | R1262 |
Average Fibre Prices for 20Mbps and 100 Mbps Uncapped Internet By Network - February 2020
Speed

Network

Average Price

20 Mbps

Openserve

R964

100 Mbps

Openserve

R1412

20 Mbps

Frogfoot

R848

100 Mbps

Frogfoot

R1087

20 Mbps

Vumatel

R913

100 Mbps

Vumatel

R1287

20 Mbps

Octotel

R886

100 Mbps

Octotel

R1263
ISPs Sampled:
Afrihost, Axxess, BitCo, Cell C, Cybersmart, EasyWeb, Home-Connect, ISPAfrika, MWeb , OpenWeb, RSAWEB, SuperSonic, Vodacom, Vox and WebAfrica
For contrast, the 240GB (120GB + 120GB) Telkom LTE deal is currently R768 and R469 will get you a Telkom LTE 120GB deal. They usually run at about 20Mbps depending on your local tower. See all Telkom LTE Deals