DLink AX6000 - Monster Router Review
Jacques du Rand 2020-05-25
---
There are many great routers and D-Link definitely offers some of those as well, but if you want your Wi-Fi to thrive and not just survive... nothing beats this total beast of a router. This is the one that Thanos would use for setting the universe up with Wi-Fi
The first thing to know about the DIR-X6060 is that this router is a Wi-Fi-6 router. Up until now most of us have been using Wi-Fi 5.
We tested the D-Link DIR-X6060 for well over two weeks and it was our daily driver in the home office. It performed exceptionally well! From watching high quality YouTube to low latency gaming for all.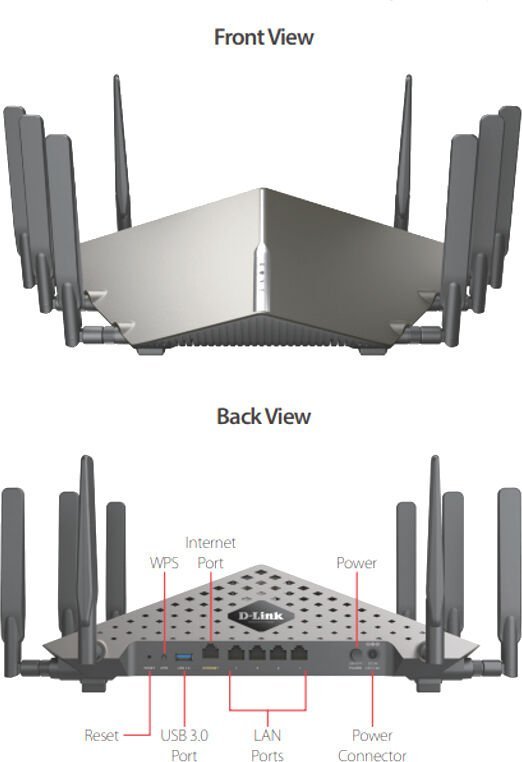 Wi-Fi-6 (802.11ax) VS Wi-Fi-5 (802.11ac)
You are most probably using Wi-Fi 5 (802.11ac) in your current router at home or at the office. The new Wi-Fi 6 technology is promising amazing wireless speed, up to 6000Mbps.
The biggest problem Wi-Fi 6 aims to solve is that of capacity. With everyone and everything getting on the Wi-Fi, from Grandma to the new IoT fridge, the airwaves are getting very, very busy with network traffic.
This new router from D-Link will go a long way to alleviate the issue of constrained Wi-Fi capacity provided you have a few Wi-Fi 6 devices that can make use of its full potential.
Some of the new techniques used to achieve the next level in wireless nirvana are:
OFDMA:(Orthogonal Frequency Division Multiple Access)

This will divide a normal wireless channel into a number of smaller subchannels, these subchannels can carry data for many different devices on the network. Think of a packed truck (channel) that has a package (data) for many recipients (devices).
MU-MIMO (Multi User - Multiple In/Multiple Out)
Although this technology has been in the previous generation as well, this is a new take, and improved version of MIMO, which lets the router talk to multiple devices at the same time. Also one of the reasons this router has 8 antennas! This router has a 4x4 MU-MIMO integration and makes it excellent for gaming - local LAN or on the internet.
BSS Coloring:
This helps with increasing the range and to reduce interference in busy Wi-Fi environments and increasing the effectiveness of frequency reuse.
TWT (Target Wake Time)
Ever notice if you put your phone's Wi-Fi off that the battery lasts longer and charges faster? That's because having Wi-Fi can be a draining exercise on your battery, since your phone constantly has to check if there is data available for it. With TWT your phone will get scheduled for data transmission and thus extend the battery charge. Don't fear the word scheduled here, the speeds will still be lightning fast and you won't notice anything other than your battery charge lasting longer.
Linus over at Linus Tech Tips has mentioned Wi-Fi 6 "a revolutionary upgrade..." over Wi-Fi 5. In a speed test with Wi-Fi 6 capable hardware he managed an upload speed of over 800mbps from a mobile device!
In the future you will notice the Wi-Fi icons being denoted with a little number to help you connect to the right network.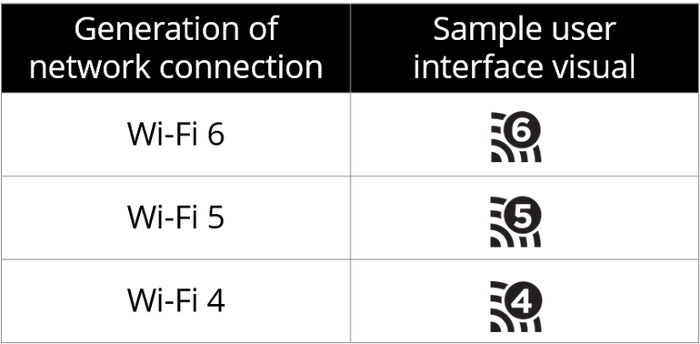 Dual Band Capability - AX 6000 Mbps
We have talked many times about dual band routers and they are a requirement for the new Wi-Fi 6 specifications.
The 6000Mbps represents the total maximum combined THEORETICAL bandwidth in Mbps, which includes the 2.4GHz and 5GHz bands.
Build Quality And Packaging
I especially want to highlight this section. When you unbox the router and all its pieces you feel like a super sniper assembling your rifle in an action movie!
Each antenna has its own specifically crafted place inside the box and needs to be screwed in. The whole package and the router itself just screams quality!
Features & Specifications
Device Interfaces

One 100/1000/2500 Mbps Multi-Gigabit Ethernet WAN port
Four 10/100/1000 Mbps Gigabit Ethernet LAN ports
IEEE 802.11 ax1 /ac/n/g/b/a wireless LAN
One SuperSpeed USB 3.0 port

Antenna
8x adjustable
Wi-Fi Data Rate

2.4 GHz Up to 1200 Mbps2
5 GHz Up to 4800 Mbps
Theoretical

Wi-Fi Standards

IEEE 802.11ax
IEEE 802.11ac
IEEE 802.11n
IEEE 802.11g
IEEE 802.11b
IEEE 802.11a
IEEE 802.3u
IEEE 802.3ab
IEEE 802.3az

Smart Home Ready

Quality of Service (QoS)
Amazon Alexa
Google Assistant

Security

WPA2 (Wi-Fi Protected Access)
WPS (Wi-Fi Protected Setup)

Smart Home Ready

Quality of Service (QoS)
Amazon Alexa
Google Assistant

Advance Features

D-Link Wi-Fi App Setup and Configuration
QoS (Quality of Service)
DMZ (Demilitarized Zone)
Firewall - Network Address Translation (NAT)
Guest Zone
USB File Sharing
Having a USB 3 port right there on the router makes for easy file sharing once you set it up properly. This is still the easiest way to distribute and share large files quickly on your network.
Voice Commands
We connected the router easily with the Google Assistant on my Android phone. It was kind of "spooky" to "tell" Google to reboot my router, but it worked well.
The Guest-Zone Wi-Fi feature is required to use the digital assistants and comes in handy when… yes, you have guests over.
Coverage Test
Between four people and a girlfriend we didn't have one Wi-Fi 6 cable device, so we didn't feel we could do a proper LAN and internet speed test as per usual to showcase this device's true power and speed.
We can say however that we had exceptional coverage in every room and no speed or buffering issues, even when we had five people connected at once.
Phones with Wi-Fi 6 Capabilities
We spent some time to make a list of all the popular phones you can buy today that supports Wi-Fi 6. It's important to note that Wi-Fi 6 is backwards compatible with Wi-Fi 5, thus even if your laptop or phone doesn't support it, it will still work, just not as this level.
IPhone 11
Samsung Galaxy10
Yup, that is it for the popular manufacturers. Currently there are way more routers than phones that support Wi-Fi 6, but that will quickly change in the next generation.
Software And Setup.
The software from D-Link is solid as usual and easy to use. Nothing fancy or over the top here and the built-in wizards to setup internet and Wi-Fi work very well.
The software has a statistics page with real time graphing which is very interesting to study if you're geeky in that way.
Two features that stood out for me was:
QoS (Quality Of Service) This was super easy to use! The screen gives you a list of connected devices and a priority queue that you can just drag your devices into, real simple!

Dynamic DNS Built-in support for D-Link's own Dynamic DNS service. This is super handy if you, like most consumer clients, get a dynamic IP address from your ISP. Mine usually changes every 24 hours. With this service you can have a static name to access your home internet from the outside.


Final Notes
If you have the money or plan to have at least one Wi-Fi 6 device in the coming months, you will be stupid to overlook this router ! It's simply amazing and I personally will be sad to see it go back to D-Link. ;)
This router will be a welcome addition to your fibre or LTE connection and blanket your house in Wi-Fi coverage.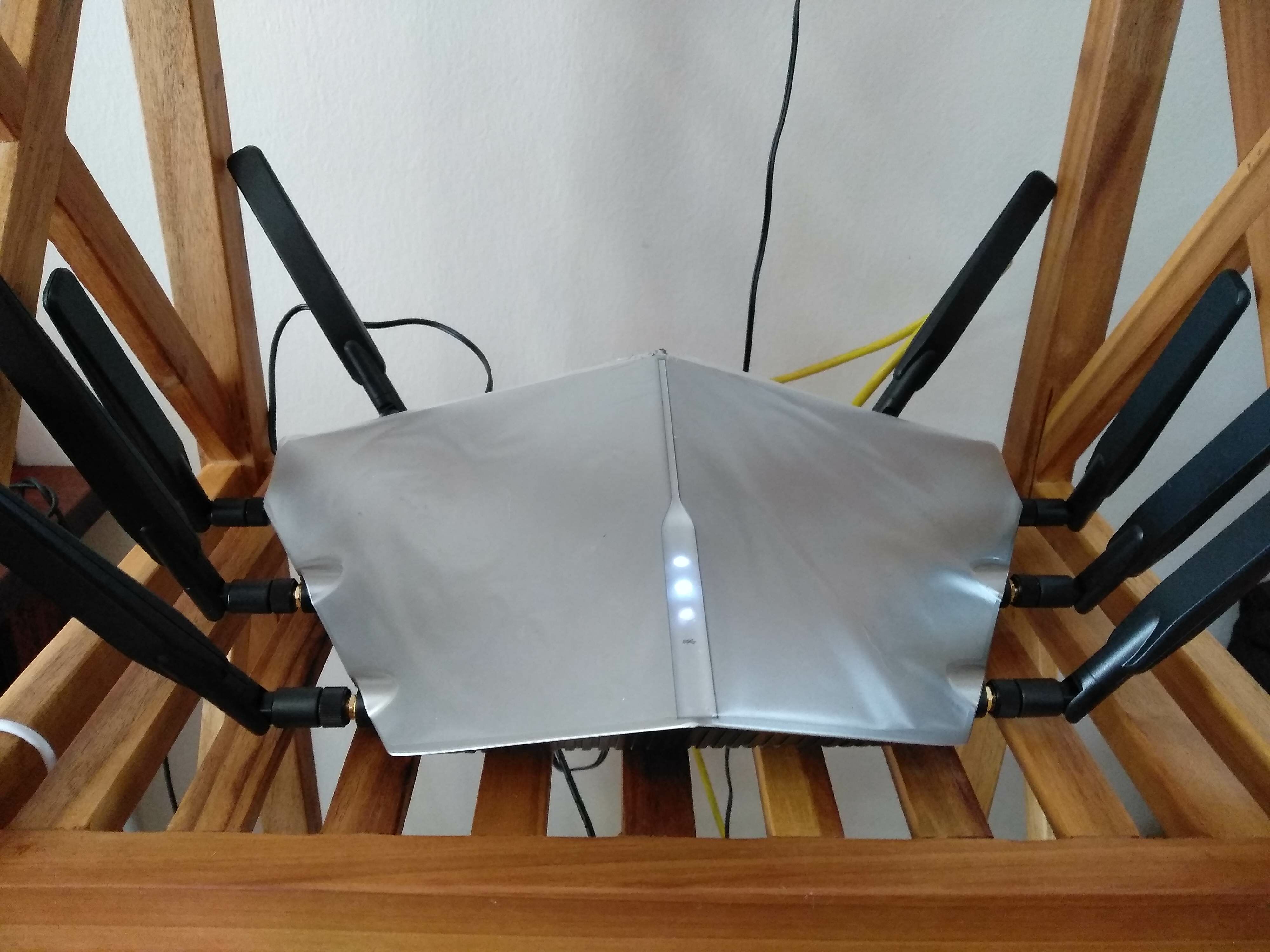 We never once had to reboot the router because of issues or dropped throughput, plus it looks amazing. When last did you have a brilliant router that also acted as a conversation piece? Read More At D-Link
https://www.dlink.com/en/products/dir-x6060-ax6000-wi-fi-6-router