Cyberpunk 2077 Delayed Again
Glenn Alexander 2020-11-03
---
It is seriously scary to think November is here, which means a couple of things. The next-generation of consoles is about to begin. Microsoft's Xbox Series X|S and Sony's PlayStation 5 are releasing on November 10 and 12 respectively, so excitement around the games industry couldn't be any higher than it is now.

Cyberpunk 2077 More Delays
You can certainly expect a pretty packed month of game releases in November, seeing as both Microsoft and Sony are wheeling out their line-up of console launch games on top of an already full third-party release schedule. Except, the highly anticipated Cyberpunk 2077. Yes, it has been delayed yet again. The announcement came last week that the release date for Cyberpunk 2077 has been pushed back to 10th December 2020.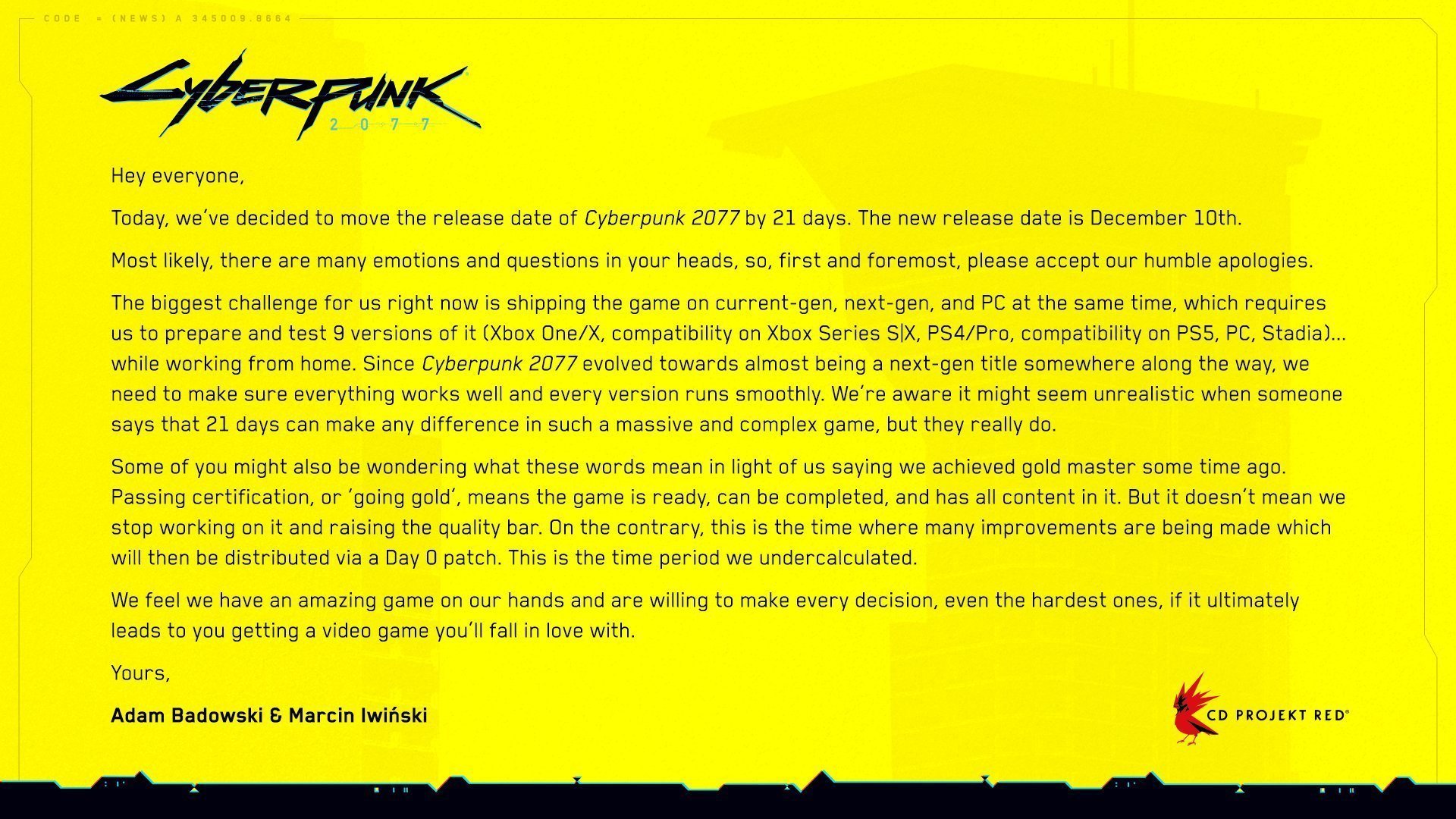 "The biggest challenge for us right now is shipping the game on current-gen, next-gen, and PC at the same time, which requires us to prepare and test nine versions of it," the company said in a tweet. "We need to make sure everything works well and every version runs smoothly. We're aware it might seem unrealistic when someone says 21 days can make any difference in such a massive and complex game, but they really do."
Exciting Upcoming Game Releases In 2020
It just might be a blessing in disguise that Cyberpunk 2077 has been delayed by a month which in reality gives gamers the chance to play the other titles coming their way this month.
November is really the gateway to the gaming silly season as the biggest names in gaming headline the month, with new entries in franchises like Assassin's Creed, Call of Duty, and Spider-Man. The only problem is you definitely won't have time to play everything.
Below, I've rounded up some of the biggest November 2020 game releases for PS5, PS4, Xbox Series X, Xbox One and PC.
Assassin's Creed Valhalla (PS5, PS4, Xbox Series X, Xbox One, PC) - 10th November
Assassin's Creed Valhalla is the latest in the long-running open-world franchise. Set in Anglo-Saxon England in late 800 A.D., you play as a Viking named Eivor, who, alongside their clan, has left Norway in search of a new home in England. Like Origins and Odyssey, Assassin's Creed Valhalla is an open-world action RPG.
Destiny 2: Beyond Light (PS4, Xbox Series X, PC) - 10th November
Beyond Light is the next expansion for Destiny 2. Developer Bungie continues to support the live service game, and it's clear that they're looking to stick with it for many more years to come.
Demon's Souls Remake (PS5) - 12th November
From Software's Demon's Souls is getting the remake treatment. With development being handled by Sony-affiliated developer Bluepoint Games (Shadow of the Colossus Remake), the remake features overhauled visuals built from the ground up for PS5, haptic feedback via the DualSense controller, and Tempest 3D AudioTech support for those looking to immerse themselves in the game even further.
Spider-Man: Miles Morales (PS5, PS4) - 12th November
Marvel's Spider-Man: Miles Morales is one of the other big PS5 launch exclusives coming out in November. It's a spin-off sequel to the incredibly successful 2018 Marvel's Spider-Man from Insomniac. As its subtitle suggests, Miles Morales takes center-stage with his own set of Spidey powers and rogues' gallery to fight.
Call of Duty: Black Ops Cold War (PS5, PS4, Xbox Series X, Xbox One, PC) - 13th November
Just when you thought November was already packed with tons of big releases, Call of Duty: Black Ops Cold War is also coming out both on next- and current-gen consoles. Black Ops has been one the Call of Duty series' biggest brands since its inception, and developer Treyarch's games are known for their chaotic multiplayer modes.
Looking for next-gen console pricing ?
If you've not yet secured a preorder for either of the next-gen consoles, be sure to check out my handy preorder & pricing guide for Xbox Series X|S
About Me:
GlennZA is an Xbox MVP & Xbox community leader who demonstrates an exemplary commitment to helping others get the most out of their gaming experience. Having grown up as a gamer after receiving his first console way back in the late 80's (Atari 2600), He acquired his first Xbox console, the Xbox 360 Arcade Core in 2006. He has since been a part of the Xbox Family for 14 years and is still going strong.
Twitter: https://twitter.com/GlennZA
Facebook: fb.gg/glennzamvp