ASUS ZenWiFi CT8 Review
Jacques du Rand 2020-02-09
---
Solving coverage, generally sucky Wi-Fi issues and dead-zones in your house, mansion or architecturally-challenged dwelling now has a very good solution. And it looks really good in your living room to boot.
We at Fibre Tiger get a lot of questions from users about routers and Wi-Fi. They usually fall into two categories: One "why is my Wi-Fi slow" and two, "which router should I buy?".
The first question is usually solved through a speed test followed by a call to their ISP, but for many users it may not necessarily be "speed" related. It could be that they simply don't have the same coverage or capacity say for example in the bedroom, than they have in their living room, but they attribute this to a "speed" issue. On the latter ideally one would like consistent coverage throughout the premises, day and night. You will experience this issue mostly in the so-called "Netflix hour", or with a full household of kids and friends.
The second question usually tries to solve the first issue - in you want to ideally buy the router that will be able to give you great coverage and capacity load.
Luckily both can be solved by the new mesh routers from ASUS, the ZenWifi CT8 router(s).
What are Mesh Networks
Think of them as a very well packaged router and repeater setup. These "kits" usually come as two or three nodes per kit. You can then scatter the individual nodes around your house to cover some of the dead or slow Wi-Fi spots. Ideally they should be within relatively good reach of the primary device, but on the outskirts before the areas where you experience "dead zones". Think of them as boosters to the main signal. In the past you'd try to solve this by fiddling aimlessly with your router and subpar, and many times incompatible, Wi-Fi-repeaters.
ZenWifi CT8 Review
Our good friends at ASUS, sent us their brand new ZenWifi kit to test out, and we were very impressed with the performance, build quality and looks.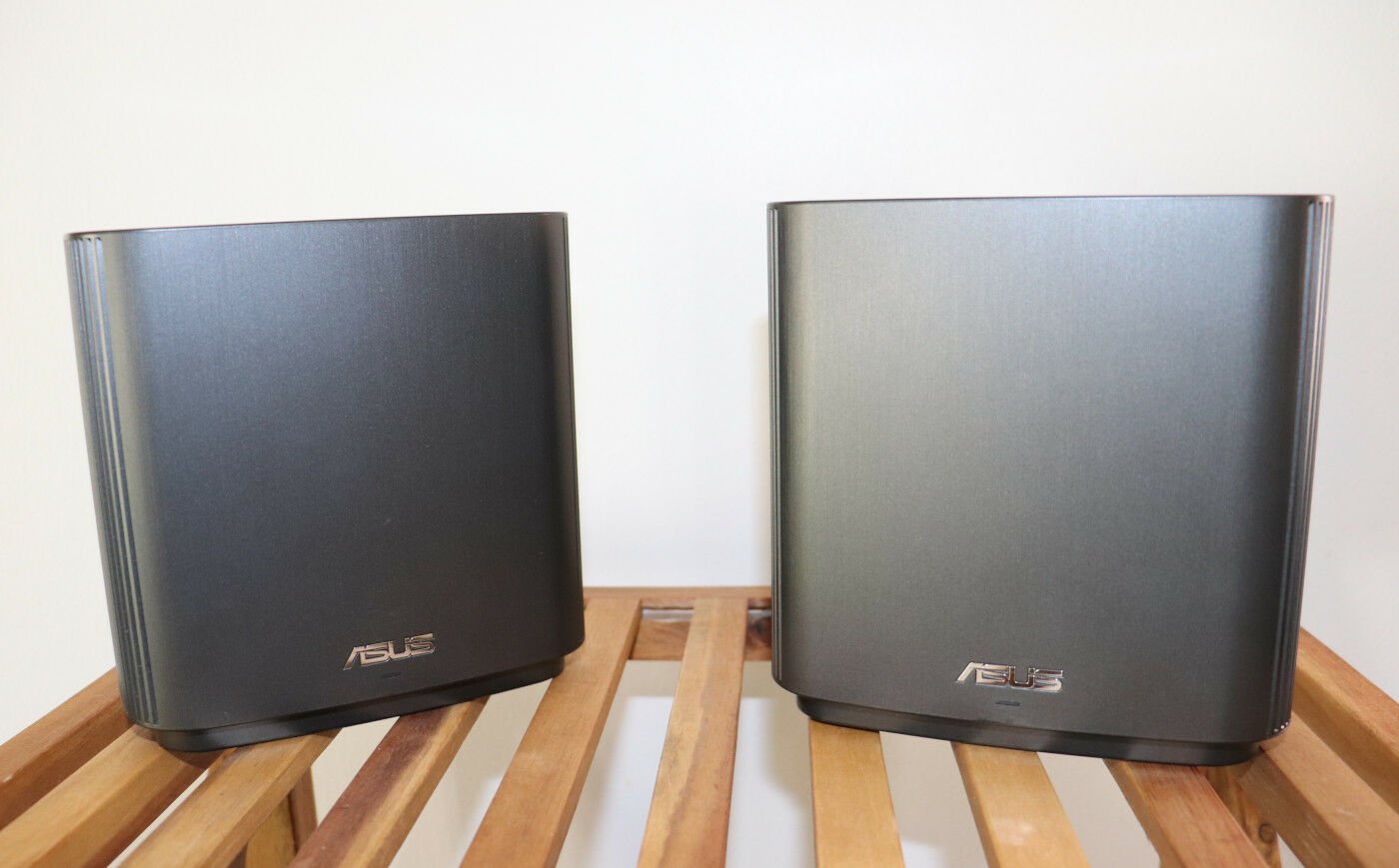 What's In The Box
The product comes with two units, two power supplies, network cable and of course the manuals.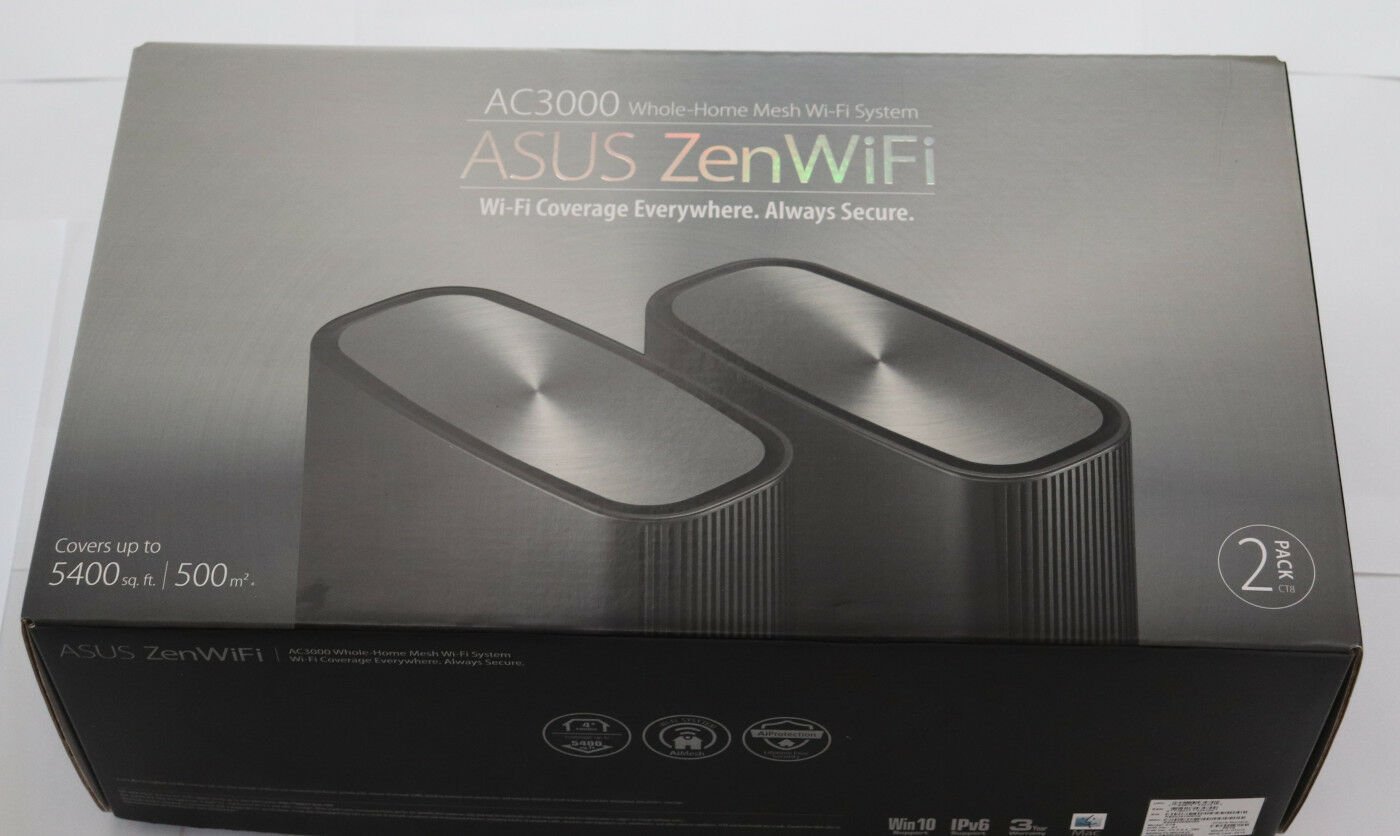 Design and Construction
These things just look so darn sweet! These are exactly the type of appliances Lord Darth Vader will have scattered around his galaxy sized quarters of his death star - I'm sure of it !
The plastic is very polished and reminds one of brushed aluminum, the construction feels very solid with very little flex. The sides are lined with slits to help airflow.
There is one status LED right under the logo, that gives one feedback as to internet connection, pairing and general operation status.
General design for a mesh network is that you have some sort of "master node" and then just add what we refer to as "child nodes". This kit makes them completely interchangeable. Thus the two nodes are exactly alike! This is great, as you can't set this up wrong.
Specifications
Each unit is powered by a Qualcomm IPQ401 processor , 256MB of ram and has the exact same I/O ports at the back.
The most important specifications are listed below, for a full list see ASUS website
IO

1 X WAN Port

3 X Gigabit Ports

1 X USB 3.1 port

1 X Power Supply Input

Data Rates

802.11a : 6,9,12,18,24,36,48,54 Mbps

802.11b : 1, 2, 5.5, 11 Mbps

802.11g : 6,9,12,18,24,36,48,54 Mbps

802.11n : up to 300 Mbps

802.11n 256QAM : up to 400 Mbps

802.11ac (5GHZ-1):up to 867 Mbps

802.11ac (5GHZ-2):up to 1733 Mbps

Antenna

6 X Internal

Bands

Triband 2.4Ghz , 2 X 5.0GHz* (More on this later)

Wi-Fi Encryption Standards

WPA2-PSK

WPA-PSK

WPA-Enterprise

WPA2-Enterprise

WPS support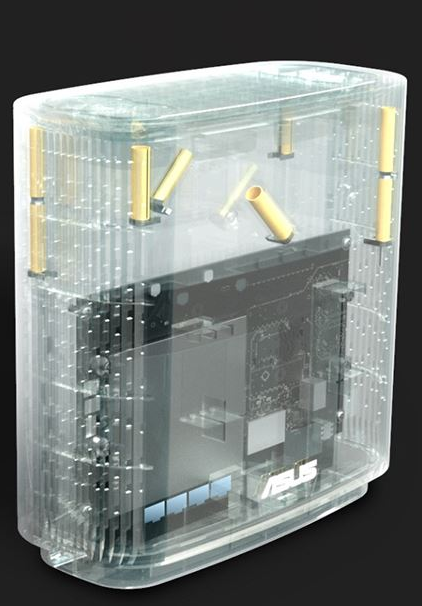 Features
The number one feature I like is that it has "Smart Connect".
Usually how dual band routers work is there will be two Wi-Fi network names (SSID's) example. MyNet and MyNet5 with the latter denoting the 5Ghz band.
The 5Ghz band is less crowded and usually a good choice when you live in a very dense populated area. There are some slight limitations with a 5Ghz vs a 2.4Ghz network. The newer 5.Ghz doesn't travel as far or through (around) as many walls like the 2.4 Ghz one does.
It's not a fault of the manufacturer, but merely an artifact of physics. The choice which band to use is left up to the user in most cases, but with the Smart Connect feature enabled, the two networks are "blended" into one network name and the router(s) will decide themselves which one will give you the most bang for your buck. Set and forget as they say !
Dual-Band And Tri-band
Although this product comes with Triband (1 x 2.4Ghx and 2 x 5Ghz) one of the 5Ghz bands is reserved for backhaul operations between the units at 1733Mbps ! This is very clever and smart I think. If you need to cover longer distances it also has the option to "connect" to each other via a normal ethernet cable. Perfect to give that Airbnb cottage on your property some decent Wi-Fi and speed from afar !
The data rates are 400Mbps on the 2.4GHz band with 867 Mbps on the 5GHz.
Software And Setup
The software from ASUS is, as usual, well polished and everything can be configured and managed from the web interface.
There is also an ASUS Router App, but I've never been a fan of it, personal choice of course.
The homescreen of the software shows you the mesh-layout and how many nodes and clients (devices) are connected to each.
Here you can see I have two nodes and 4 clients connected to the network. Three on the main one (node) and one on the mesh node.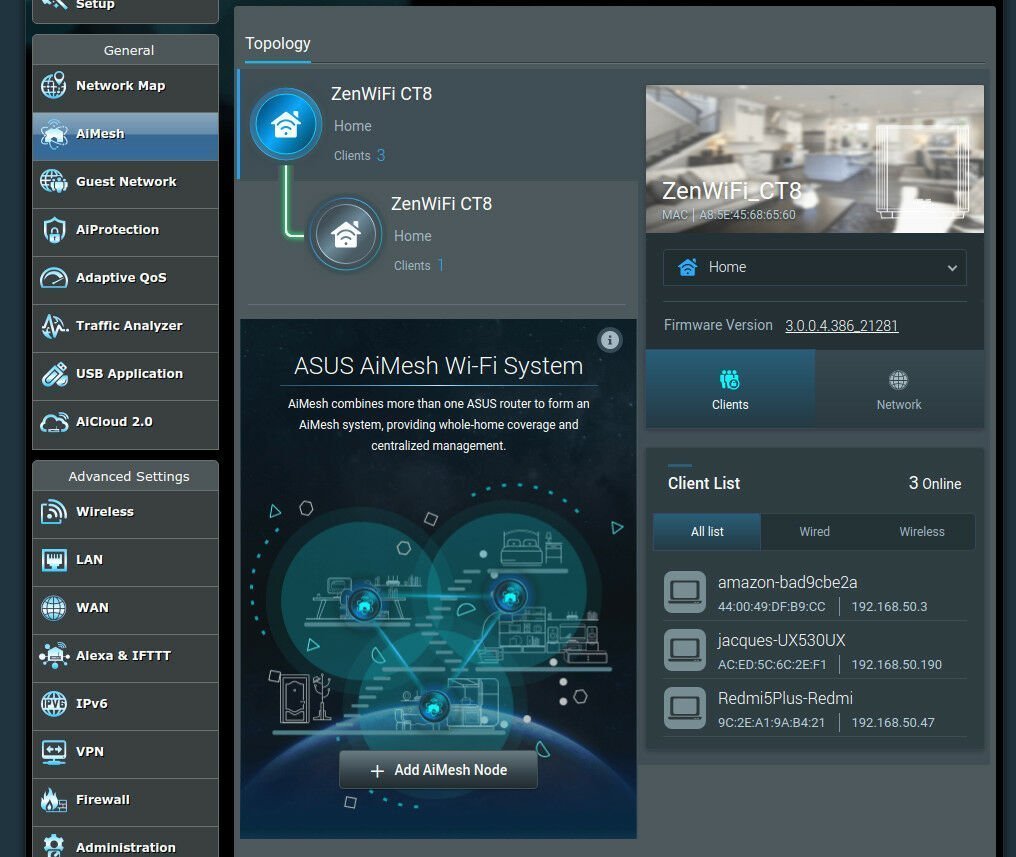 The screen below shows how little my devices and traffic are taxing the routers. No CPU spikes for the routers here.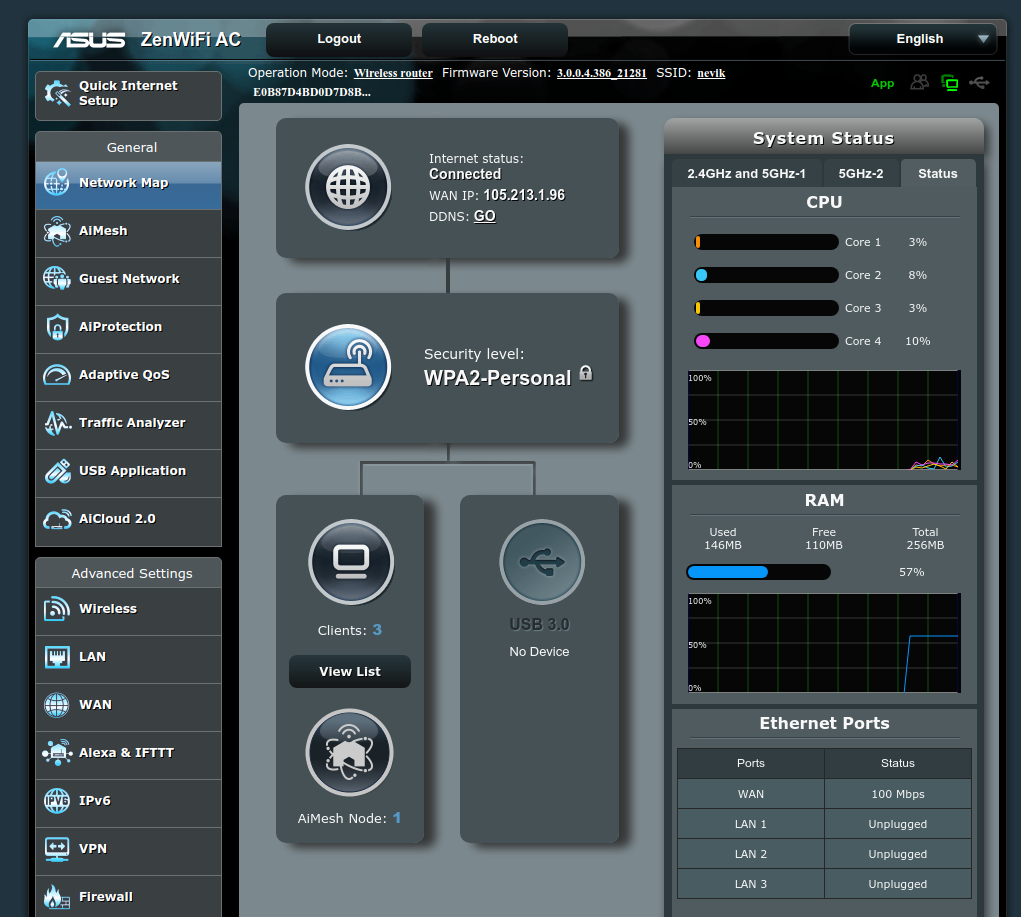 Operations Mode
This is something you would not have to fiddle with, as the units are already paired, and sync out of the box. But as you can see you are spoiled for choice !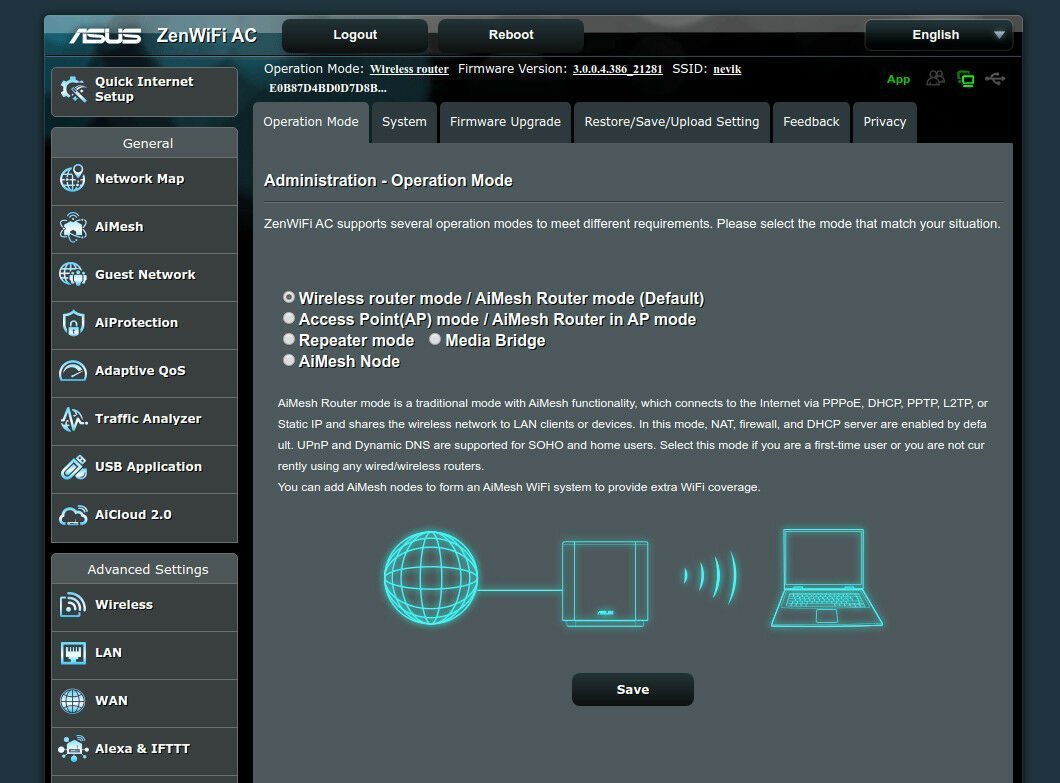 Quality Of Service
Having to satisfy many internet related workloads, the routers need to have a policy which is sometimes better than merely "first come, first serve". The selection below will give you the option to specify what sort of "internet traffic" you want prioritized on the network.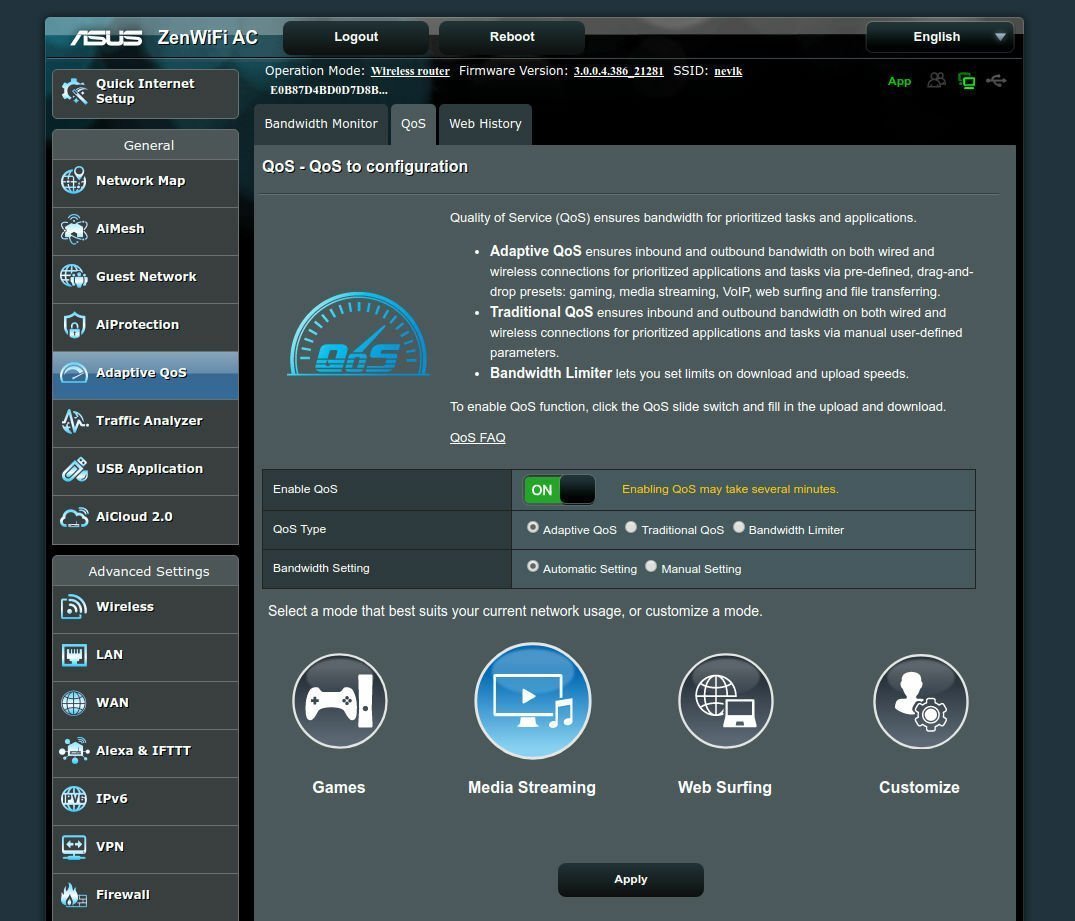 Security & VPN
These features have become standard in routers nowadays and ASUS have not skipped here either. We get a decent packet inspection level firewall and a bunch of VPN options.
Just be sure to always, or at least periodically, check for new firmware updates, should there be a security issue.
USB File Sharing
It's nice that both units are identical so they both come with a USB 3.1 port. It's super easy to just plug in your USB stick with some files and share it to another device.
Have you ever seen so many ways to share a file ?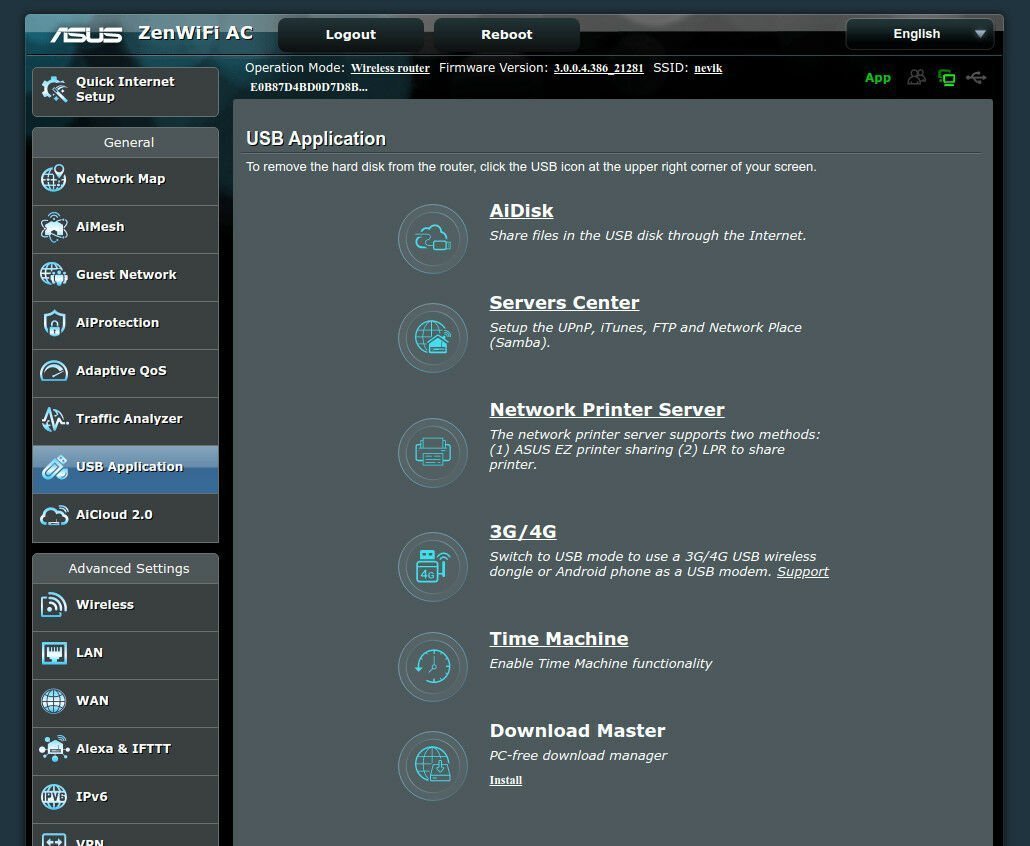 Alexa Integration
I've seen it a few times now, routers integrating with one of the smart assistants from Google or Amazon. With this feature you can "reboot" your router with voice commands. I tried it once, it works.
Coverage and Speed Test
ASUS claims coverage for "5400 sq.ft and 4+ rooms" for two units, but I think it's a lot better than that. I have a bit of a slowdown in the upstairs bedroom, but placing the mesh node a little closer definitely increased my speed. Sitting in the lounge I can easily max out my 20Mbps fibre connection from SuperSonic with our speed test, while sitting upstairs in the main bedroom this will sometimes drop to 14-16Mbps. The mesh node bumped this all up again to 20Mbps.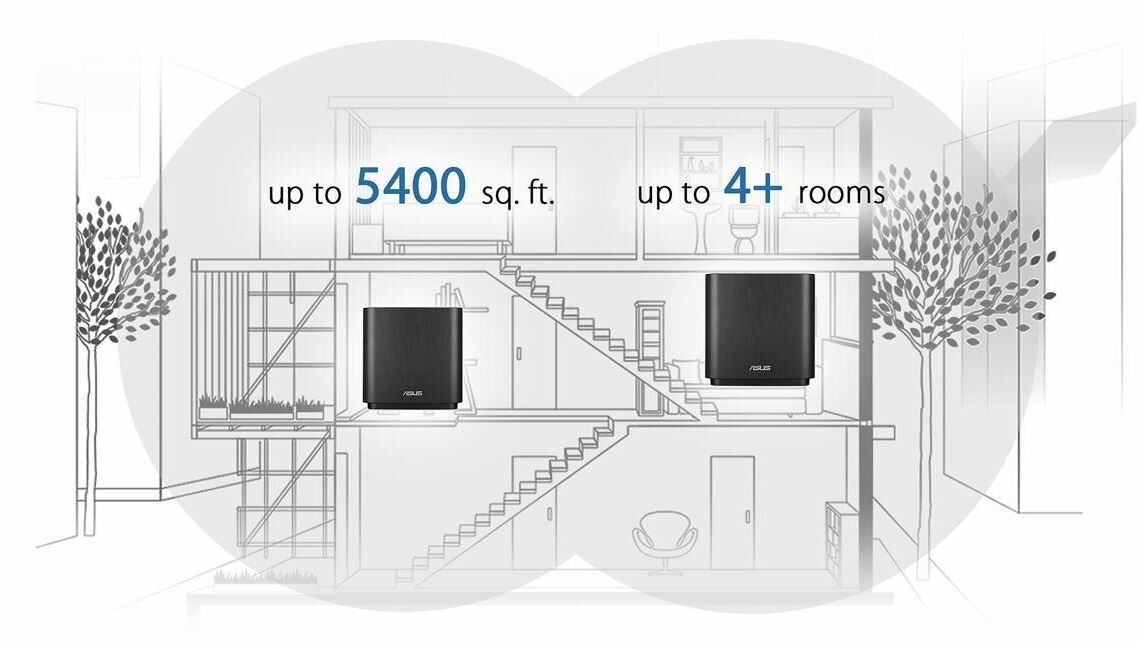 Summary
If you are experiencing slow Wi-Fi on your connection from Telkom, Frogfoot or Vumatel, or just having coverage issues in some parts of your property; this product will most likely solve your issues. This is also one of the easiest mesh networks to setup and configure.
Pricing for South Africa is not yet available, but we see it goes for around $330 on Amazon.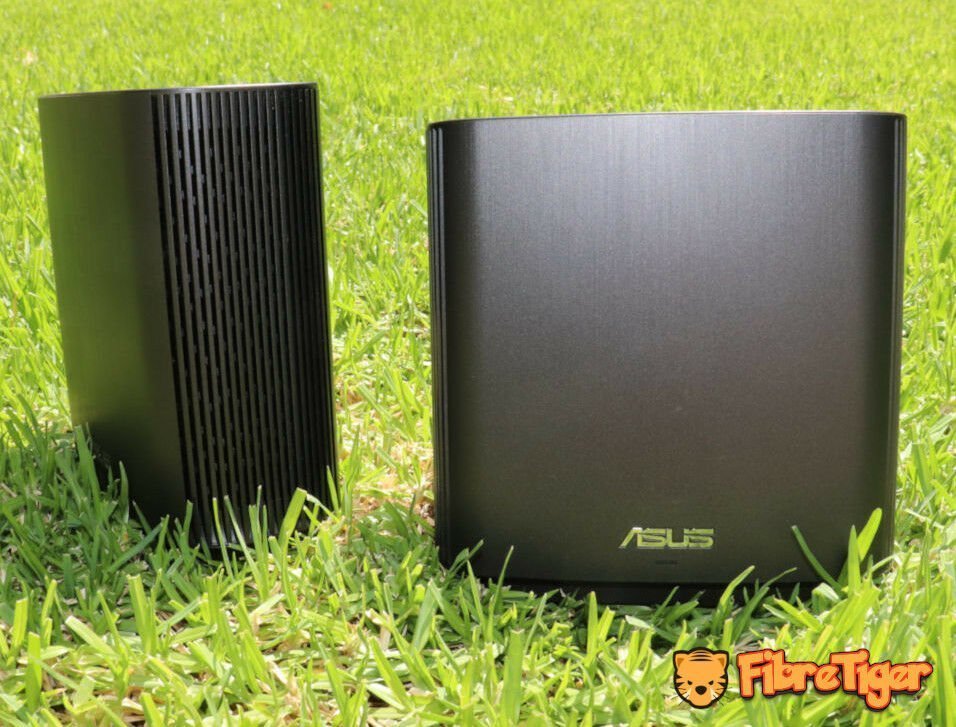 ASUS ZenWiFi Routers… Looking Pretty Anywhere You Put Them !