Best Lesser Known Streaming Services You Can Get In South Africa
Jacques du Rand 2020-04-15
---
Streaming In South Africa and 2020
Long gone are the days of waiting for Friday nights so you can watch "Sending Vietnam" on "Kanaal TV1". Imagine trying to tell your children there was a time, where you couldn't choose what you watched, but as with radio, you had to tune in to what was available.
Most people with a semi-decent internet connection have turned to streaming services like NetFlix, ShowMax and Amazon Prime. Between the girlfriend and I we have a collection of streaming accounts we pay for and share between us, and there are even bigger players on the horizon. Such as the latest Disney Streaming services - but not available in South Africa unfortunately.
Being in lockdown is tough and we went on the hunt for some lesser known streaming services. You won't find the latest Marvel movies on them, but you are likely to find some wonderful documentaries or indie films.
What Is Needed ?
These streaming services, like most, don't need much. A 10Mbps connection should more than suffice to have a buffer-free experience. A ChromeCast or SmartTV will also help, unless you want to watch it on your phone.
The List
Treat your family with 3 new streaming service logins today !
I'm sure you have seen the ads on Facebook or on the internet in one form or another…
They have been around for a few years now and their library is certainly expanding.
An interesting tidbit is that Michio Kaku (Asian physicist with crazy hair, that's always in the science docuseries) is on the board of advisors.
They do seem to have an educational and documentary theme running through all their programs.
Their main categories are:
Science

History

Technology

Nature Society Lifestyle

Kids
Price
$2.99 a month ! That is really cheap and affordable. If you like 4K TV there is a $9.99 per month 4K package.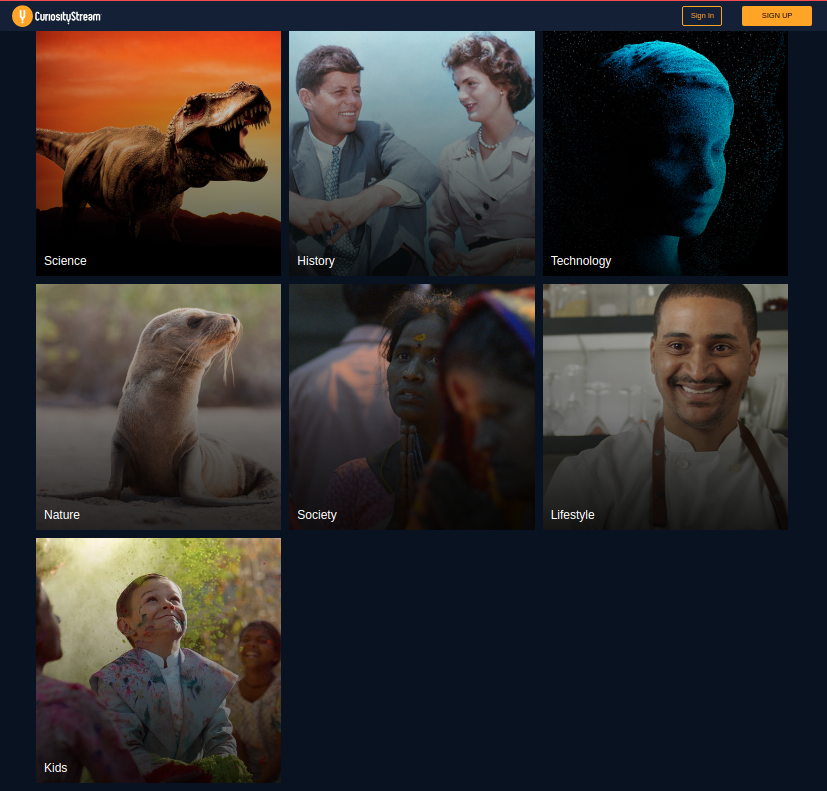 I'm a bit of a home-exercise-addict, I hate the gym ! Just too many people for a geek to handle. Give me my P90X, Insanity or Les Mills any day of the week - yet somehow I still don't have a six pack !?
Les Mills is surprisingly unknown in South Africa, but worldwide they have quite the following. It's a small New Zealand company that started exercise streaming even before that was cool. In many gyms in America, Australia and New Zealand, you can actually go to the gym and watch the latest "workout" from an Les Mills accredited gym. Their Reddit and Facebook pages are also hugely popular with the community. This definity is my favorite exercise regime these days.
A close second is of course Simple-And-Sinister (a Mad Russian with kettlebells, look it up if you're not in the know)
What makes them different from your average YouTube trainer you might be following, is the supreme production quality. All the "workouts'' are set to fantastic music and are very well thought out and tested at their physiology labs in New Zealand. The BodyCombat program directors are actual mixed martial artists that studied and fought in Thailand.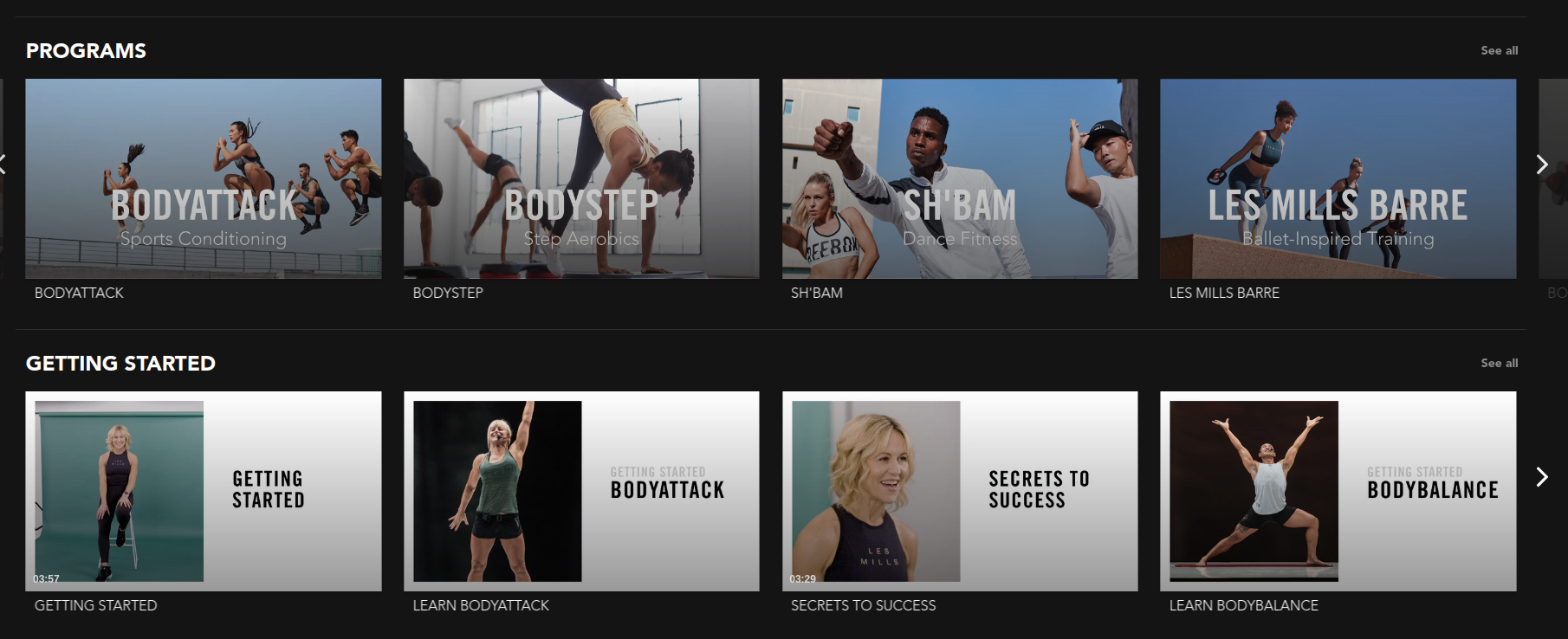 Their main programs include:
BodyCombat:
It's like Tae Bo but for people in 2020, better music and less leotards. Definitely my favorite of them all !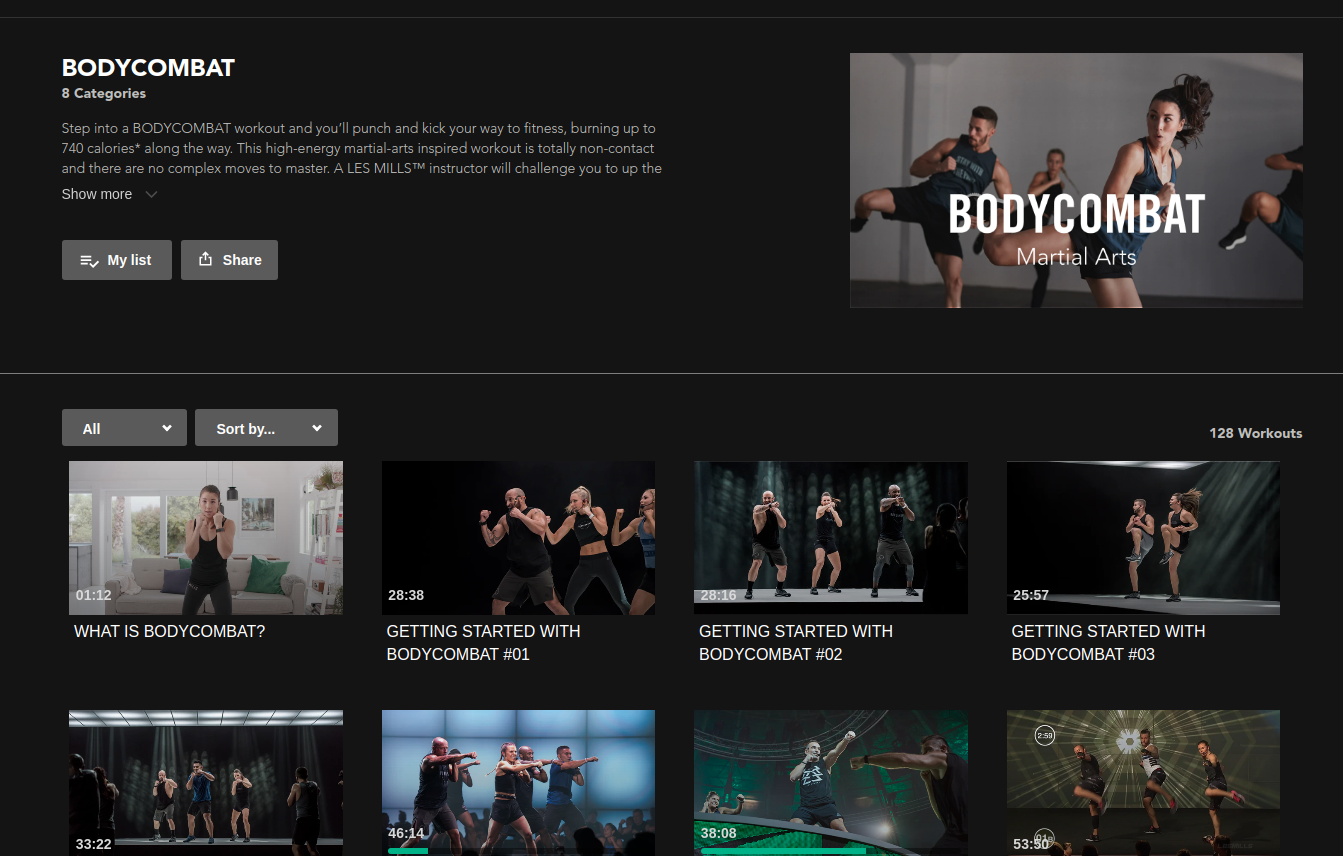 BodyPump:
Think cardio and weightlifting in one, it's basically very high rep strength training with a light barbelle.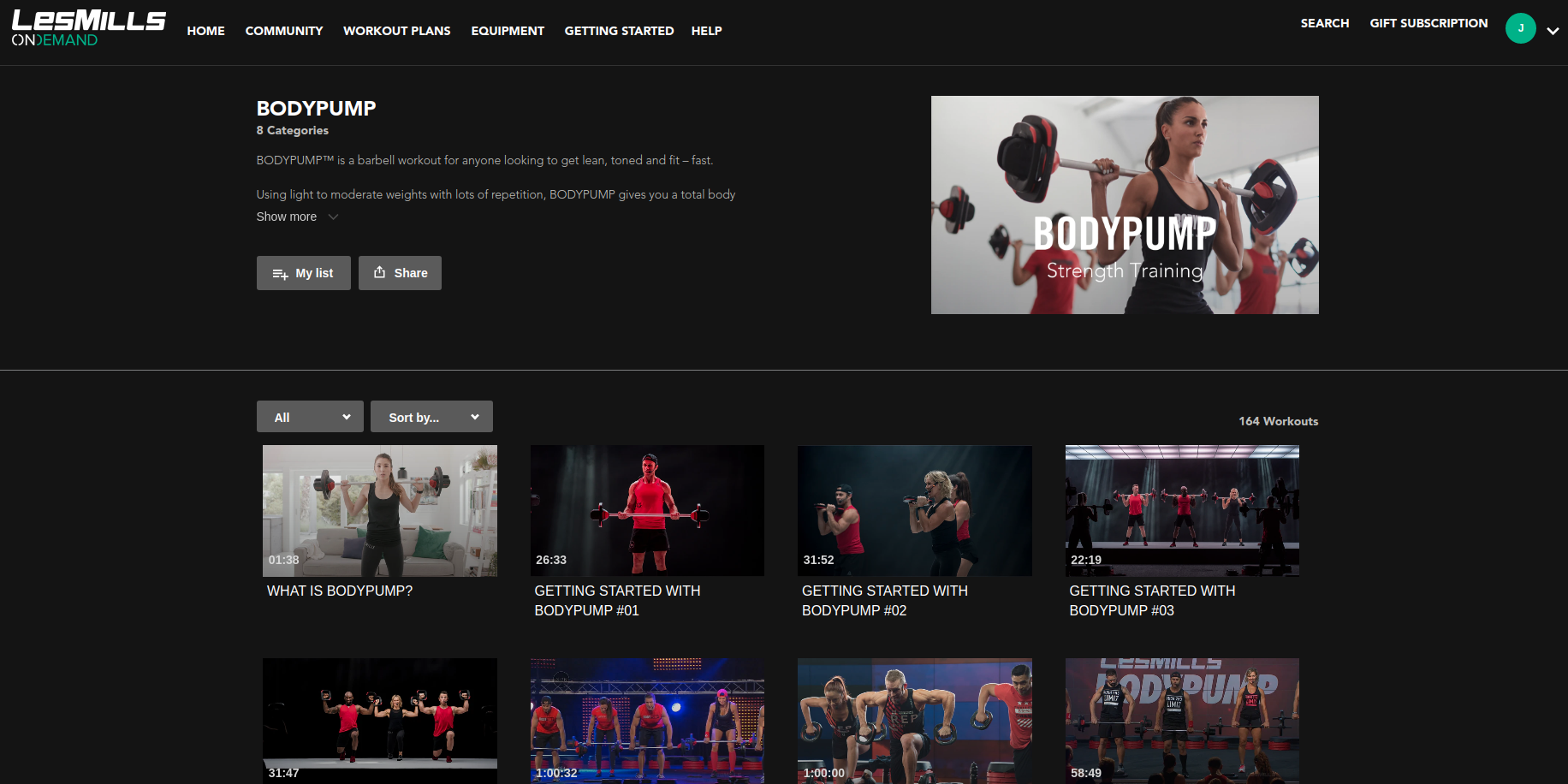 Les Mills Grit:
If you want to die do this. It's HIIT and boy does it hit you hard - enough said.
Fun fact; the girl from Vampire Diaries, Elena (Nina Dobrev) is also in a few of the videos. She doesn't die though... she is a vampire - obviously…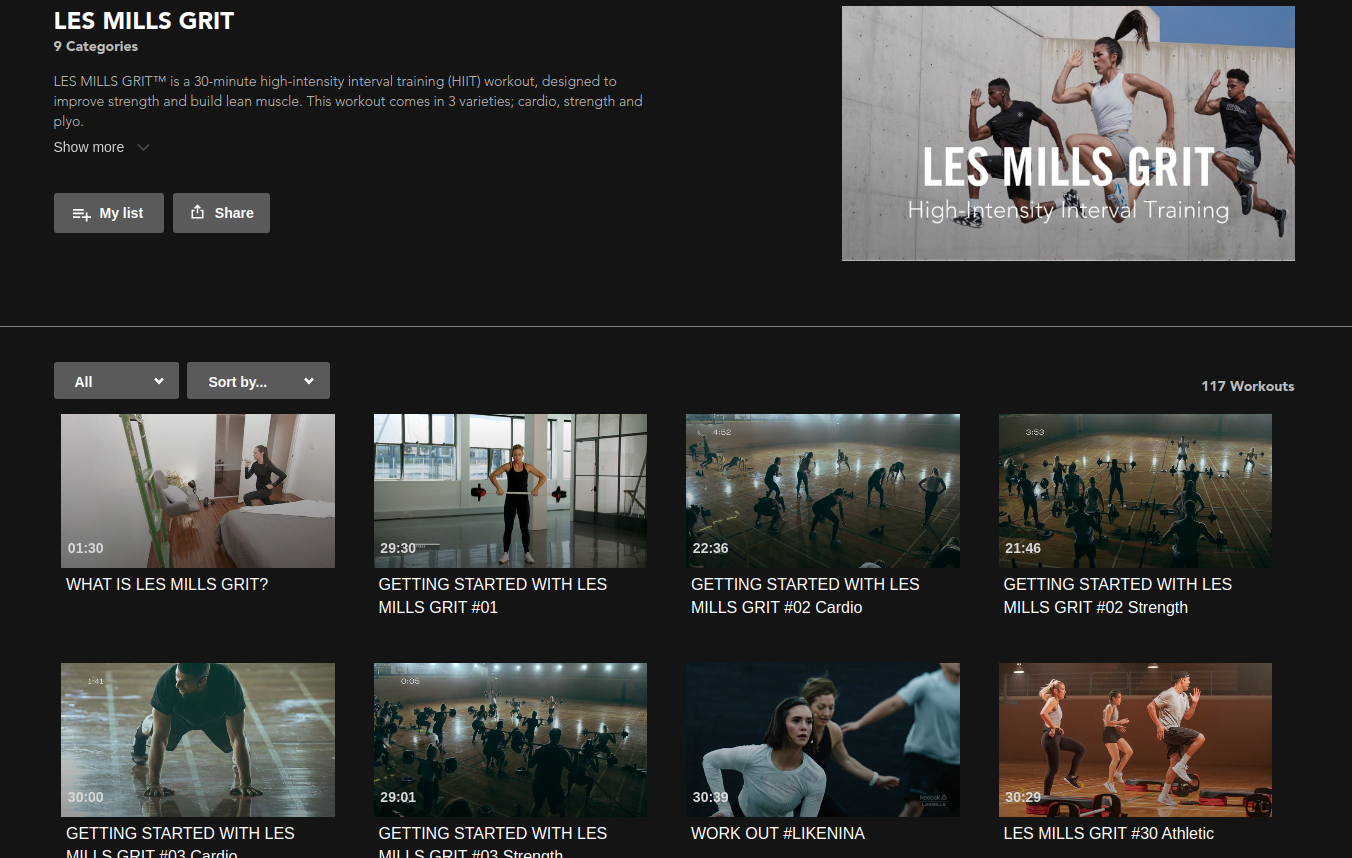 BodyBalance:
Mostly meditation and yoga, but very well produced yoga and meditation with nice locations and music, not just some girl in her 'organic-themed' living room.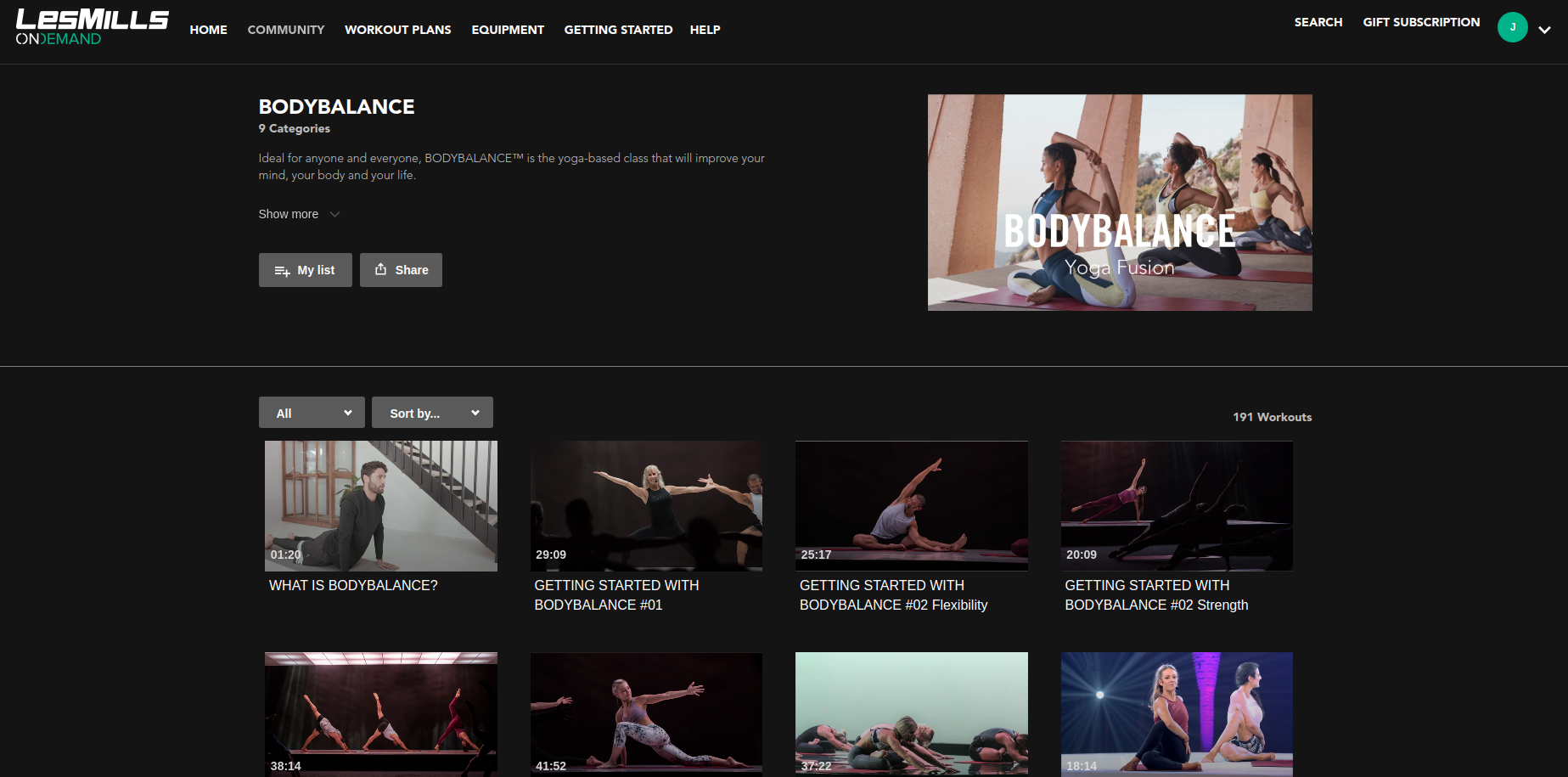 RPM:
Spinning, if you are bored of your exercise bike, try RPM.
The TRIP:
Aptly named - Also spinning, but very freaky VIRTUAL SPINNING, a 3D Image is projected on your screen and you "Spin" through very unique and Avatar (movie) like landscapes. Sounds gimmicky, but surprisingly fun !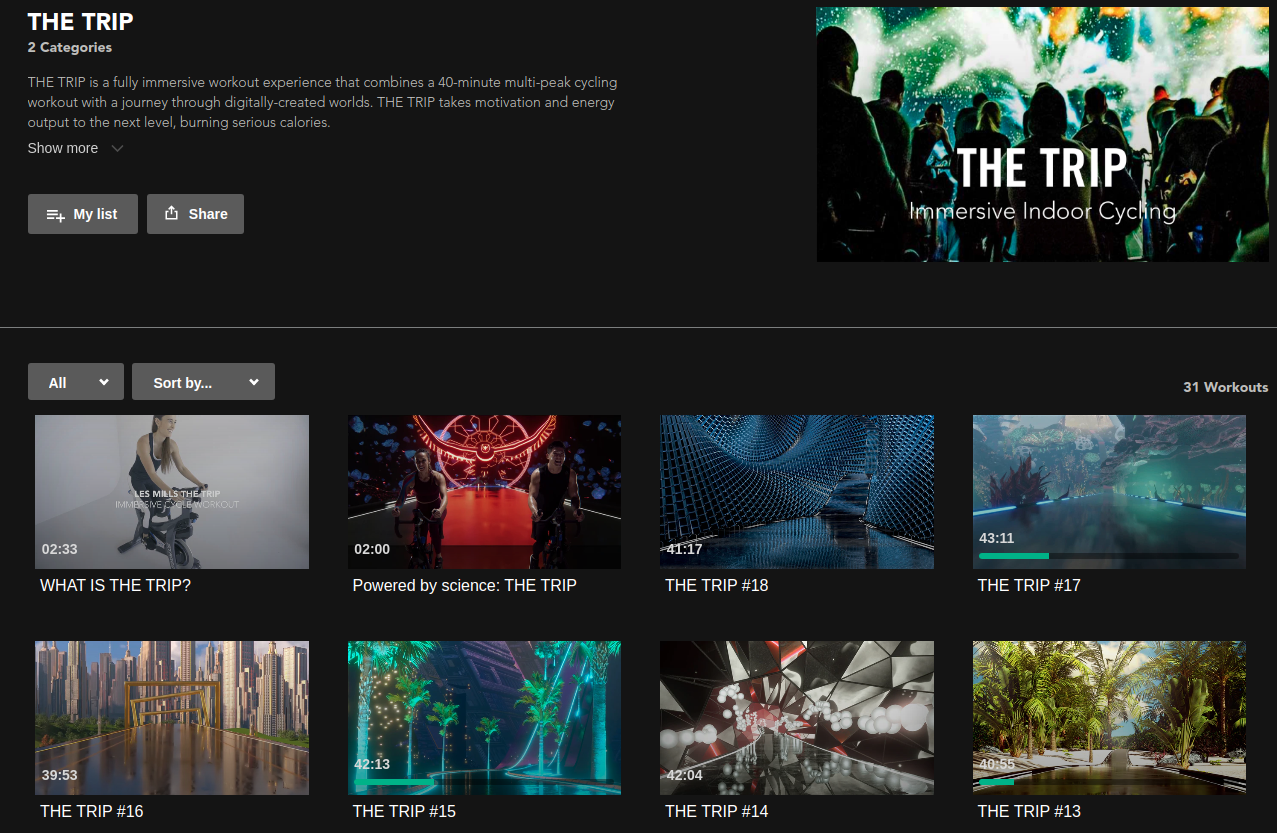 SH'Bam:
One of their most well known ones, it is dancing and a lot of dancing. I think it is Hip-Hop or R&B ? In which one don't they pull their pants up ?
Think Zumba with better moves and music. I tried it once, my computer-nerd-hips just don't move like that, and I'm not going to wear my trousers that low !
Price:
Ok before I give you the price… You are going to have to use a VPN, but only for the payment.
You can stream without a VPN, but to pay and signup, use a VPN - any VPN. I use NordVPN , it sounds complicated and geeky, but with NordVPN you just install a chrome extension and signup.
That's it. At $14.99 per month it's the most expensive one on the list, but the most worthwhile one in my opinion, definitely cheaper than gym.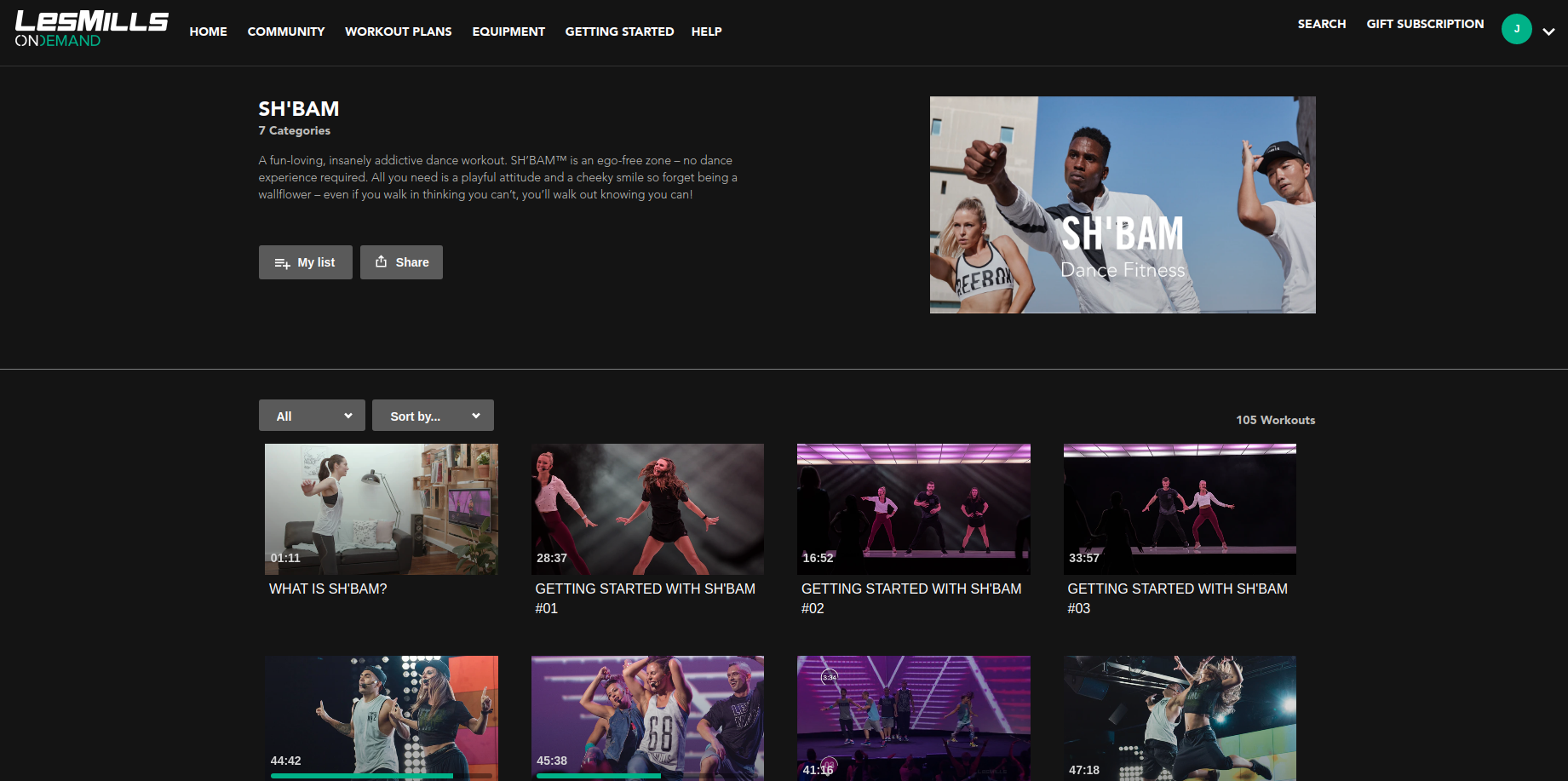 We have written about Google play before (https://www.fibretiger.co.za/article/free-legal-streaming), and surprisingly few people especially "Apple People" know you can have access to Google Play - Movies library in South Africa.
They operate more like a traditional dvd rental store (digital though), you pay per movie or series.
Google Play is usually the first(or very close to the first) to get the latest movie releases in South Africa. Prices per movie can vary widely though, anything from R10 to R150 for a movie
They also do some nice tv series as well, anyone remembers the briljant StarGate tv series !?
One extra feature is that with Google Play you probably get the best movie recommendations in the business. My opinion but Google knows a lot about me (ja ja, I am O.K with this). Google knows what YouTube videos and channels I watch, what websites I visit, all of this data is used to really give me relevant recommendations.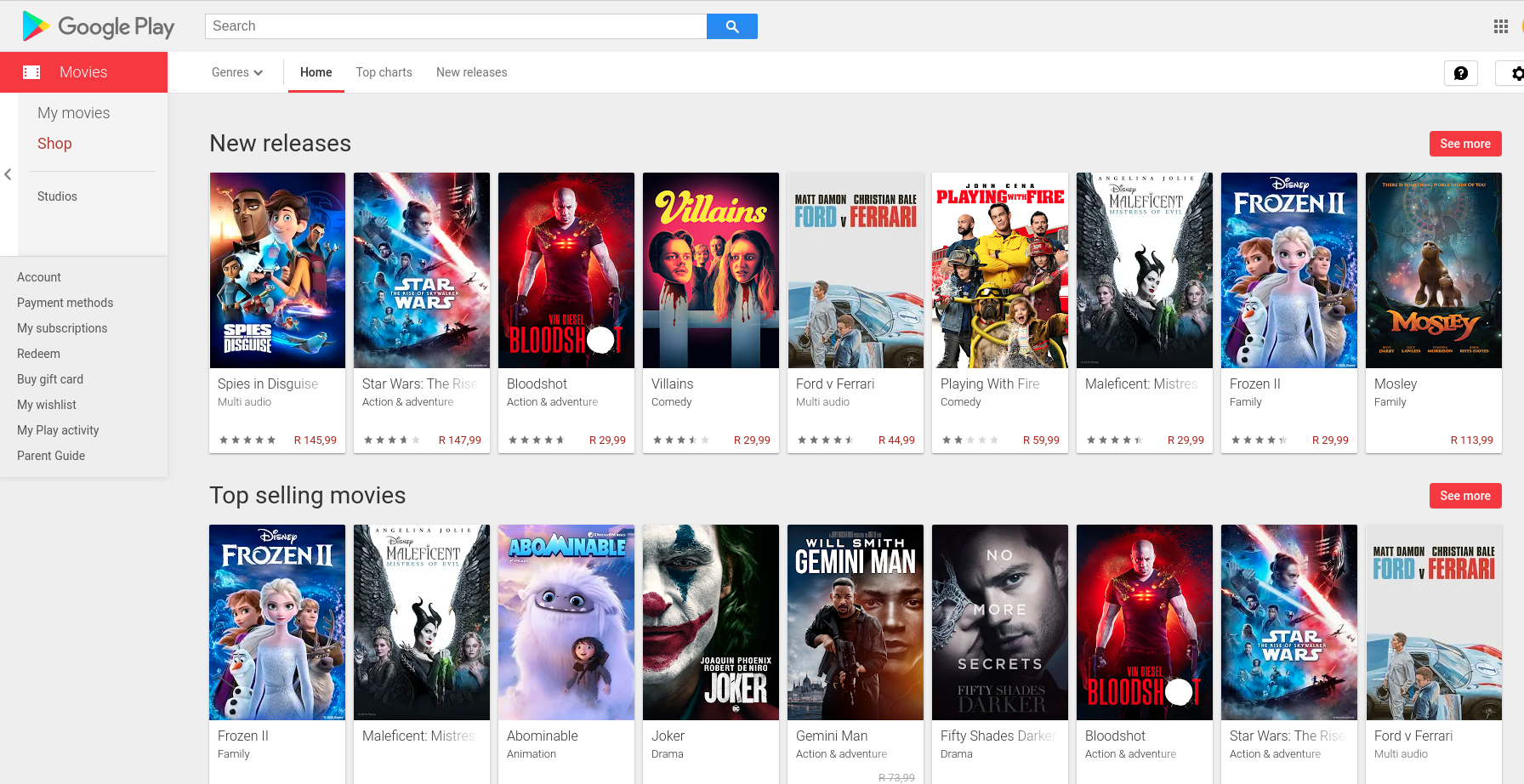 Gaia claims to offer the largest resource of consciousness expanding videos.
For something a little more soul-feeding in these trying times, I was surprised to discover Gaia TV. I've never come across it before, but they seem to have quite the catalogue for "personal and spiritual growth". Even Russell Brand is featured on there.
They have specific categories for:
Yoga
Meditation
Series
Docs & Films
I also really do like their topic selection-tag method see picture.
Price
They offer a free trial ! But if you do go the payment route, it's $11.90 per month, a lot steeper than Curiosity Stream, but maybe that's what enlightenment costs these days.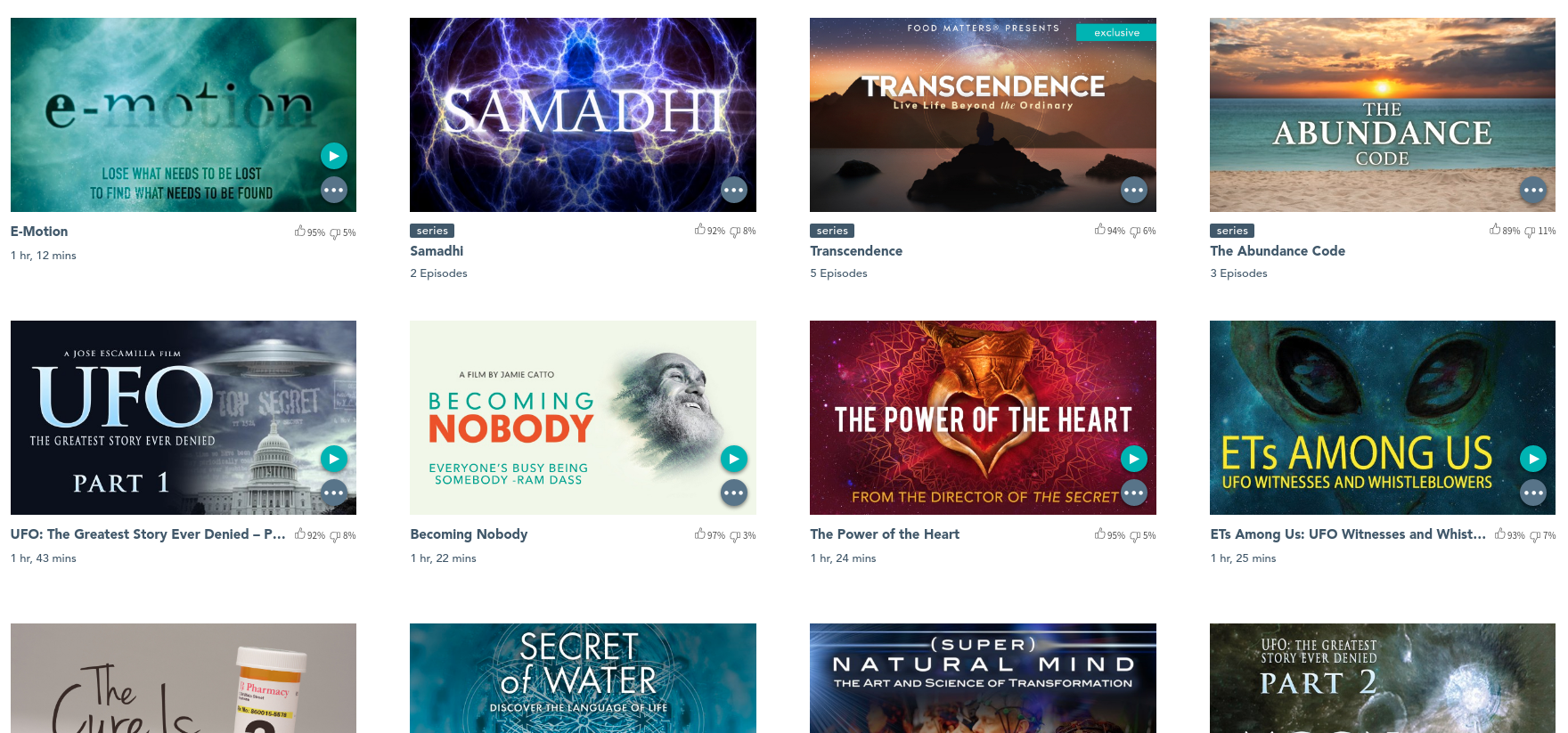 Seems they have a perpetually free trial broadcast going, and it's completely free plus South African in origin. Don't worry you don't have to watch all one million seasons of Generations. They have a fantastically diverse catalogue to choose from. Whether anything in that catalogue is any good, you will have to see for yourself.

They do video, music and radio, one of the few that actually do radio. From all of these streaming sites and services on the list they probably have the biggest library. I was as surprised as you are about finding them.

Their website is a a bit scant on details and just keeps directing to the player section, their Google Ad does say:
"Totally unrestricted Free TV, Never pay a subscription, now available on your mobile & TV. Use a cellphone to surf. Jomo Sono legend Via TV. No need to buy a decoder."

If you have kids you will like their Kids/Cartoon section it is huge ! They even have a dedicated Dog Channel. Some of it is for you, some of it is for your dog to watch.

They have Al Jazeera, NASA TV, News (local and international), car and animal shows, and the list just goes on and on. I have a sneaky suspicion they just re-broadcast some free YouTube channels or network feeds, but as an all-in-one package, I will take it.
They do video, music and radio, one of the few that actually do radio.
Their website is a a bit scant on details and just keeps directing to the player section, their Google Ad does say:
"Totally unrestricted Free TV, Never pay a subscription, now available on your mobile & TV. Use a cellphone to surf. Jomo Sono legend Via TV. No need to buy a decoder."
If you have kids you will like their Kids/Cartoon section it is huge !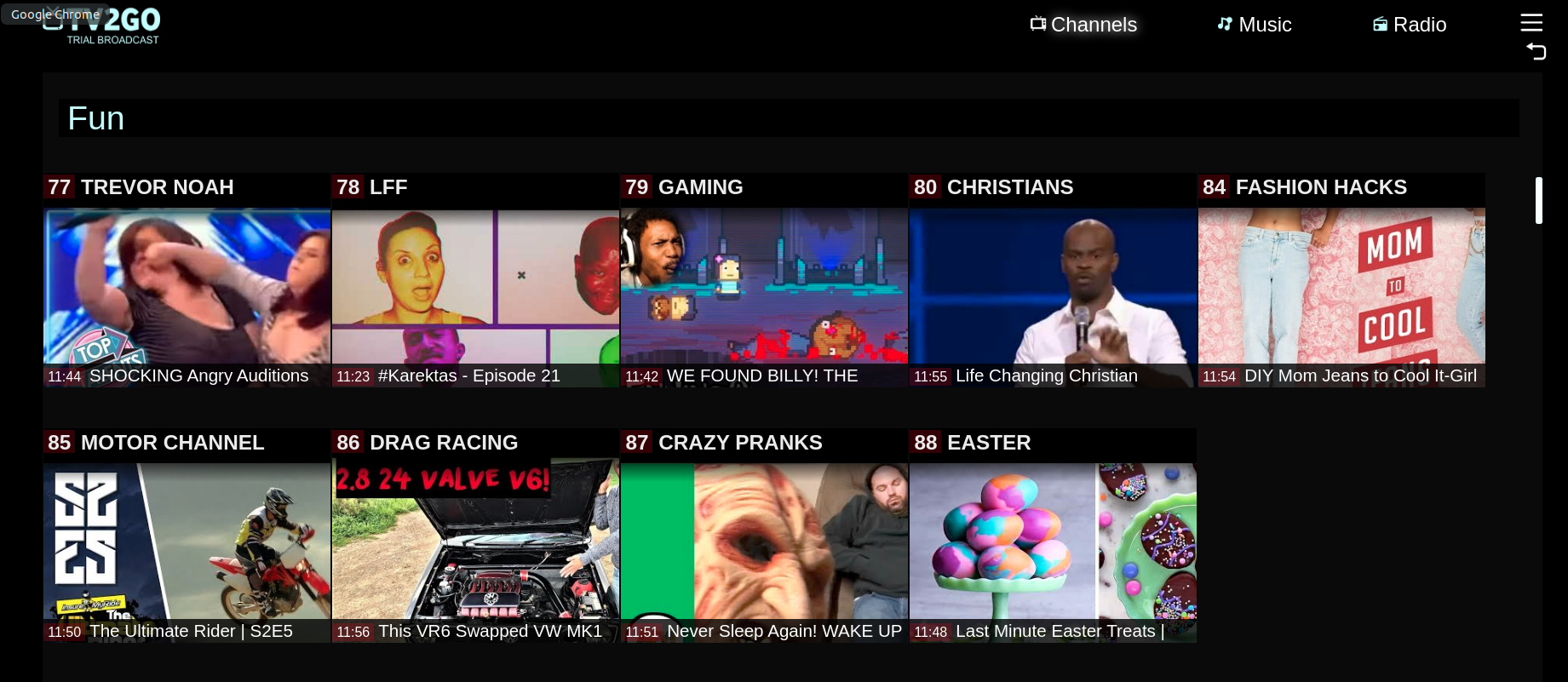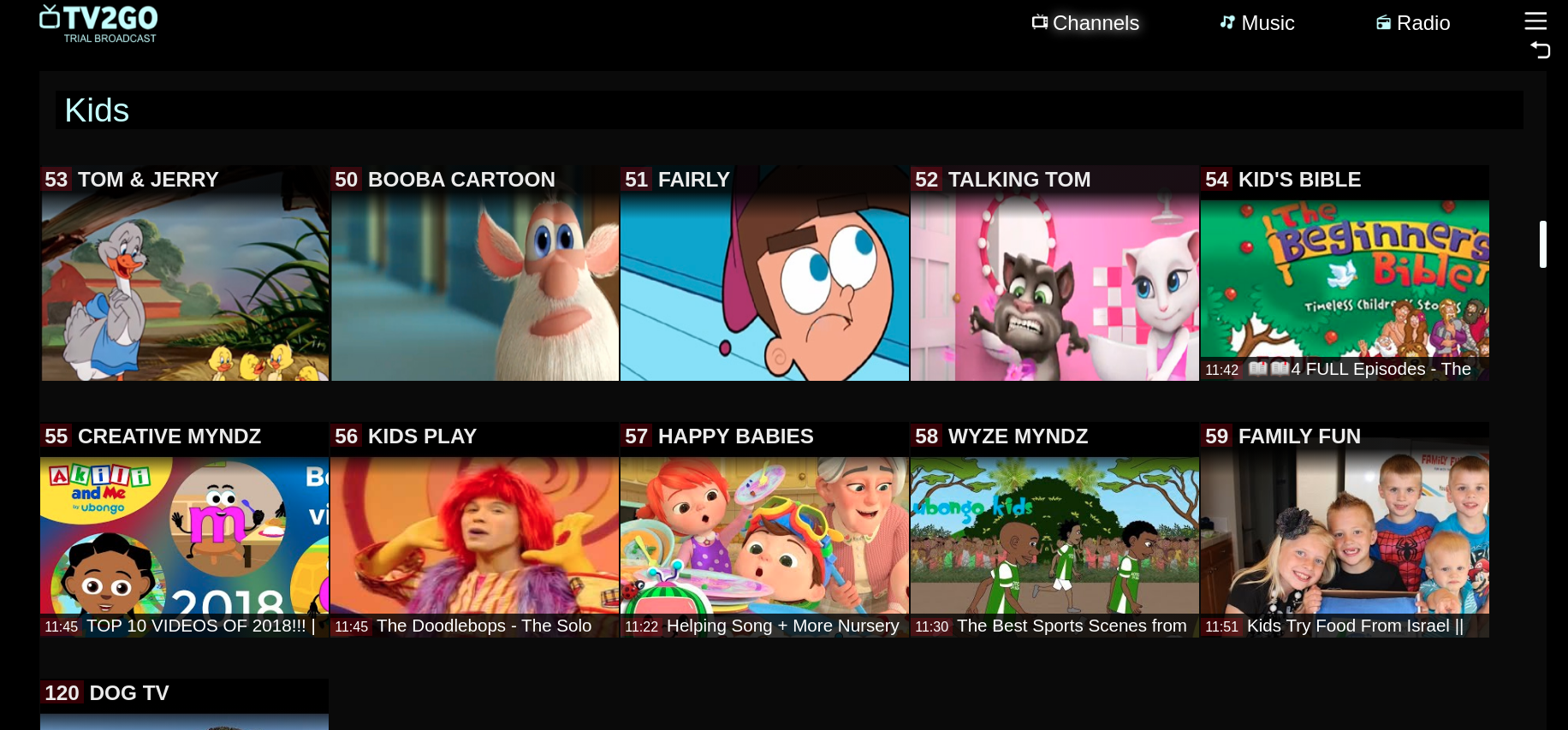 Monthly Prices Compared
So there you have it folks ! There are more streaming options than the usual three.
Also checkout our other Legal Streaming in South Africa article. We mention some free ones too.
Service

Monthly Price

Notes

CuriosityStream

$2.99

CuriosityStream 4K

$9.99

Les Mills On Demand

$14.99

BodyCombat Rocks ! You will feel and look like a Ninja.

Gaia TV

$11.99

TV2Go

FREE

There is some good stuff, you just need to dig deep in the library.

Netflix

R99 ($ )

Amazon Prime

$5.99

Surprised more people in South Africa don't have this.

ShowMax

R140 for 3 Months

($ )

Seems they hide the pricing info on their site ? No you don't fool me, you just annoy me when you do this.

Google Play

R10-R150 per movie or series.

Pay as you go model. Very decent and up to date library.
Stop The Buffering - Compare The Fibre Specials in South Africa 2020
If your streaming experience has been lacking or buffering of late, maybe it is time for a new ISP. We should caution that if you do experience some buffering on a "unofficial site" like The Pirate Bay or some of the other streaming sites promising free movies, no fibre line upgrade is going to help you. These unofficial sites simply don't have the infrastructure or bandwidth to deliver a good experience for everyone.
Our rule of thumb for fibre lines speed selection is this:
If NetFlix or YouTube is constantly buffering for you, get a new ISP or upgrade to at least 5-10Mbps per person in the household.
| | |
| --- | --- |
| People In Household | Minimum Recommended Line Speed |
| 1-2 | 10Mbps |
| 2-4 | 20Mbps |
| 5-7 | 50Mbps |
FibreTiger
lists some of the best fibre ISPs in South Africa as well as their current specials. Whether you are on
Telkom, Openserve,
Vumatel,
FrogFoot,
or WiFi we list all the specials.