Peace of Mind for Your Tech Valuables - Single Item Insurance
Jacques du Rand 2021-01-08
---
Insurance. Possibly the single biggest grudge buy for anyone. Ever.
If your livelihood stems from your laptop, mobile phone or camera and that gets stolen, then what?
I hate having to sift through insurance documents and policies to check (and recheck) whether I insured the 'right' item. I would rather just take the chance and hope it all works out - especially if I'm up to date with my backups. But if something were to happen to my laptop - whether stolen or damaged I'd be screwed. Royaly.
Another cardinal sin these companies make is to ask me all my contact details before giving me a quote. Yes, I understand the area I live in or my age might play a role, but my email address and cell phone number definitely does not! I understand they do this for marketing purposes so they can spam me in future, but it's hugely annoying.
I was once on a connecting flight in the States en route to New York - I forget which airport it was - but, as always happens with connecting flights, it was tight. I forgot my phone on the plane. I only realised this after I had exited said plane, as well as the arrivals lounge and was already headed to the connecting flight on the other side of the airport. Long story short, after a lot of begging, trying to speak to anyone about it and major panicking, the airport staff helped me get my phone back. I was one of the lucky few. It is surprising how often this can happen though!
Wouldn't it be great if you had insurance that understood those situations? I think that if I had to claim for my phone - perhaps my travel insurance would've eventually paid out, but I would definitely not have been able to claim from my household insurance.
Enter Single Item Insurance
This is the new kid on the block in solving "valuable item" insurance issues.
I recently discovered that this is a thing.
The two companies I investigated Naked Insurance (Hollard) and Loom (KingPrice) both have very different products and gave me very different quotes.
You can insure any "single" item that is valuable to you. Be that your laptop, camera, cellphone, or guitar - but not the family dog, even though they might be your most precious item! And it's not just for travelling either - but it sure will give me peace of mind in future.
How I Tested
I received two quotes. One from Naked Insurance and the other Loom. Both for my ASUS Laptop (I actually own this) and an iPhone 12 (No, I don't own one.)
My requirements were strict, but basic:
I want immediate cover - No waiting period nonsense.
Real-time quotes. I want an immediate value to compare and decide.
Must include water damage (I assume coffee counts as well) and accidental cover (for example dropping the item)
No Sales People! With South Africa having 11 official languages and about twice as many accents, including my Pretoria "pronunciations", try spelling some words over the telephone...It's not going to work for accurate data capture.
Bonus points if you can give me a quote without me having to provide contact details first.
How I Got Here
I've been thinking for a while I need to insure my laptop, but I always thought it would be expensive and just honestly never got around to it.
In fact what really got me to pull the trigger was that I was sitting in my favorite coffee shop, coding away and realised I need to use the facilities. Being South African, I have major anxiety leaving my laptop (or anything else) unattended in public places despite the waiters knowing me and assuring me it would be fine as they would keep an eye on it.
Usually when "working at coffee shops" I try to hold it as long as possible or worst case… pay the bill, packup, use the facilities and then wander off to a new coffee shop.
This time I thought "lets see if I can get insurance before my bladder is at its wits end" (capacity sic?)
Naked Insurance
Spoiler alert: This was my final choice.
I got insurance for JUST my laptop, and it was SUPER simple. And ALL of it was via a mobile app! Now that's my style of insurance offering and it took less than 10 minutes.
3 Steps, All Via an App.
You download the app (Apple or GooglePlay). Fill in the details of the item you want insured and get a quote. Take a photo and you receive your final policy within a few minutes. You can further customise the quote if you want and then with one click choose to get covered. That's it. Oh, and your cover starts immediately after acceptance of your policy!
No calls from salespeople. No paperwork. No jargon. No guesswork.
For anyone travelling, or even if you regularly sit and work at a coffee shop and take your laptop (or insert your most valuable item here) with - this might just bring you peace of mind.
Super easy.
The Naked Experience
Naked Insurance makes things really easy. They start with the type of device you want to insure.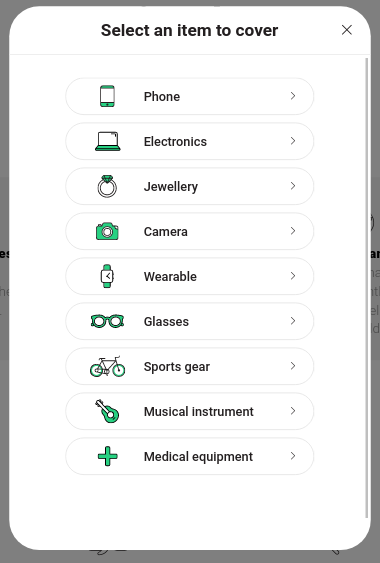 Device Categories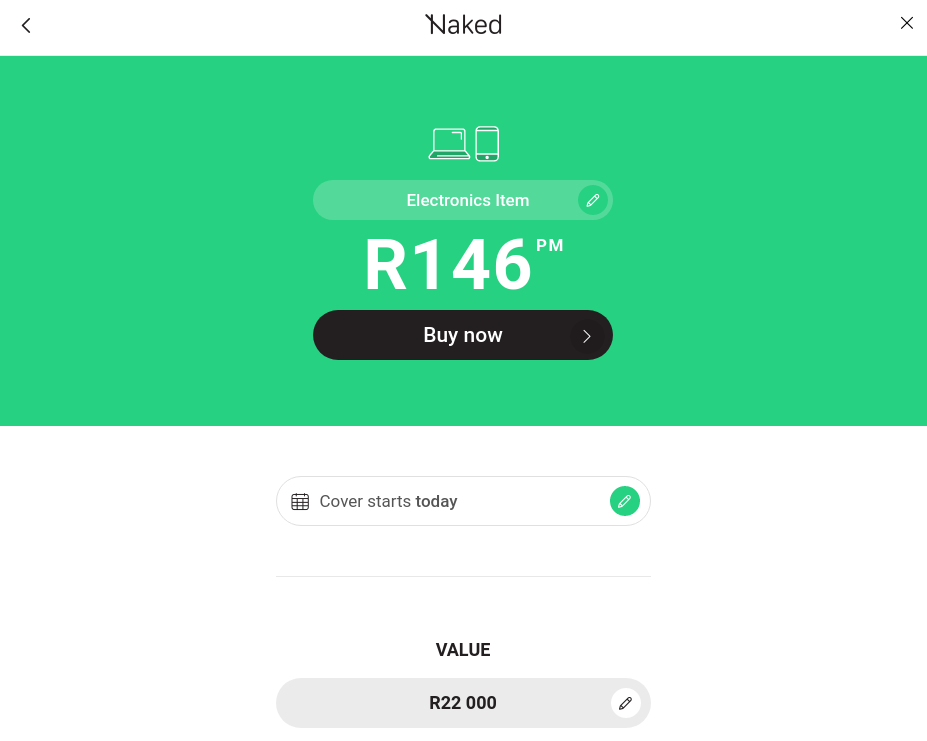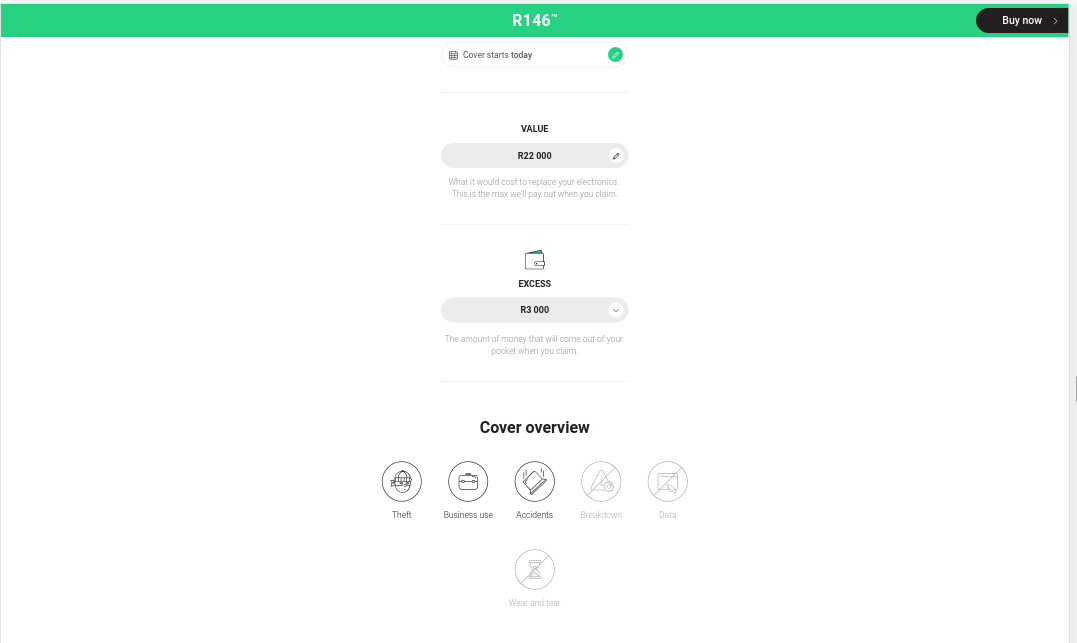 Quote for: ASUS ZenBook Quote R146 (Market Value ~R22 000).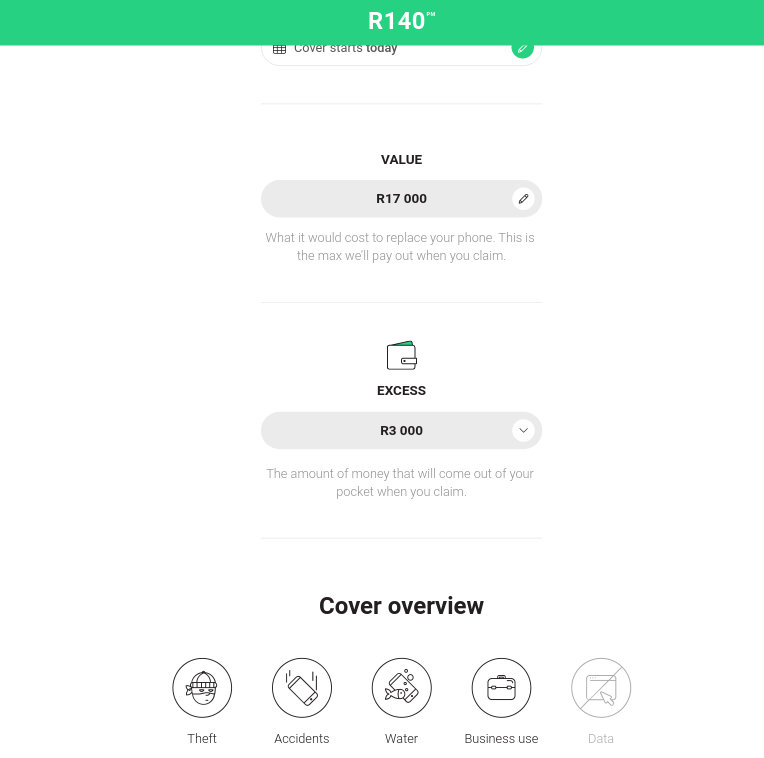 Quote for: iPhone 12 64GB (Market value ~R17 000)
Important "Wording" (a.k.a the fineprint)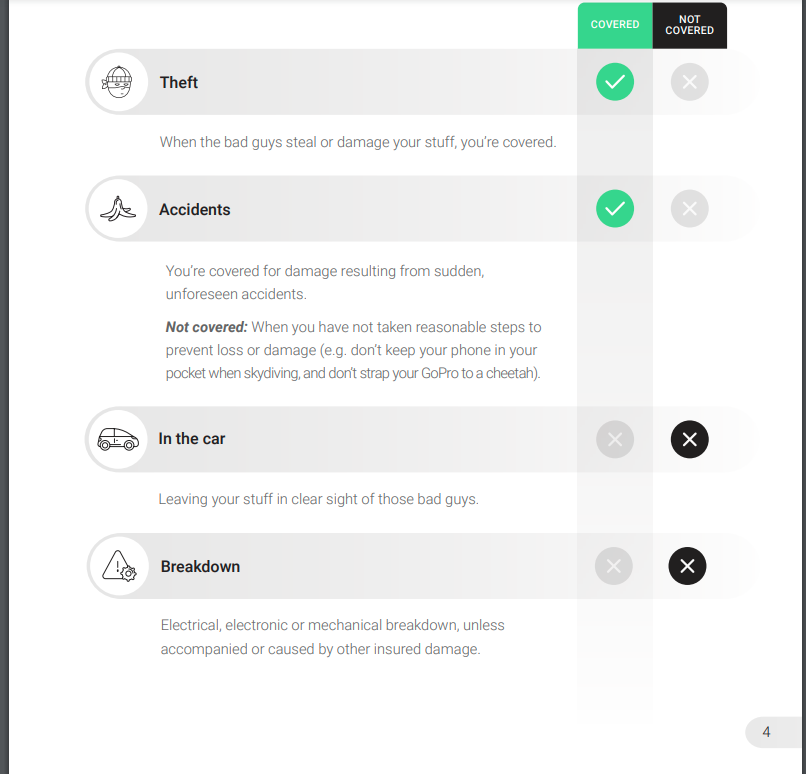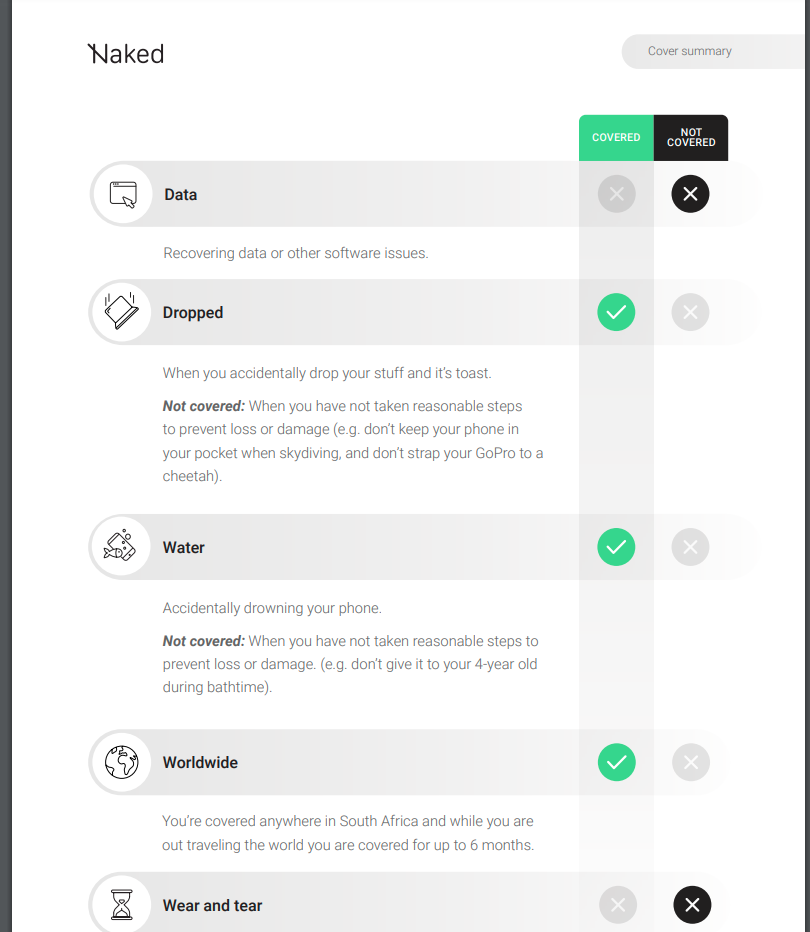 The REALLY important bit!

No waiting period (Usually)
The LOOM Experience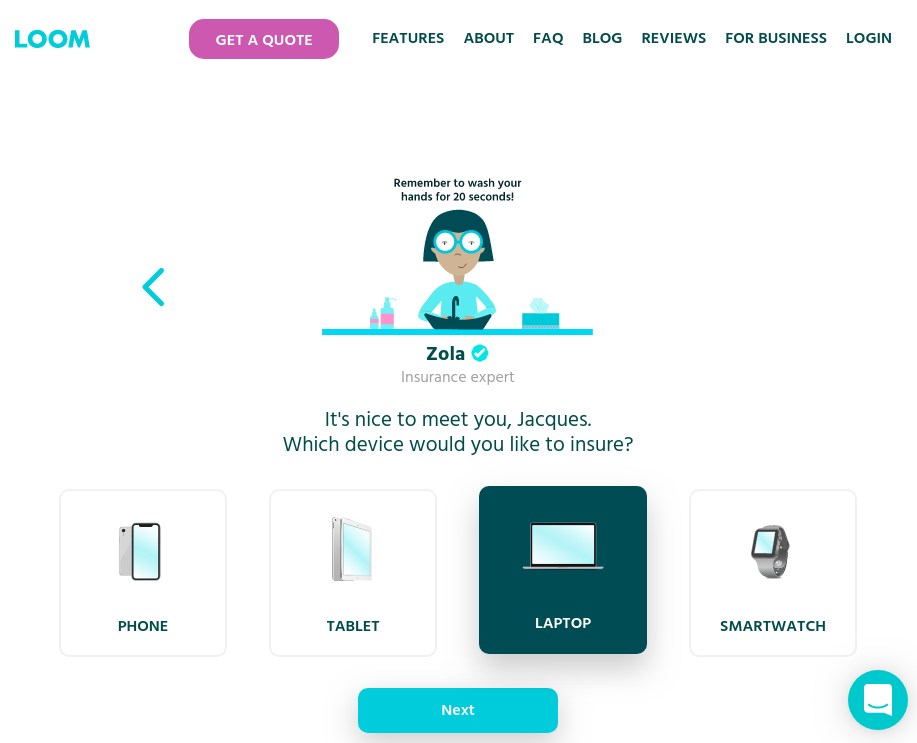 Device Options
LOOM has much less categories than the previous supplier, but might not be a bad thing to cater to the majority requirement.
We asked for quotes for the same two items, the ASUS ZenBook and iPhone.
The values were quite different!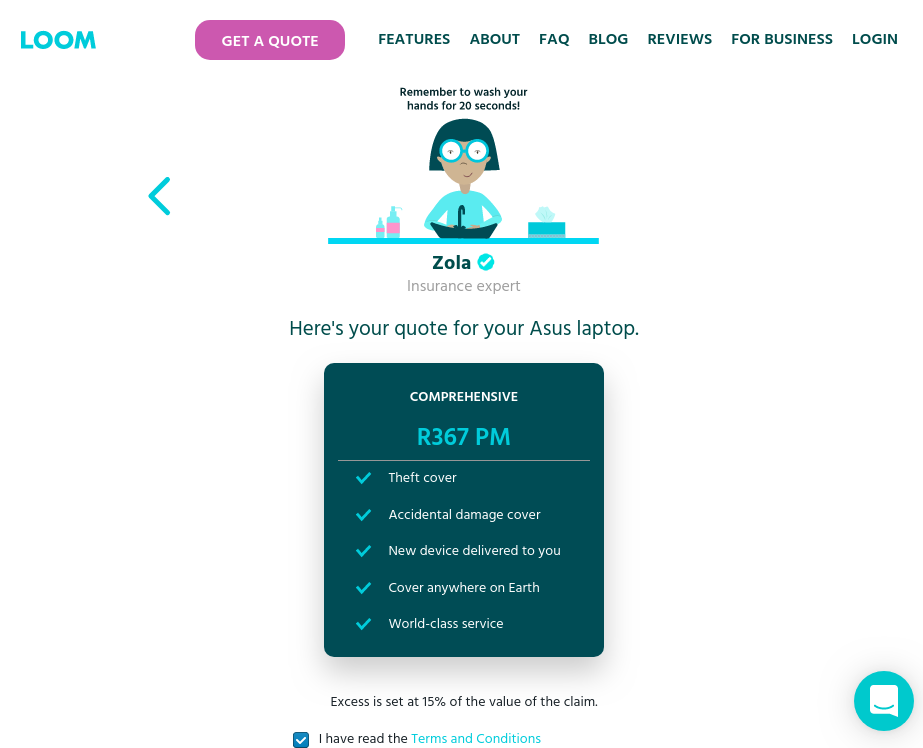 Quote for: ASUS ZenBook Quote R146 (Market Value ~R22 000).
We were quoted R347 a month. They said it was the "comprehensive" option although there was no option to select a "non-comprehensive" option?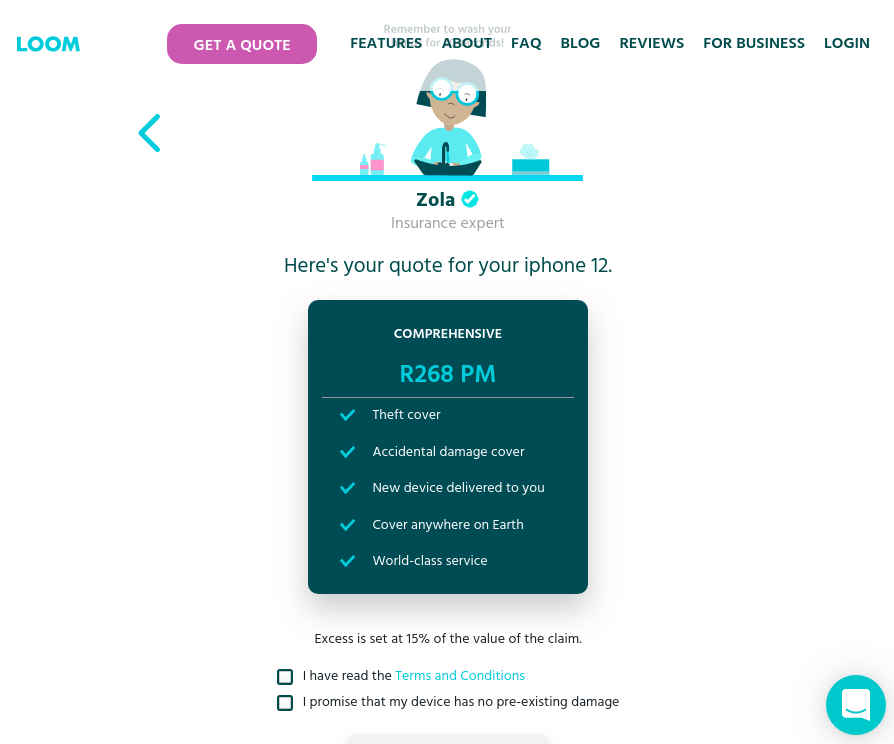 Quote for: iPhone 12 64GB (Market value ~R17 000)
Came in lower than the laptop, but still quite a bit more than the Naked Insurance quote of R146.
The important bits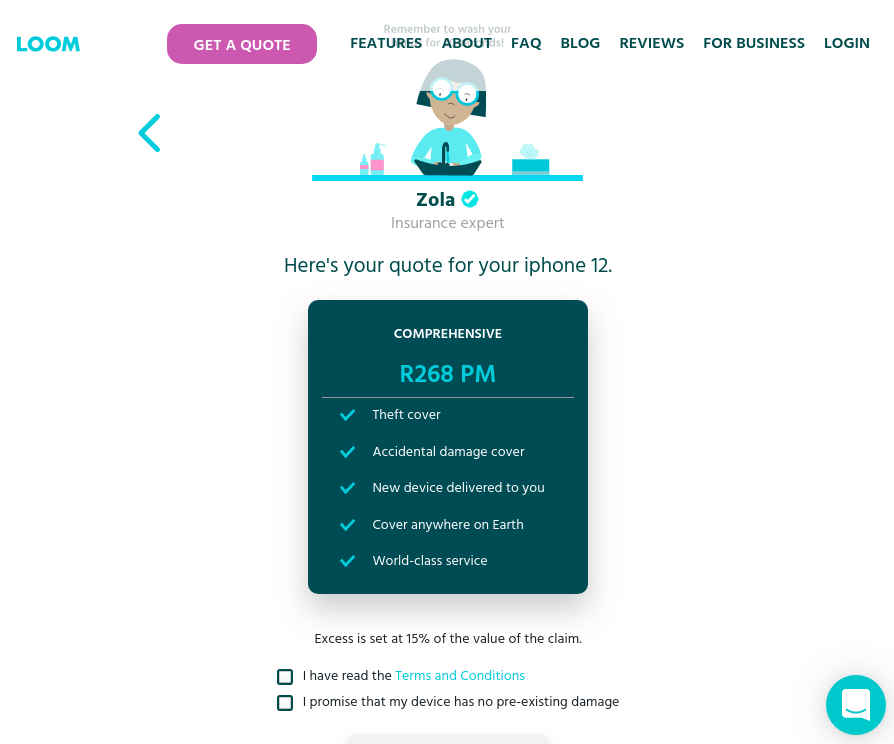 Ag nee ouens !
This is not 1998 - There are millennials that need insurance that just don't understand this "waiting period" thing !
Insurance Quote Comparison Summary
| | | |
| --- | --- | --- |
| | Naked Insurance | Loom |
| ASUS ZenBook Quote | R147* | R347 |
| iPhone 12 64GB | 147 | R247 |
| Waiting Period | None | 7 days |
| Water Damage | Yes | Yes |
| Accidental Damage(Drop) | Yes | Yes |
| Policy Document | Website (PDF) | Website (PDF) |
We did write to LOOM and Naked Insurance to ask about the big price difference and the general state of Single Item Insurance. As of Jan 8 2021 LOOM has not yet responded, but Naked Insurance gave us a very complete answer that can be viewed here in full verbatim.
I asked Naked Insurance why their premiums were so low ?
"...we use sophisticated artificial intelligence (AI) for better risk classification and fraud identification. Traditional insurers only have limited data points to make decisions. Naked, by contrast, uses rich data and AI to make sound decisions on claims, premium pricing and other elements of the insurance experience."

"The result is that good customers (the honest and responsible 99%) enjoy a great customer experience with near-instant claim payouts, while our system also outperforms traditional insurance in flagging fraudulent cases. Reducing fraudulent payouts reduces costs, which ultimately results in lower premiums for good customers."

"...our first quote is the best and only quote we will generate for a customer. Most other insurance providers will quote higher initial prices or premiums, and then adjust them downwards only when a customer challenges them."

Ernest North, co-founder of Naked Insurance (6 January 2021)
Summary
I would love to see further broadening of insurance cover options, such as for "wi-fi routers". Some of those gaming routers can be very expensive!
One that guards against theft, water, accidental damage and, of course, lighting strikes (although these are less of a problem these days) than the telephone routers of yesteryears.
That includes those mobile LTE routers that I travel with - not the fixed LTE you get for your residence.
But, as with most insurance, one starts with the most demanded items requested.
Overall this was a super easy process and I managed to get insurance cover for my laptop in time to use the facilities with complete peace of mind.
I was in no way paid for this content - This is just me at Fibre Tiger, the easiest way to compare fibre internet pricing, trying to be helpful and share my findings on other cool stuff.
App Store & Web Links
Naked Insurance
LOOM Insurance
LOOM doesn't seem to have an app but, they do have a very good responsive website and even an API