Online Grocery Shopping Options Compared & Overall Value & Experience
Jacques du Rand 2021-01-20
---
If there was one good thing that came from the pandemic it's that online shopping and especially grocery shopping sites had to step up their game in a major way. And they did.
As South Africa moved back to higher lockdown levels as the second wave of the Covid pandemic spread through the country once more, online shopping orders surged again.
Thankfully this time round, they were a little better prepared, and learned from the past.
We explore and compare options by some of South Africa's major grocery shopping websites, their offers, covid protocols and overall shopping experience offered.
Grocery Shopping in South Africa
Grocery shopping is tedious at the best of times: standing in queues, people rushing passed, looking for products that are always out of stock.
Shopping online for groceries is not that much different, except that you can do it from the comfort of your own home, which really makes all the difference.
Getting used to having groceries delivered (if that was not something you were doing before the pandemic) is a bit of an adjustment. The average South African is pretty fortunate where, if we need an item, we can pop down to the shop and buy it, but the pandemic changed all of that. During the first wave, and at one point, delivery time got so bad it was sitting at around a two week delivery lead-time for some stores. One week if you were fortunate.
Luckily for us the grocers learned from that initial wave and implemented far better processes since. The average waiting time is now perhaps a week for big orders, but almost all of the big players have now rolled out a same-day or 60-min delivery. This sounds great, but only if you are in an area that supports this; and in addition, if they have stock available.
Grocers & Experience Compared
For the purpose of this article we'll be looking at PicknPay, Checkers and Woolworths.
PnP
Checkers
Woolies
Average delivery lead-time
3-7 days.

Mon - Sat.

Only Sixty60 - same day delivery.

7 days per week.

3 days.

7 days per week.

Cost
R60
R50
Same Day option
Yes. Bottles App.
Yes. Sixty60 app.
Yes. Woolies Dash, BUT only if there are slots for the day.
60 Min option
No.
Yes. Sixty60 app.
No.
Cost
R35
R35
Free during trial for groceries over R75.
Shopping Experience
Search works relatively well, and has improved in the last year. Easy. Display for out of stock, but if you don't know the exact product name you might struggle finding your product.

The bottles app has easy & logical categories to browse through if you don't find your product in the search box. I typically find it easier to browse and find items on their normal site than their Bottles app though.

Search works relatively well. Products are categorised against expected categories plus additional interesting categories such as "dinner tonight", "netflix and chill" and "just as good" - the latter for non-alcoholic beverages.
Easy interface. Same as the Woolies website. What is intriguing is that your Woolworths website login doesn't transfer to the app, so you need to create a new user account to use it.
Stock
Generally pretty good availability, and their site is usually pretty up to date on their stock. Have only had two incidents where I ordered something and it didn't arrive due to being out of stock. There is the option for the packer to substitute, give directions on substitution or have no substitutions.
When we tested the app all the products stated available, but when the order arrived only half of our items arrived due to stock not being available. If one of those items is for example an item you need to complete the muffins you're baking, and that doesn't arrive, you're pretty stuck with having to venture out to the shop yourself, which is the whole purpose of using this app in the first place. Although we asked for no substitutions, substitutions for one item arrived, and it was something we could not use. The "returns" process was a bit tricky as they don't do "returns" only refunds - so that was strange.
Stock was not the major problem here, the problem was delivery slots.
Locations
Major province metros.
Major province metros.
Limited
Covid protocols
Very good.

Products are delivered in sealed crates. You have the option of shopping bags.

Delivery person removes cable ties from crates and leaves them close to your residence for you to collect items and take inside. Driver maintained social distancing protocols. They take a photo of the delivery to confirm. Nothing to sign.

Moderate.

Shopping arrives on a scooter, much as one's Uber Eats or Mr Delivery meal arrives, and in a brown paper bag. It is stapled closed so no one can tamper with the goods, but not as sealed and protected as PnP delivery.

Driver maintained social distancing protocols, but at the time handed over the packet directly.

Untested.
Limitations
The interface for the Bottles app feels a bit dated.
Stock. If you're needing something, you can't guarantee that it will arrive even if the app shows it is available to order.
Delivery time-slots. If the quota for the day has been reached, you're pretty screwed.
Extras

Add more items prior to delivery.
Include driver tip.

None.
Click & Collect.
Pick-n-Pay
PicknPay has two methods of delivering groceries. Their longer delivery lead-time website shopping, which I reserve for monthly or two-weekly shopping, and their Bottles app, which is their same-day delivery option.
PicknPay is my favourite shopping method. The sole reason being that I can add things to my order after I've placed it - as long as I add it prior to 24 hours before delivery. This single factor has been such a lifesaver, especially when I create my shopping list and then inevitably remember something I forgot to add after I'd already done my shopping. This unfortunately only works for longer lead-time shopping and not the same-day option.
I quite like PnP pricing as well. Even though I dislike shopping in their stores (even pre-covid) I really like their online shopping experience and products. Produce and fresh items are always well picked, and expiration dates are usually not the same day, which is a huge bonus.
PnP Same Day Delivery option: Bottles app
Available in select areas in Gauteng, Western Cape, KZN, Eastern Cape, Bloemfontein & PE.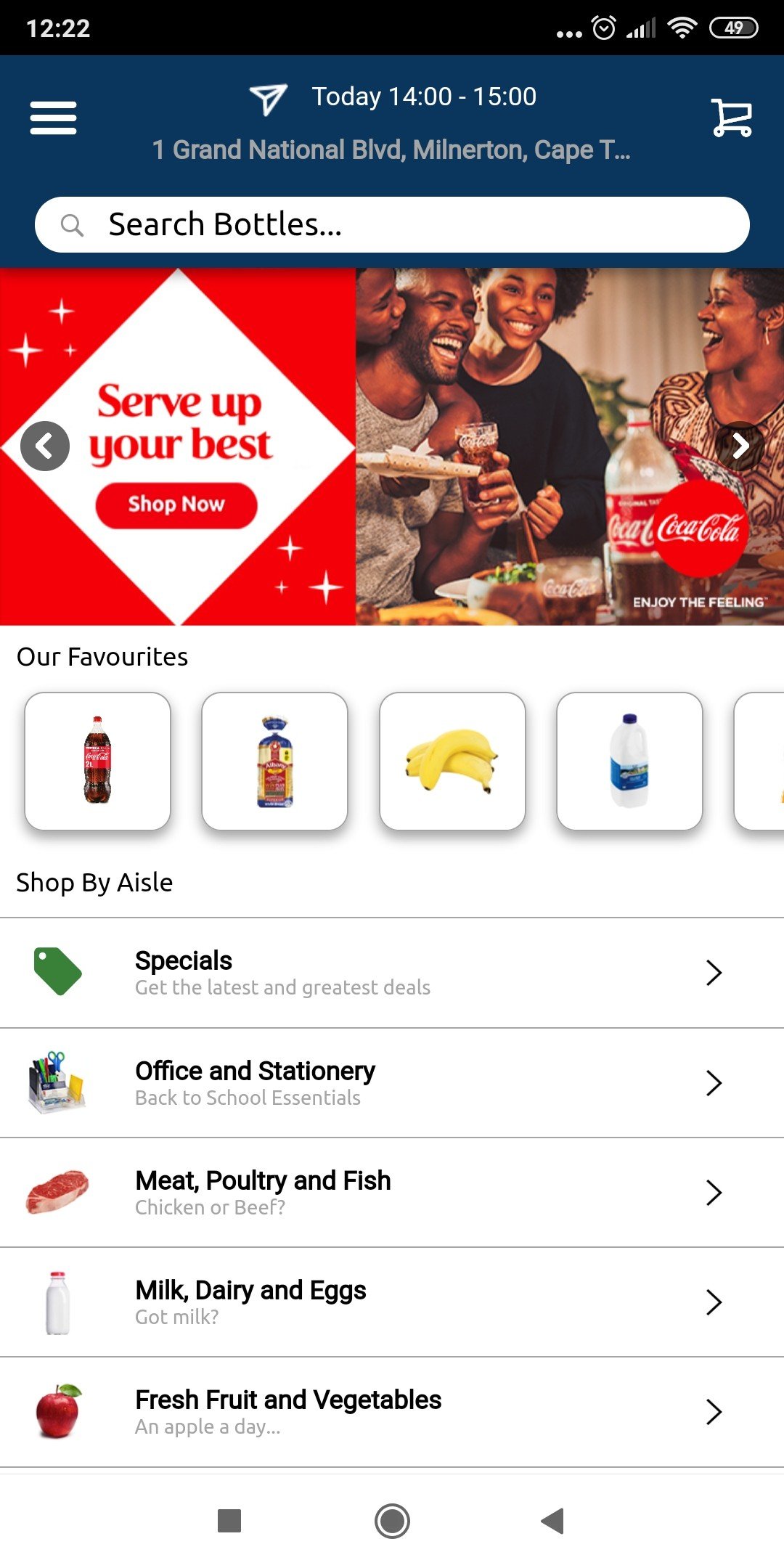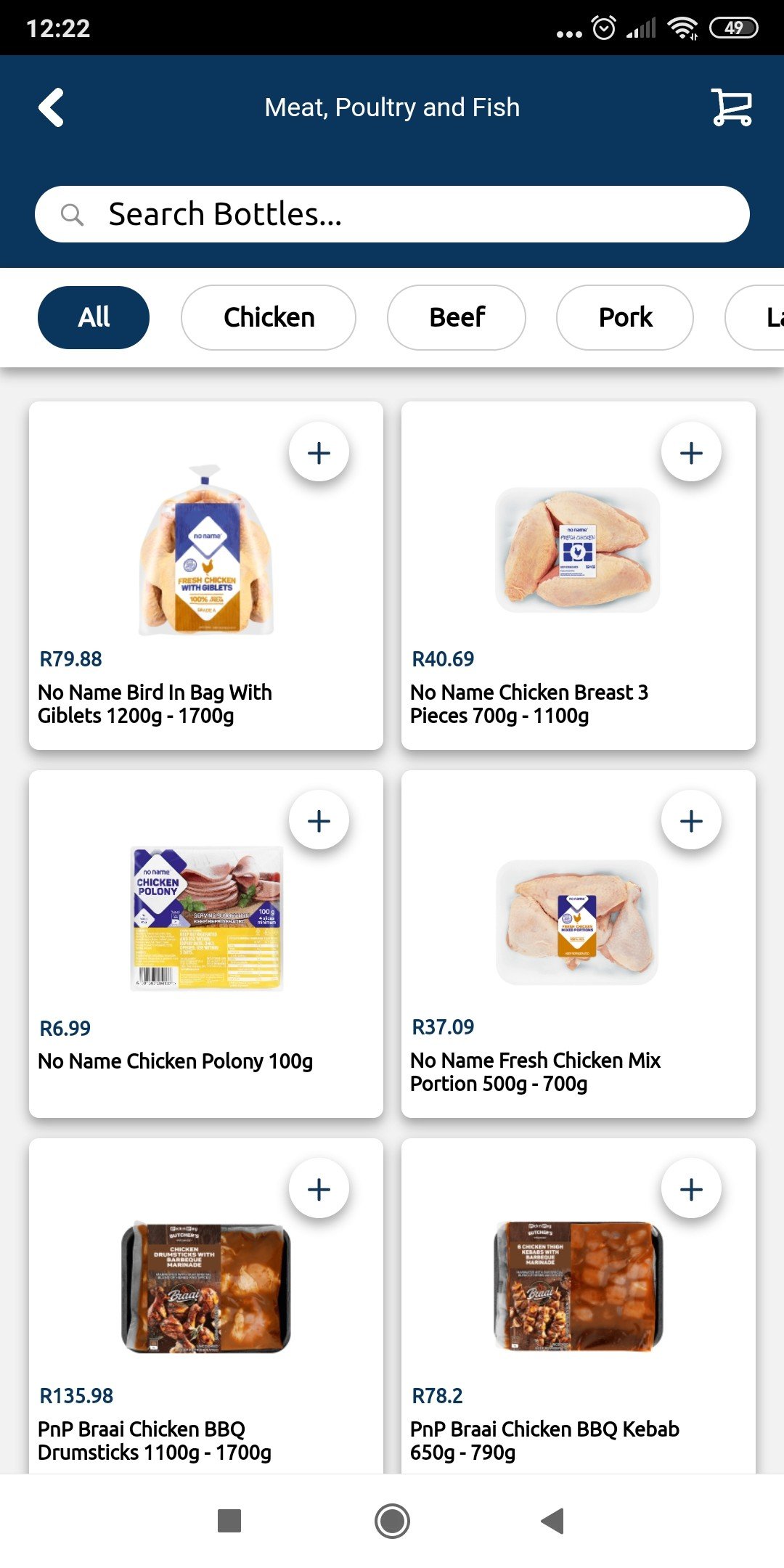 Checkers
Checkers only has one method for delivering groceries, which also happens to be same-day delivery, their Sixty60 app.
I've only ever really enjoyed shopping in their larger stores, but the isles have always had such a weird structure that I don't actually like shopping there as I just don't find things where I expect it to be.
I also didn't have a great delivery experience with them, as half my items didn't arrive due to not being available. Also, as the delivery arrives transported in the back of a scooter (which didn't seem refrigerated?) and in a brown paper bag, I'd probably also stick to non-perishable items when ordering from them.
Checkers Same Day (and only) Delivery option: Sixty60 app
Available in select areas in Gauteng, Western Cape, KZN, Eastern Cape, Bloemfontein & PE.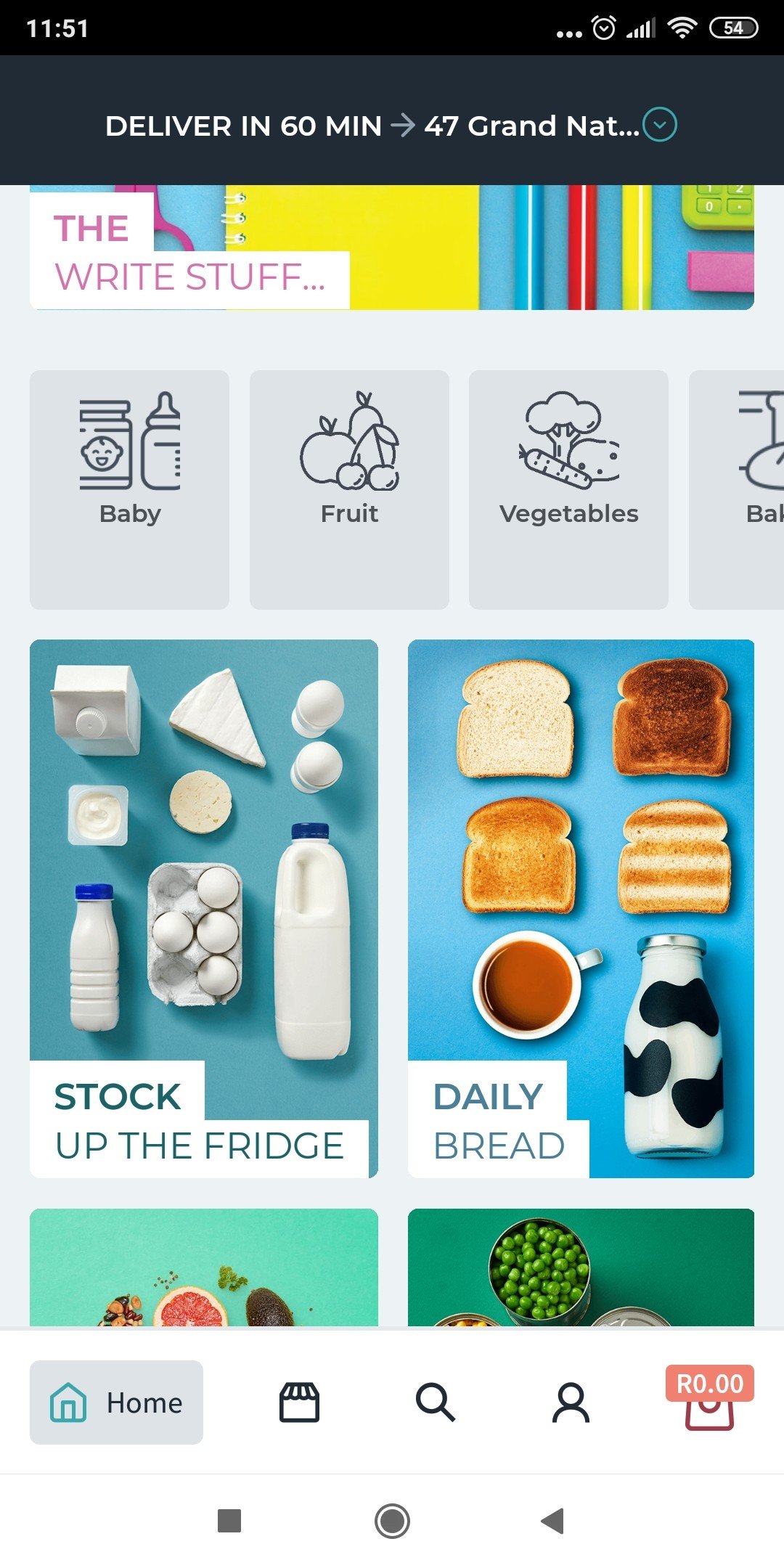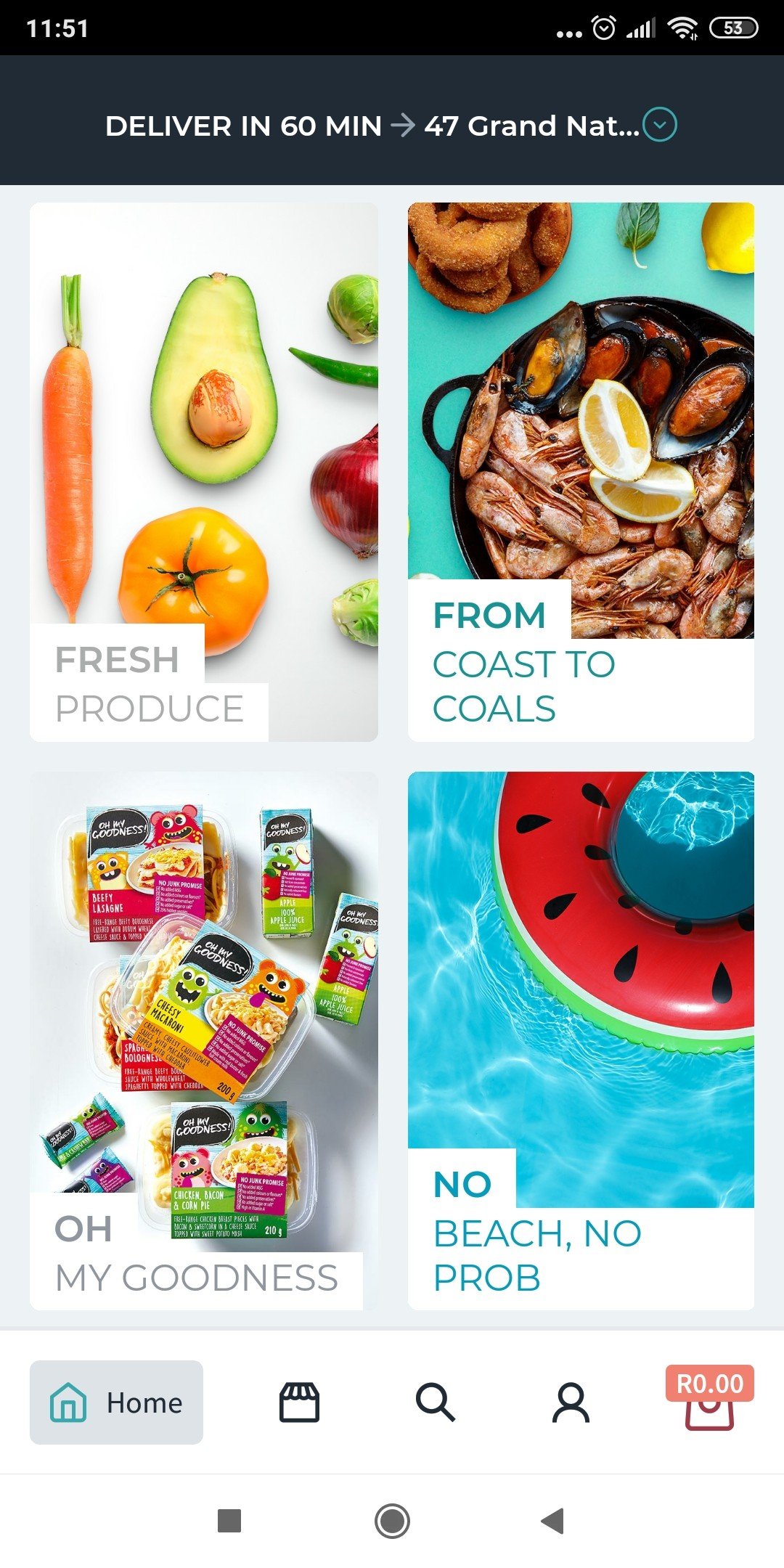 Woolworths
Woolies is probably my favourite store to shop at. It's just a pity I can't afford to shop there for all my groceries. What Woolies does better than the rest, IMO, is their fresh produce and meats. Both are always of excellent quality.
Unfortunately we were unable to test Woolies Dash, as there weren't enough delivery slots to test them. That is their biggest downfall. Although this is a trial period - how can they build up enough user-data to determine success if all their slots are booked out? Is that not a factor in itself to deem it a success and roll-out more delivery slots?
To be fair I have not tested their "normal" food delivery as I always find it easier to pop into a Woolies Food branch to shop, however since the second wave of covid, I have preferred online shopping. Had Woolies Dash been available, I would've probably converted from PnP, much to the dismay of my wallet.
Same Day Delivery option: Woolies Dash
Locations Currently limited offering, delivering within 5km of the following stores only:
Western Cape: V&A Waterfront, Canal Walk, Cavendish, Gardens, Cape Gate, Blue Route, Tygervalley.
Gauteng: Cresta, Clearwater Mall, Norwood Mall, Menlyn, Dainfern Square, The Grove, Lynnwood Road, Benmore Gardens, The Glen.
Kwa-Zulu Natal: Musgrave, La Lucia.
SOME TEETHING ISSUES:
Login/Sign-up
What is frustrating is that your Woolworths website login doesn't transfer to the app, so you need to create a new user account to use it. You need to add the usual identity criteria and your address - which is annoying to type out on a mobile device.
Tip: If you have newly downloaded it, sign-up first before starting your cart, as it loses all your cart items when you sign-up, which is very frustrating. I also didn't see an area where you can add your WW rewards criteria, but perhaps I overlooked it due to having to complete the same information multiple times.
Delivery Time slots
When you click "checkout" and there are no further delivery time slots available for that day, there is NO option to select another day for delivery. So it's a game of roulette as to whether you will get a slot or not. Best to check that first before adding all your groceries.
PS: The checkout page also makes you enter all your address details again...
Woolies Feedback on Teething Issues:
As this article was being published, we received an email that addresses some of hte pain-points we experienced:
Why are delivery slots full?
Our trial is operating in 18 stores in limited capacity. This is because it's critical that our new staff, systems and processes are running smoothly before we launch fully. We're adding more capacity daily, but in a controlled way to make sure our service levels remain consistent. We're still offering free delivery during our trial period as a thank you for using the service.
Show me delivery slot capacity upfront
Thanks to your feedback, we've already made this change. When you add an item to your cart, the next available delivery slot will appear below your delivery address. This means that you will know straight away whether there are slots available today.
Why is it a separate sign in and separate app?
We know our customers want a same-day delivery option, yet integrating this new service into our main Woolies channels is complex and takes time. We therefore made the service available in a simpler standalone app for you to trial and use now, while we focus on building the fully integrated version.
Stay-cold delivery.
We hold firm on quality and freshness. We therefore took a little time to innovate a flexible cold-chain carrier bag that maintains our rigorous cold chain standards, before launching the trial.
Plastic bags vs recyclable material?
We've eradicated plastic shopping bags in many of our stores as part of our Good Business Journey, and the rollout continues. The use of plastic bags for Woolies Dash is temporary, and we're currently testing a sustainable and recyclable paper bag not just for Woolies Dash, but for our full online service too.
So there you have it. As far as Woolies Dash is concerned, they are already aware of some of the pain points and are working on it. The one we find strange is the login - from a technical point of view, we totally understand it takes time - but from a users point of view, this totally sucks and may mean that they lose some of the initial users due to this inconvenience. It reminds me of that famous quote "you only have one shot at making a first impression".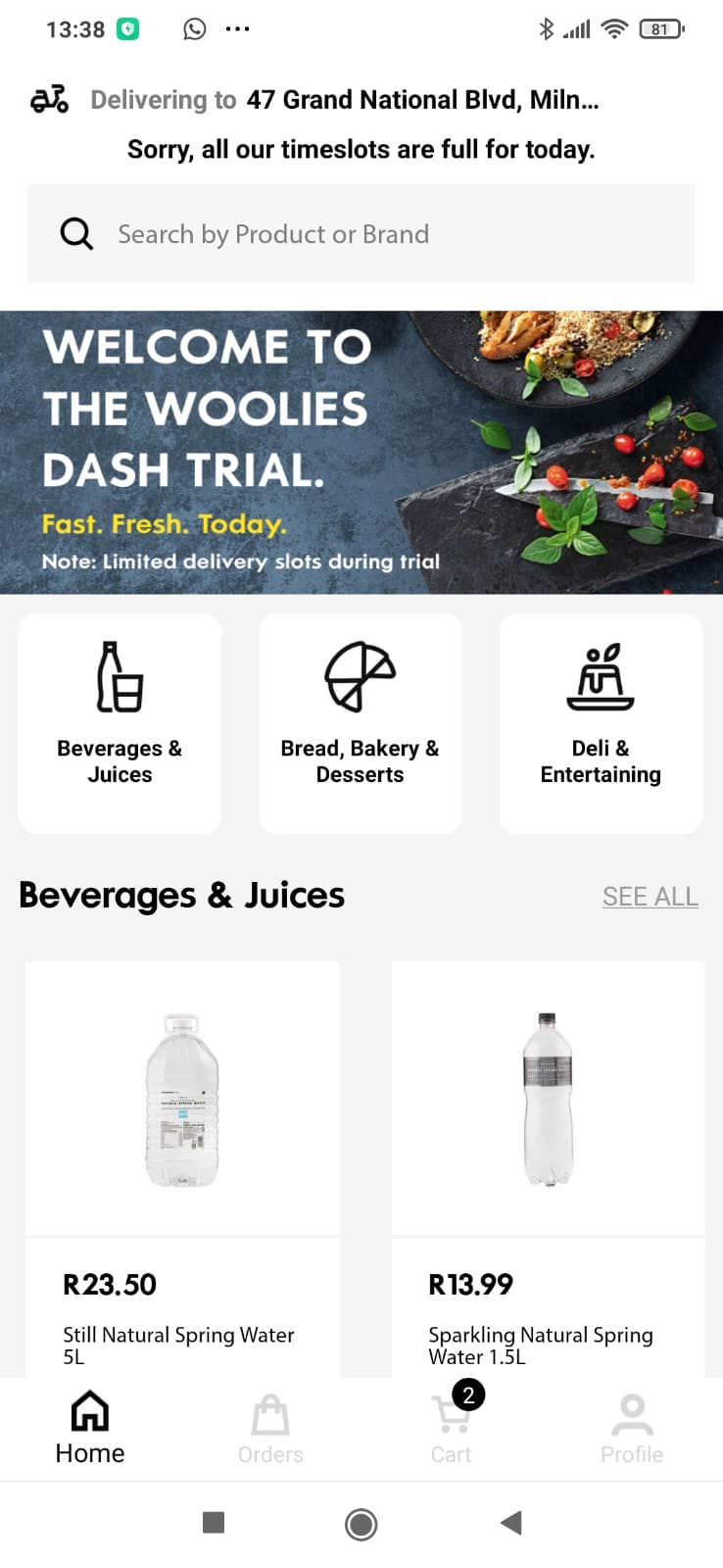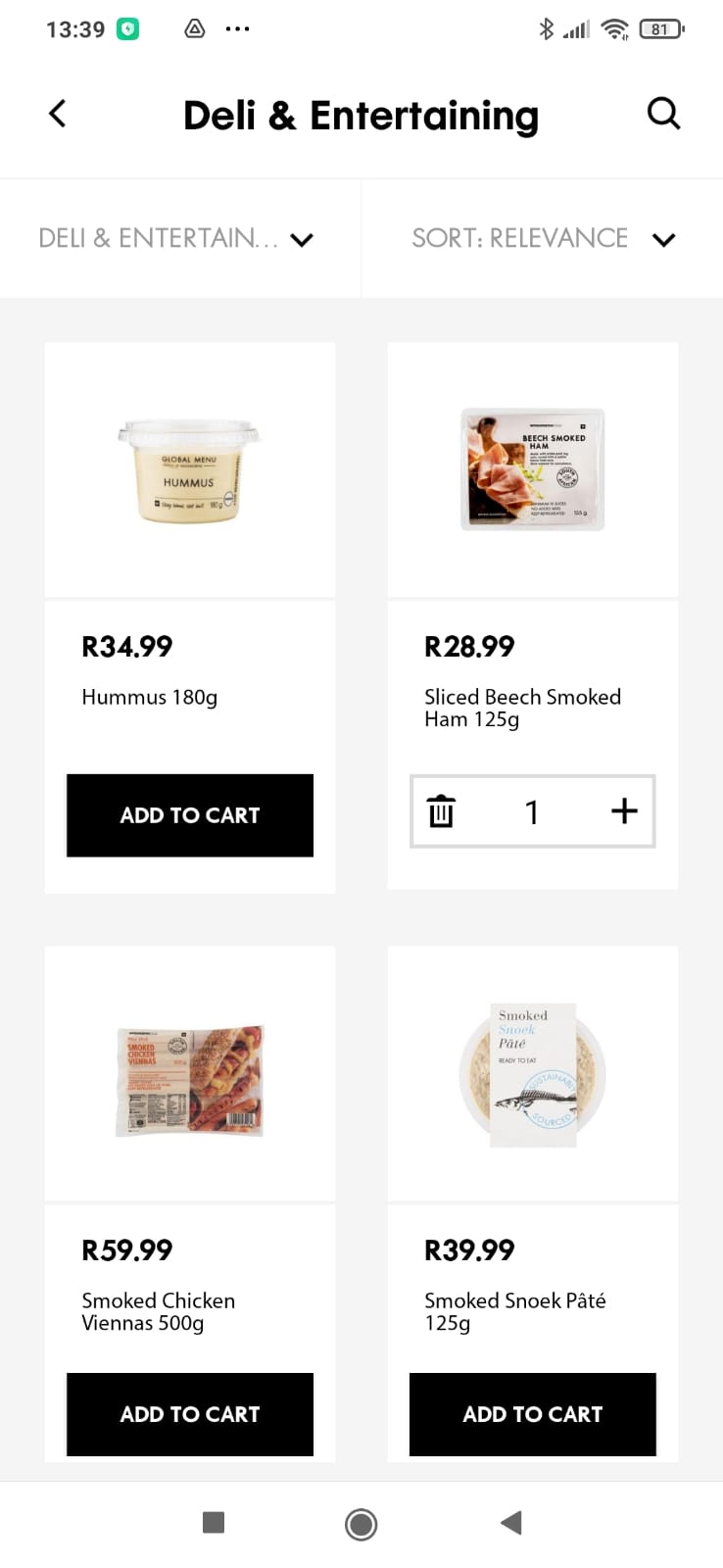 Other Same Day Grocery Delivery options:
OneCart - Very similar to CartRun. Also offers a personal shopper experience to Woolworths, PnP, Clicks, Dischem, Makro, Food Lovers, Jacksons, and Mr Pet. Flat fee of R45. They deliver to select areas in Western Cape, Gauteng and Durban.
CartRun - An interesting contender as it offers delivery from Woolworths, PnP, Clicks. However it is only available in limited areas of the Western Cape. They aim to deliver within 2 hours of order, and use in-store shoppers to shop on your behalf for a flat rate of R39.99.
Delivery Options into Townships
Online shopping has always been considered an option for only the few, but there are companies who created business models for those that might not have delivery options in their area, such as townships. During the higher lockdown levels especially buying groceries was near impossible for many people. Not only as they couldn't afford to buy groceries, but also as they couldn't get to shops. This is where we applaud companies like YeboFresh who we have personally supported since the first lockdown in March 2020. Their service in addition to being available to everyone, allows for the purchase of food parcels and door-to-door delivery into townships. Their service is currently only available in the Western Cape, but we do hope they expand nationally.
All in all, online grocery shopping has made tremendous progress since the first wave of the pandemic. If online grocers can continue making improvements to the extent they have over the last year, we are sure that it will continue being a trend long after we have beaten back the pandemic.