ASUS Lyra Router Review
Jacques du Rand 2019-12-05
---
The ASUS Lyra is a bit of an all-in-one device: a bluetooth speaker, Alexa assistant, and a powerful Tri-Band router. All this makes for an excellent centerpiece in your entertainment stack.
This device is not to be confused with the other ASUS Lyra AC2000 devices which are mesh routers as is this one. Confused yet? But those come in packs of three and are rounded, or triangle shaped.
The one we are reviewing today is the one pictured below. Looks good, yes?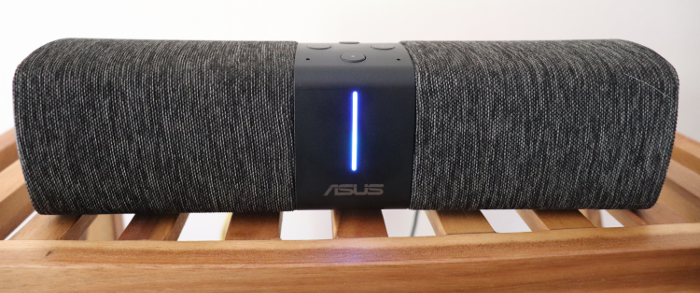 ASUS Lyra Voice Front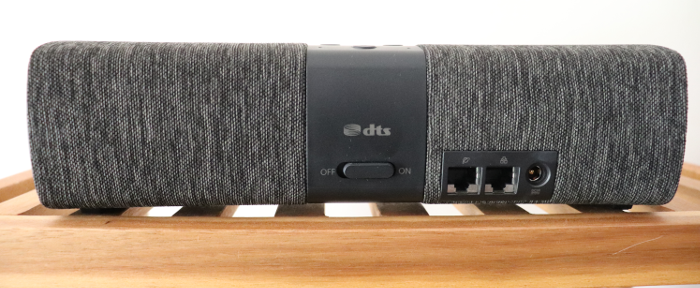 ASUS Lyra Voice Back
We were most interested in the Tri-Band router feature since that's what we want to use it most for, but after some fiddling with the software, and a teensy learning curve for Alexa, we were pleasantly surprised by the other functions.
BlueTooth Speaker
Our phone, the Xiaomi Redmi 5 Android device, connected to the device effortlessly and it was easy to play Youtube music over the speaker. It has a really nice and soft sound with adequate bass that never overpowers the sound delivery stage and goes high enough in terms of volume for anyone in their late thirties who wants to party - loud, but not too loud to upset the home owners association.
There is also a DTS (Digital Theater Systems) logo on the back which had us particularly excited for a good audio experience and we were definitely not disappointed. https://en.wikipedia.org/wiki/DTS_(sound_system)
Alexa Assistant
This was our first real test of the Amazon produced digital assistant - Alexa. It's certainly a mindshift to start using Alexa for everyday tasks, as we're so used to quickly grabbing the phone and typing in queries manually. There is a vertical blue-line that lights up in different shades of blue when you talk to Alexa. Quite reminisce of Kit from the Knight Rider series.
Our favorite Alexa skills (as they are called) are:
News
Weather
Music
General Conversation (Alexa Am I Fat ? Apparently no… as long as I am happy...)
Alexa Vs Google Assistant
The one big problem with Alexa as an Amazon product versus the Google Assistant (Google Home Speaker) is that Amazon, apart from my shopping history, knows almost nothing about me, nor my online behaviour.
Yes, I like Google and use most of their consumer services. From the search engine to their email platform, music options and recently I even switched to Premium YouTube (Yay no ads!)
If I ask Google to play me some "Riana Nel Music" or " Spoegwolf Music" it knows who that is - either because it's truly clever, or because I have listened to it in the past, and therefore knows where to get it based on my past behaviour. Alexa (Amazon) just keeps trying to play me some Rihanna - the R&B Artist?!
We will definitely digg into the differences of smart assistants from Google and Amazon in a future article.
The Router
It's very good! It's Tri-Band, it's fast and quite stable.
Tri-Band Vs Dual-Band
The newer dual-band routers can have two wi-fi networks: one on the 2.4Ghz, and one on the 5Ghz frequency range. The 5Ghz one is much less congested and will work well if your neighbours and microwave are using up all the 2.4Ghz airwaves.
With Tri-Band, instead of having a 3rd frequency the router hosts 3 networks: one on the 2.4Ghz band and two on the 5Ghz band. Very useful to get high and consistent throughput!
It will automatically sort devices onto one of the two networks in the 5Ghz range. Important to note: It will also not speed up any one device on the network, but rather help to accommodate more devices at once. Like adding lanes to a highway - the speed limit stays the same, but the amount of cars per kilometer increases.
Extra Router Features
Apart from the Alexa and BlueTooth capability, the router also smartly comes with MU-MIMO router technology, which can be a controversial topic, but in my experience, really helps with multiple users at once. In addition to the Tri-Band features, no one ever complained about coverage anywhere in the office in the two weeks we used it as our daily driver.
Software
There is a lot happening here. You have the web interface (traditional) as expected, as well as the Asus Router App and the Alexa App.
Seems they all have to work together at some point to get everything setup. The Asus Router App helps to fiddle and setup the router from your couch, but it took a few tries to get everything connected just right. The Alexa App is a whole different story as you have to link your Amazon account to the app as well as to the router. Not sure how this would function in a multi-person home.
The webinterface is where you can configure all the normal router options like WAN and LAN setups, but we feel it's mostly there for the router config. The router app we feel had a lot more options such as mesh networking diagrams to "viewing" your password.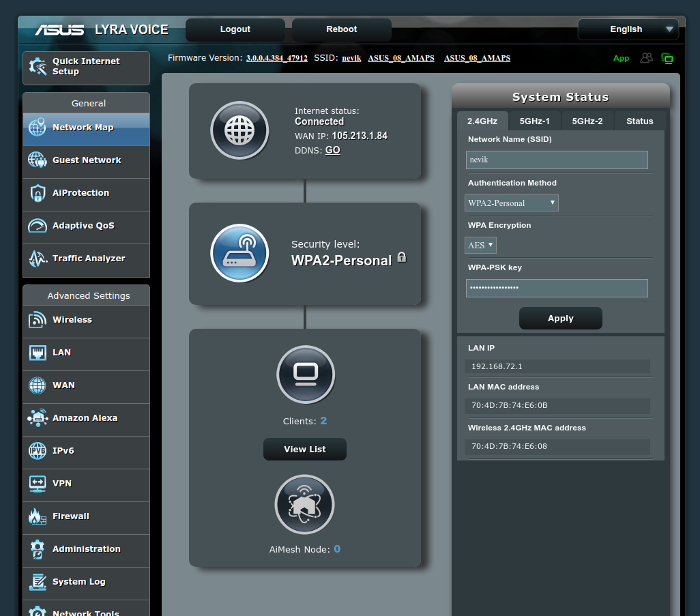 ASUS Lyra Voice - Web Interface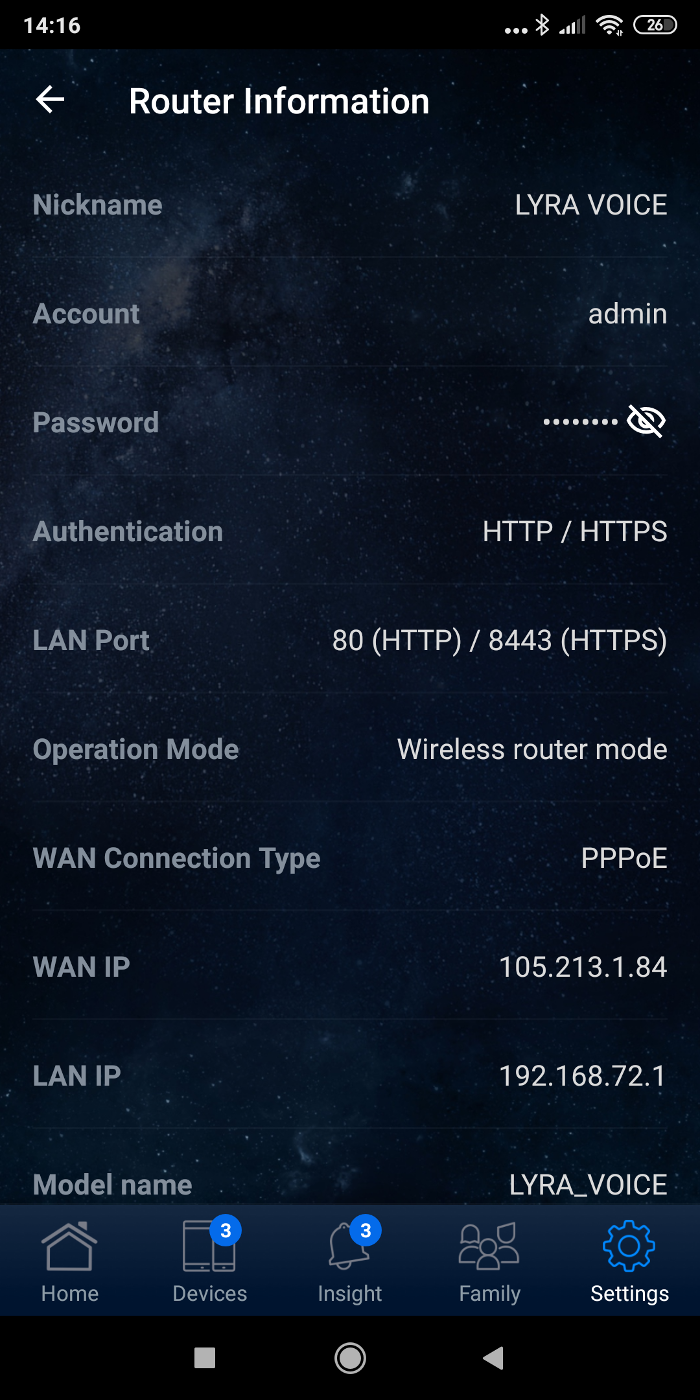 ASUS Router App
Speed Test And Coverage
This speed test is for the LAN part only, i.e this is not an internet speed test. If you're wanting to test your internet you can have a look at the FibreTiger speed test portal to test your mobile, fibre or other internet connection.
Throughout the FibreTiger home office we had more than adequate coverage, even in the troublesome garage we sometimes have difficulty with.
LOCAL LAN/WiFi SPEED TEST
Room
Speed Test To Router
Kitchen(router location)
49 Mbps
Bedroom 1 (Upstairs)
40 Mbps
Bedroom 2 (Upstairs)
48 Mbps
Garage
43 Mbps
Features & Specifications
Device Interfaces

1 Gigabit WAN port
1x Gigabit LAN port

Dimensions
270 x 75 x 75mm
Standards & Wi-Fi Data Rate

2.4 GHz 2 x 2
5 GHz-1 2 x 2
5 GHz-2 2 x 2
802.11a : 6,9,12,18,24,36,48,54 Mbps
802.11b : 1, 2, 5.5, 11 Mbps
802.11g : 6,9,12,18,24,36,48,54 Mbps
802.11n 256QAM : up to 400 Mbps
802.11ac : up to 867 Mbps
5 GHz Up to 4800 Mbps
Final Thoughts
If you are not living in a mansion and you want to combine a few devices into one, then this Asus router will be perfect for your needs. Each component from router, speaker and assistant, more than adequately delivers the goods in terms of pricing and performance. Plus it looks really, really nice too.
Read more details over at https://www.asus.com/za/Networking/Lyra-Voice/specifications/